Yves Saint Laurent will soon no longer be: Under Hedi Slimane, the star designer who took over the French fashion house last March, the brand will be renamed "Saint Laurent Paris."*
This is a terrible idea. Here's why.
1. Yves created Saint Laurent.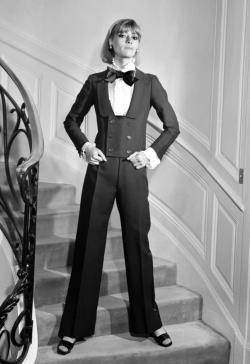 Behind Yves Saint Laurent, the brand, looms Yves Saint Laurent, the man. YSL, who died in 2008, revolutionized fashion by—among other feats—pioneering ready-to-wear, inventing tuxedoes for women, and breaking from the all-white runway by employing models of color on his catwalks. Pierre Bergé, his partner in life and co-founder of the brand, explained to French ELLE that "Saint Laurent" was the original name the couple decided upon before launching the first collection in 1962; Bergé thus argues that Slimane's change is a welcome "back to basics" turn.  Except that Yves Saint Laurent is the name they actually chose.  And the designer's initials came to represent what the man himself stood for: novel shapes and colors, daring styles, fearless innovation. 
2. YSL doesn't need a new start.
Jennifer Lopez became J.Lo—and then Lola—to boost her brand. But does YSL need to do the same? Not from the looks of it. Sales at Yves Saint Laurent grew nearly 30 per cent in 2011. The brand's market has been expanding worldwide, particularly in Asia.  As a global fashion brand, YSL is thriving. 
3. "Saint Laurent Paris" isn't an evocative change.
This isn't the first time Slimane has decided to alter a venerable couture name.  When he arrived at the helm of Christian Dior Monsieur, he re-christened it Dior Homme. But that change—from "Christian Dior Mister" to "Dior Man"—was a meaningful one: Slimane was trying to change the idea of Dior's clientele, addressing men in general, not only "messieurs." At the time, his signature skinny trousers gave a rock and roll edge to the name.
Adding "Paris" to "Saint Laurent" is, if anything, a step backwards. Fashion is already associated with Paris, and one of the best attributes of YSL has always been its more global outlook. Why make the brand more provincial? 
4. The logo remains the same?
Yves Saint Laurent's interlinked initials will aparently remain the brand's logo. So what's the point of making a half-hearted change? Not that Slimane should consider transitioning from "YSL" to "SLP": The lines of the YSL monogram are as essential to the brand as Chanel's back-to-back C's. And much of its visual power comes from the slender, unusual shape of the letter Y, which brings to mind Yves Saint Laurent's own designs, like an upside-down tuxedo silhouette.
I'm glad that the logo will remain. And I hope—and half-expect—that the brand-name it stands for will return to its rightful name before long.

*Correction, June 22, 2012: This post originally misspelled the name of designer Hedi Slimane.