Each of the seven years that this reporter has covered the upfronts—the weeklong showbiz ritual in which broadcast networks assemble advertisers in Manhattan and take $9 billion from them—has been "a rebuilding year" at NBC. But this was the first time in which NBC's presentation—a slightly poky dog-and-pony show at Radio City Music Hall on Monday—actually made it possible to believe its corporate-speak. Though NBC is hardly in the best of health, it seems to have cleared some rubble and to be the beneficiary of the goodwill of media buyers (who are eager to see the network not implode) and the non-bad will of journalists (who are in danger of running out of colorful way to disparage NBC and in need of a new angle to work).
So, OK, sure, let's play along with the idea that Smash—touted as the top network drama among "upscale viewers" and set to return in winter—is a prestigious platform upon which NBC can reconstruct its reputation for class. And, all right, we will set aside the question of whether The Voice, which will air for three hours a week in the fall, has already begun to play itself out. And we'll pretend that NBC chief Bob Greenblatt did nothing to undermine his authority among tastemakers with this on-stage declaration: "Whitney is a show that I personally love."
Greenblatt and his team announced six new fall shows. It is the nature of the business that four or five of these will go down in flames instantly. Of NBC's two fall dramas, Revolution seems the more highly flammable, given the conjunction of its pedigree (creator J.J. Abrams) and its premise (post-apocalyptic sci-fi): Fifteen years after a global catastrophe renders all electronics nonfunctional—meaning that there's not even anything fun to loot—we follow survivors through a world of warlords roaming on horseback and babes armed with crossbows. Meanwhile, if Dick Wolf's Chicago Fire flames out, it will at least enable every headline writer in entertainment journalism to avail herself of a bad pun. But I'm glad to see NBC breaking away from the clichés of workplace dramas set among cops, doctors, and lawyers. Given the relatively slim history of firefighter shows, I'm eager to see what new clichés they dream up.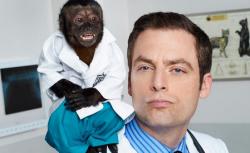 The comedy news going into Monday was that veteran NBC sitcoms including 30 Rock and Community had received half-season orders. The news coming out of Monday is that the new NBC sitcoms look rather like veteran ABC comedies. Ryan Murphy's The New Normal, about a gay couple having a baby with a surrogate, boldly nods in that very direction with its tagline ("a postmodern family"), and the clips we saw of Go On, about Matthew Perry getting another shot at stardom as a zany widower and sports-radio host, forecasted a similar mood—sunny in its lighting, moderate in its approach to wise-assed self-irony, designed to be watched by people beyond the bubbles of New York City, college campuses, and Internet comments section. These two shows look, on the evidence of brief clip reels, no worse than not bad. But what can it mean that NBC's highest-testing character this pilot season was the simian second lead on the veterinary comedy Animal Practice? Were test audiences just that bored with the usual primates? Is this little fellow primed to be NBC's biggest monkey since J. Fred Muggs? Its furriest funnyman since Belushi? Stay tuned.