In an airy studio on a high floor of the London College of Fashion, featuring a long conference table, white walls, and a view to an adjoining patio—where, a sign warns, bees are being kept—the hues you will see in two years are being divined by a pan-European group of colorists.
"What do we say about blue?" asks David Shah, a British-born, Amsterdam-based designer who heads the meeting on behalf of Pantone, the quietly ubiquitous American company that maintains color standards for publishers, designers, and the fashion world. "Blue took so long to come back. It came back last year in a watery story, it's here this summer in an indigo story—what are we doing about blue?"
"A good navy," says a French woman with short blonde hair, "is going to fulfill the role that black used to fill, because black is now launching into another dimension."
"How do we see black now?" Shah interjects. "As a dynamic color?" There is excited chatter. Black has shed its cultural baggage as a negative color. The Italians "did a big statement" about black. The big Yohji Yamamoto retrospective down the road at the V&A. The noncolor that is all colors. Exciting new materials that help black transcend its blackness.
So the new black is … black? Leatrice Eiseman, a color consultant and the sole American at the meeting, (the sole "pragmatic American," as she describes herself), speaks for the first time. "What I fear about making a general sweeping statement about black is that we know we've been there—who doesn't know about black? What's new about it?" Animated conversation ensues.
Twice a year, in some European capital, in a room purposely chosen to be drab and sparse—so as not to influence the color mood—Shah gathers a stable of colorists, each of whom works with his or her own country's national color groups (who traditionally have worked with textile companies and others to set color standards), as well as consulting with companies ranging from Airbus to Zara to Union Carbide. Where the rest of us see black, these are people who talk about the "family of black." Over two days, they will each pitch a palette concept, organized roughly around a theme that has been chosen in advance (this time, it's "unity"), that they believe will be dominant in Spring/Summer 2013. The results are published in Pantone View, a $750 publication that is purchased by companies across a broad consumer landscape, from fashion designers to supermarket chains to the floral industry. ("Everybody's into white flowers at the moment," Shah tells me, "there are definitely movements, even in flowers.")
While the Pantone meetings are traditionally secret, I was invited to the Summer 2013 meeting on the condition that I not reveal the colorists' identities. (Shah and Eiseman's names are real; I'll refer to everyone else present at the meeting by their nationality.) And so as to avoid influencing the discussion, I have been asked not to reveal my own identity as a journalist. Instead, I am vaguely portrayed as a functionary of X-Rite, the corporate parent of Pantone.
The meeting is a high-concept show-and-tell fused with a cultural anthropology seminar, with Shah alternately playing the role of interlocutor and air traffic controller. Like novelist William Gibson's trend-hunter Cayce Pollard, Shah can unleash a torrent of cultural memes on command. Expounding in one instance on the "unity" theme, he riffs: "We're talking a lot about community, neighborliness, moving from macro to micro economy. The whole 'rurban' thing—local food, local chocolate. At the same time, the simplification of things, reducing complications. Don't make any instruction manuals—things should be intuitive. Computers that will think for you, read your gestures, actually tell you when to go shopping. You go into Gap, it starts suggesting products for you, connecting your friend's taste to your taste. It's all about choosing together." He pauses, a quick intake of breath, before firing: "How many people use Twitter here?" "Oh, God," retorts the Frenchwoman.
Armed with props that range from eggs to paper dolls to the latest images from the anonymous street "photograffeur" JR, participants pitch color concepts interwoven with theoretical narratives. The talk ranges from the specific ("people are always looking for replacement blue") to the occasionally vaporous. "Not just a safety in numbers protection tactic," says a British colorist, a textile specialist, from a prepared text, "it's more about the buzz created from the joy of a shared activity." The chromatic range accompanying this thought stream sounds similarly seductive: "Quiet tints of opalescent violet, aqua, and honey are jostled with shrill lemony chartreuse, cerise, and vibrant hot orange." The Italian colorist, clad in light blue ("we Italians love blue"), with a professorial sweep of white hair, opens his presentation with a preamble on the difficulties of "unity" in the context of Italian politics. "Darling, if we wanted an Italian history lesson," Shah says tartly, "we'd go to night classes."
There's also a dash of cross-national fractiousness—imagine the European Union meeting to decide on a single color for the continent—with each "country" playing more or less to type. "You get 30 French women together and they'll kill each other over blue—my blue is better—and the consumer won't see the difference at all," Shah tells me. There are subtle national distinctions. "We'll come back to the Catholics in a moment," Shah jokes after the Spanish representative, with large glasses and an Almodovarian verve, wraps up her presentation. "We need a bit of a Protestant breather." At times, seemingly contradictory color messages fly about. "I think in respect to the past we are more about color," says the Italian. "But you were just talking about black and Mother Earth?" Shah asks, exasperated. But gradually, like wind stirring on a snowy meadow, drifts in color become apparent. Neutrals will be more like colors. Brown, which has been approached for several seasons, will come into its own. There may be a hint of yellow, but a clearer, fresher yellow. Blues will be more material, less floaty. Summer 2013 begins to shimmer hazily into view.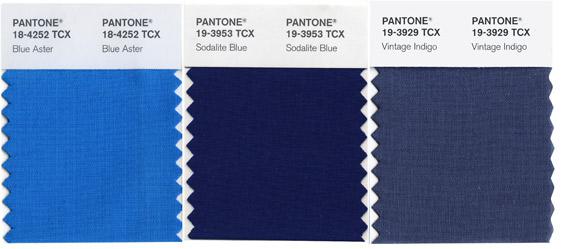 Color forecasting is almost as old as the fashion industry itself. In the late 19th century, color cards issued by French textile mills were snapped up by their American counterparts, eager for ideas and direction. As Regina Lee Blaszczyk, a historian and author of the forthcoming book The Color Revolution, notes, Margaret Hayden Rorke, an American actress, suffragist, and the country's first color forecaster (heading the Textile Color Card Association for four decades), traveled to the Paris shows each summer to soak up the latest tints, like the brownish-green Vert Amande— ven employing an American foreign correspondent, Bettina Bedwell, to act as a "spy." (Intel from Bedwell, in 1936: "Many Frenchwomen are getting away from black.")
This idea—that color trends begin on Paris runways, still holds a certain sway, at least in the popular imagination; witness the "cerulean blue" monologue in The Devil Wears Prada, in which Meryl Streep as an imperious fashion editor describes how a color that begins life in gowns by Oscar de la Renta in 2002 is then copied by other designers and is ultimately "filtered down through the department stores and then trickled on down into some tragic Casual Corner." But Paris may not be the ultimate source; as Blascyzk points out, cerulean blue was tapped by Pantone in 1999 as the "Color of the Millennium." Coincidence?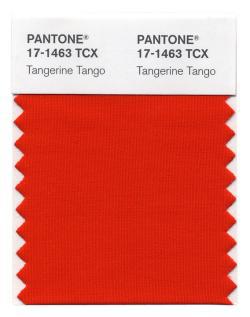 Some dedicated Pantone View clients think not. "I'm looking at the colors now that were put out [by Pantone] two years ago for summer 2011," says Mikel Cirkus, who heads the Conceptual Design Group at Firmenich, the flavor and fragrance company. "And you can look at what's out in the marketplace—for instance, this red-orange, or flame orange, is everywhere now. It's not a coincidence. It's not even forecasting in my mind, it's a dictating thing." Orange's ascent is undeniable—as the Wall Street Journal noted, orange was "out in full force" on the faces on models in the Spring 2011 shows, "mirroring the fashion color trend of the season." Indeed, it was worn by two colorists at the Pantone meeting itself. It's not just clothes, says Cirkus; there's the Sony Vaio, the new Camaro, the Hugo Boss "Orange" line. "You're connecting dots here that are traceable."
Was it Pantone? There's no doubt that in terms of sales of its color swatches—one of the rare quantifiable ways to track color trends—orange has been climbing. And not just the familiar oranges like Pantone 18-1354 Burnt Ochre. More vivid tones like Pantone 16-1459 Mandarin Orange, Pantone 16-1359 Orange Peel and Pantone 15-1157 Flame Orange, are now, as the company told me, "positioning far higher than ever before." Which leads one to wonder: Is Pantone trying to anticipate—or drive—color trends? Its position as a vendor of color swatches and standards makes its entrée into forecasting entirely natural, yet not without questions of motive. "We are in the business of actually forecasting color," says Leslie Harrington, director of the Color Association, a nearly century-old organization based in New York (early American colorist Rorke worked at its predecessor). "Pantone is in the business of selling fabric and paper samples—all their reports are done in order to sell more paper and color samples."  Who's more accurate? It's hard to say. There are no analytics measuring success of color forecasting—how would one even accurately measure such a thing? To play it safe most companies rely on a range of color forecasts. Eiseman says Pantone's effort, and perhaps color forecasting in general, suffers from two misconceptions. The first is that there is some kind of "evil cabal" that "schemes to get the colors out there." The second is "let's just throw a dart and wherever it lands is what's going to be the hot color for next year."
Cabal or dartboard aside, the ascent of orange is probably too complex to attribute to any one actor. Tom Mirabile, senior vice president at Lifetime Brands (who handles licenses for Cuisinart and KitchenAid, among other increasingly colorful brands), notes that "at the high end, people have been trying to make orange happen for 20 years. Every time it comes in, it goes right back out. It doesn't look good against most people's skin." So why orange now? Some of it may be for sheer effort. As Eiseman describes it, a color begins to appear in the consumer's "peripheral vision." "Oh, there's yellow-green there and yellow-green there, hmmm, it's not such a bad color. It doesn't look bad in a shirt." Or, as Mirabile puts it, "you see it enough and you start thinking it something you want to see."
There are any number of stories, virtually mythical at this point, about how color migrates. All that can be safely said is this: The more disposable the item, the more experimentation there will generally be with color. "If you get tired of a red jacket," says Harrington, "you can throw it in a closet. If you a buy a red sofa, it's a 365, 24/7 commitment to red."
But another common refrain in the color community is that colors, in part because of the economy, are sticking around longer. "We've learned to kind of ebb and flow with colors," says Eiseman, "to punch them up a little bit when people get a little more accustomed to them, bring them down a little bit, soften them, make them a little more sophisticated so that the color evolves." As Mirabile says, "it's a lot easier to be right about green when there's no perfectly right green." At the meeting, one of the British colorists argued things were returning to an older rhythm, in which "colors used to hang around seven to 10 years." Sounding almost wistful, he pronounced "we always give up on things too soon. How many times did we say it's the end of brown. It hasn't ended yet!"
Shah allows that every so often, when his group bets on black, the wheel will stop on red. "I think we are 80 percent correct in terms of mood, not in actual verifiable color," he says. "I think the way we saw greens, for example," a few years back, "we saw it in a much more organic herbal way—it ended up being much more military. We got the wrong handle on the message."
Complicating things are the sweeping structural changes that have rippled through the world of fashion and media. Where color used to begin with the fiber producers and the color spinners, and trickled through a whole chain of trade shows and production processes, this arrangement was first upset by the rising power of retailers—who, as Shah describes it, "went right to the beginning of the chain"—and then by fast-fashion chains like Zara, who shrank the lead times that had long made forecasters useful. Not to mention the Internet, with its bevy of style sites and trend bloggers. "Colors and trends on the runway are now seen simultaneously by consumers and the trade," says Kevin Carrigan, global creative director at Calvin Klein. "As a result, they are adopted much faster on all levels." Companies across the board have gotten more color-savvy. "Take J.C. Penney shirts," says Mirabile—a category that once upon a time might have been manufactured in unsophisticated, outmoded colors. "They look beautiful. They're doing what Izod's doing. They're not lagging behind anymore."
But Harrington of the Color Association also notes that "as the consumer becomes more aware of color, they need more guidance." And so might designers. "If you take the Pantone flip guide," the company's full catalog of colors, rather than its whittled-down forecast, "there's 2,000 colors in there," says Cirkus. "Your head will explode. There's no direction. As a designer, the sky's the limit."
And this is what was happening in London: A search for meaning, a drive for a narrative, a glimpse into the maelstrom of the global mood. When I asked Shah about the colorists' prepared statements, with their seductive sweep and cool urgency—why didn't they just show colors, I wanted to know—he answered: "When people present color cards they're often so wrapped up in the colors, they forget how to tell the message of colors." And having sat through the meeting, I see what he means. In the forecasters' pairing of tints and stories there was an assurance of something real, and not merely apophenia—finding connections and "patternicity" in unrelated things—the affliction that haunted fictional trend-hunter Cayce Pollard. The forecasters have an intense ceaselessly twitching antenna for color, but like meteorologists, they can't make the weather, all they can do is try to read the signs in the air—a whisper of street fashion in Shibuya, the tides of unsold jumpers coming back at Uniqlo, the onset of a consumer mood darkening like clouds—to see which way the wind will blow. And the collective effort to look ahead is a burden forecasters take seriously. At one point, as he presented his collection of whites, the Italian colorist spoke of the book The Black Swan—which he had mistaken for the inspiration for the film of the same name. "It's a nightmare, it's all about the unpredictability of events. We can't do any prevision with intelligence. That was my anguish, my anxiety."
But such doubts do not last. "Color has been more important than silhouettes—will it still have that power in 2013?" Shah asks. "Yes, but adding a layer of complexity, and shapes that are astonishing," answered a British colorist without pause. The others nod.
"We put seasons and dates on things," Shah told me the day after the meeting. "This color is for Summer 2013," he says, accenting each word with a beat. "People still need a direction. People may want to do things closer to season, but you still need to start someplace. People always need confirmation. Even if you're as strong as Zara, they need a start."