Each week, Tom and Lorenzo analyze the costumes on Mad Men with inimitable wit and charm—showing how the work of the show's costume designer Janie Bryant reveals character, supplements the plot, and just plain looks great. This article is a short excerpt from this week's Mad Style post. For much, much more on the costumes of "Far Away Places"—from Peggy's Don-like pockets to Jane's astonishing earrings—visit tomandlorenzo.com.
The tension in "Far Away Places" was sky high by the time it got to the Drapers' story, and that feeling was enhanced by Megan's outfit. She wore this outfit once before, the Monday after she threw Don his surprise party, when they entered the office and walked down that hallway, tense and barely speaking or looking at each other (a moment and shot which will be replicated later in the episode).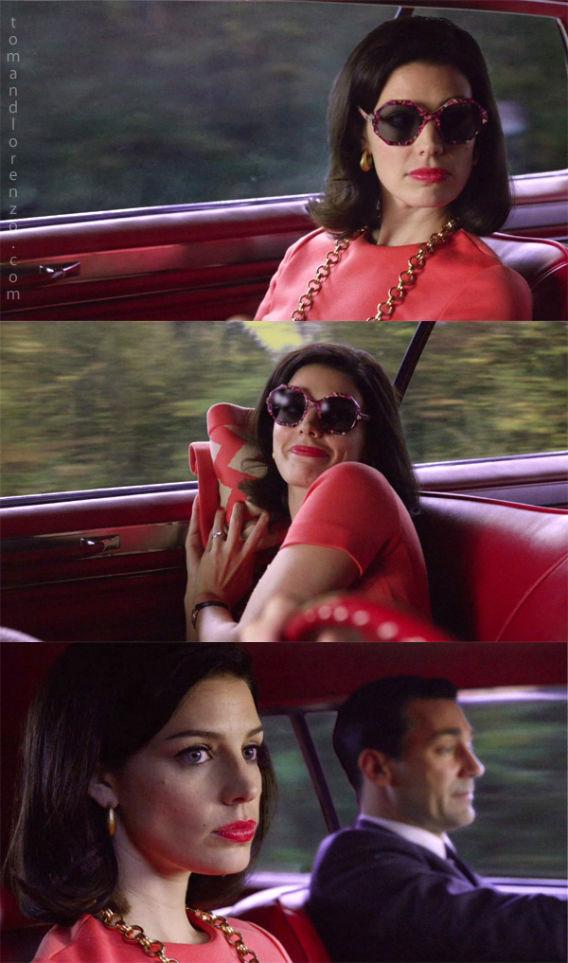 Back in the day, Betty had her "sad marriage" coat, a striking royal blue coat that popped up over and over again in scenes dealing with her domestic disappointment. After this episode, we think we can safely call this Megan's equivalent, although we'd be surprised if she ever wore it again, like Jackie and her famous pink dress.
This look also helps to visually raise the tension in the scene. In the loud and colorful surroundings of Howard Johnson's she's a buzzing, angular focal point, demanding to be noticed over the din.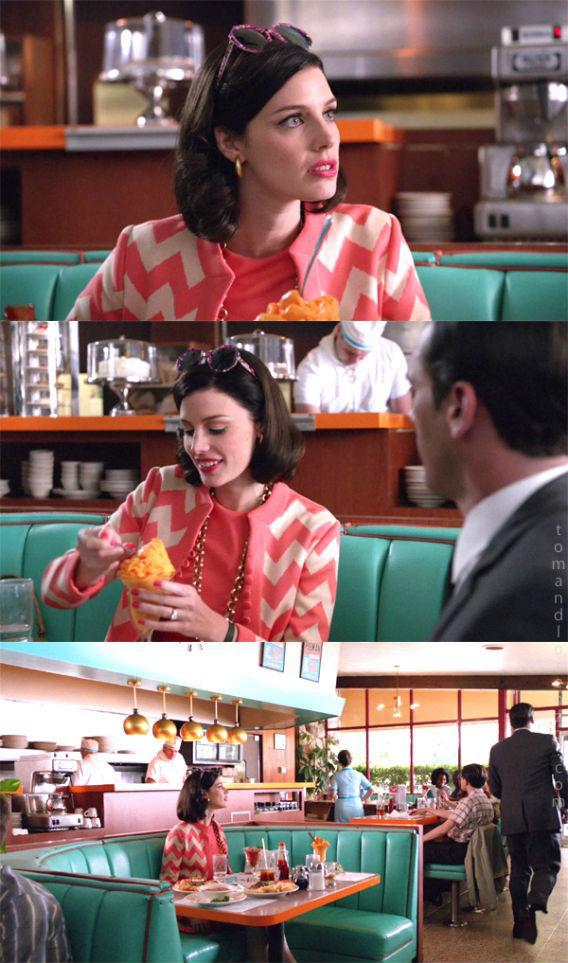 And when she steps outside and you place the camera at a low angle, you get a beautifully represented visual motif of angularity and conflict, reflecting back and forth between the chevrons of her coat and the chevrons of the roof. She's stuck here, literally and visually.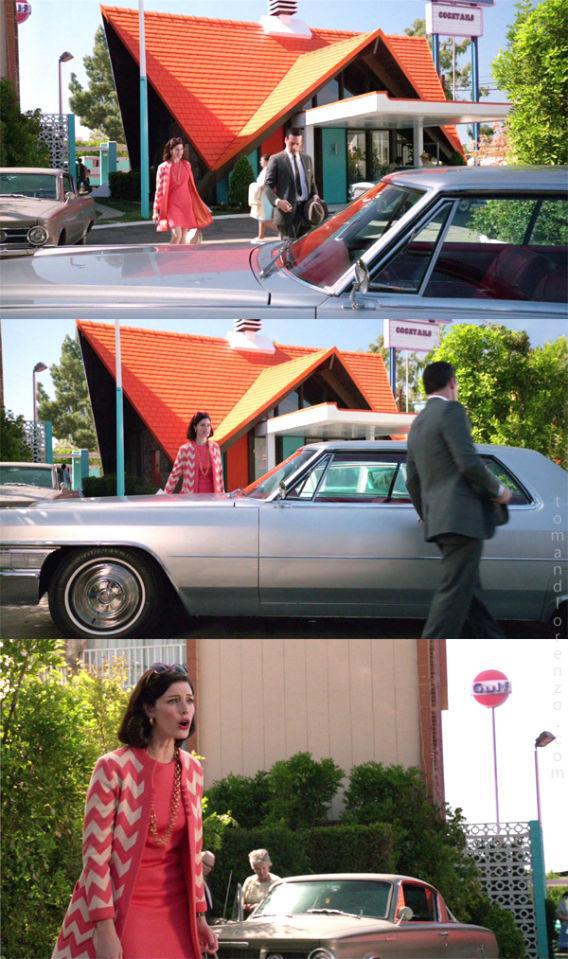 Unlike the previous time she was seen wearing this look, she is, like all the women in this episode, seriously decked out, in her case with some big pieces of jewelry and stylish sunglasses. Contrast this with how she looked in Don's flashback, when her only official role in his life was as his secretary and part-time nanny: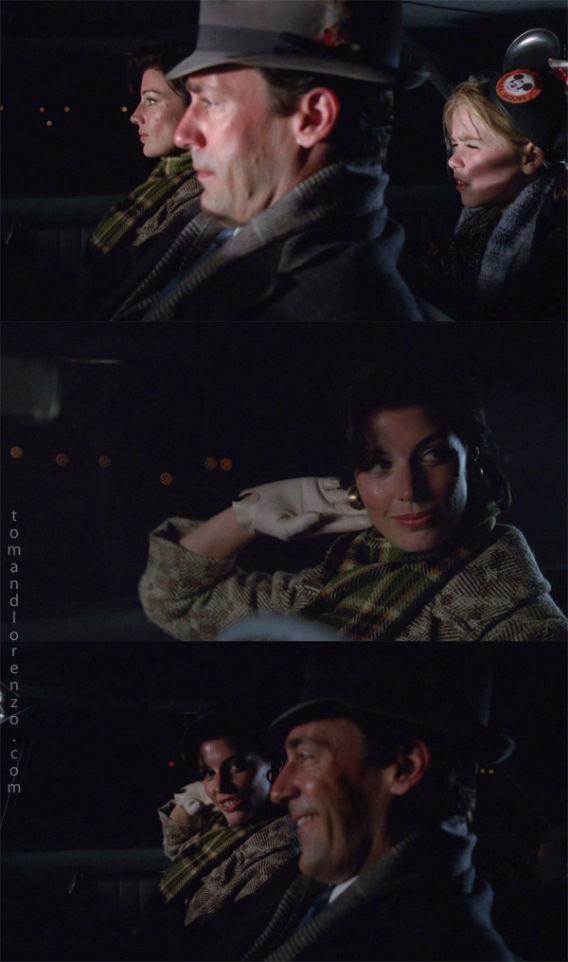 Here, she's fresh-faced, sunburned, and somewhat modestly dressed, in pieces that look sturdy, but not particularly stylish. This is notable because really, Megan never dressed this way, not even when she was his secretary. From the minute she appeared on the scene at SCDP, she was always brightly and stylishly dressed in the latest in 1964-65 styles. They weren't as expensive as the clothes she wears as his wife, but they sure didn't look like this. Either a mistake was made in the costuming (which is extraordinarily unlikely) or we can take this as a visual cue that Don's memory of her isn't reliable. Megan was always glamorous, but he's playing a memory of her as simpler and more maternal than she ever really was.
This whole blow-up started over a cruel remark about his mother and it's clear that on some level, he sees her as a maternal figure for himself: someone angelic and perfect to save him and to be to him what Betty and his own mother and stepmother never were: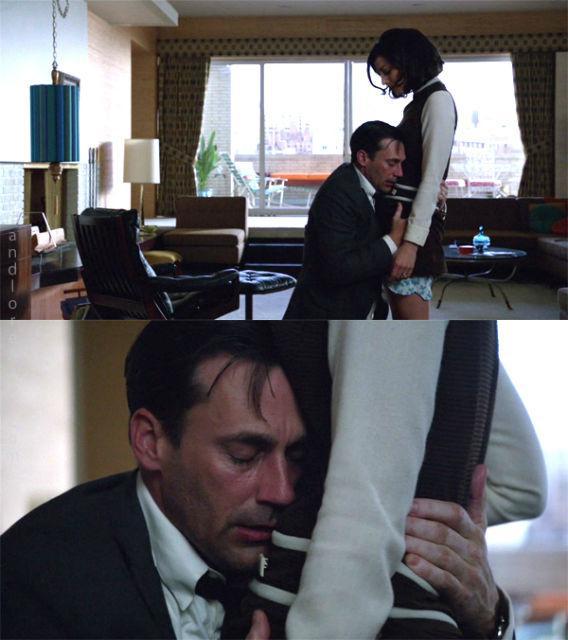 Like so.
The irony of this Pieta-like staging becomes apparent with that flash of her childlike butterfly slip.