Each week, Tom and Lorenzo analyze the costumes on Mad Men with inimitable wit and charm—showing how the work of the show's costume designer Janie Bryant reveals character, supplements the plot, and just plain looks great. This article is a short excerpt from this week's Mad Style post. For much, much more on the costumes of "Signal 30" – from the hunky high-school boyfriend to Ken and Peggy's office suicide pact—visit tomandlorenzo.com.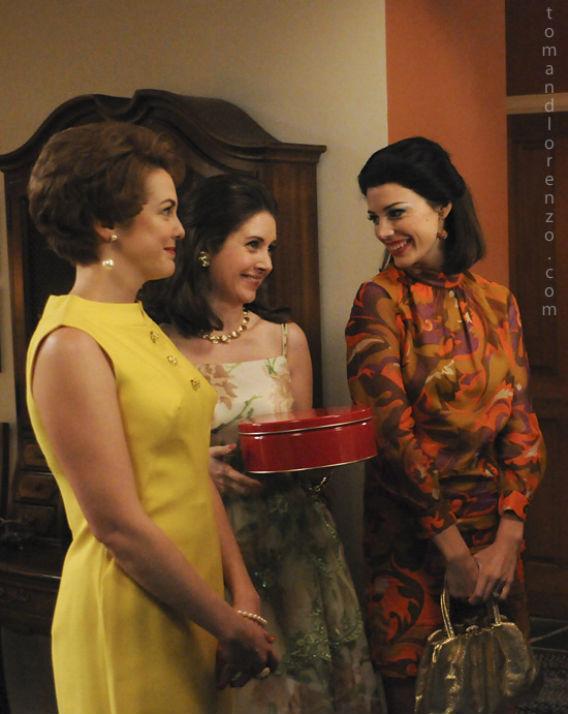 In the real world, people at dinner parties don't normally show up demonstrating their vast differences through their clothing. Not in so nakedly (pun unintended) obvious a manner, that is. But in a filmed drama, it represents a perfect opportunity for a smart costumer, and things were working on several levels here. The three women are dressed in vastly different styles, indicating their own differences. Trudy is the only housewife here and she's in something traditionally feminine, floral, and slightly out-of-style. Cynthia still works in the city and lives in Queens, so her style is pretty much up-to-the-minute. Megan not only works in the city, she lives in it, married to the wealthiest man in the room (check that gold metallic purse), which means her clothes are up-to-the-second stylish, not to mention bolder and louder than the other women's clothes.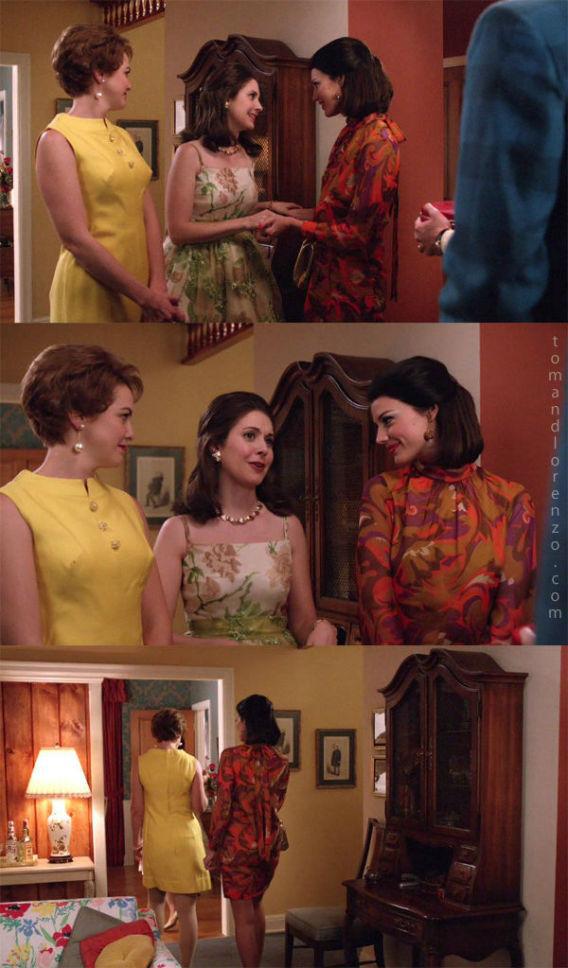 Note how much the dresses tie into the surroundings, picking up the colors of the room. This subtly reinforces the idea that the home is the woman's purview. Trudy is in charge here and even the other women (neither of whom are housewives) know that they're supposed to run off to the kitchen while the men talk.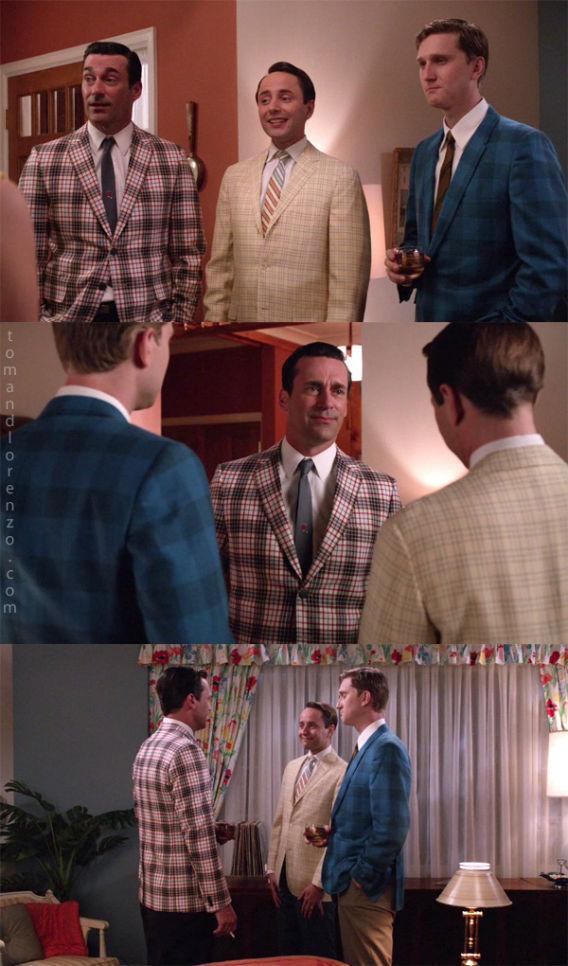 The men aren't so different from each other as the women. They all work for the same company, after all. As Megan indicated earlier, they're spending the night "in the country," so a plaid blazer was called for, as opposed to the staid business suits these men all favor in the city. Ken and Pete are wearing typical preppy plaids, but Don's is more stylish and bolder, befitting a wealthy city man who's a decade older than them. Pete and Ken are also dressed in similar shades of beige and blue, which denote both their youth in relation to Don, as well as the fact that they both do the same thing for a living. They're accounts, and Don, in his attention-grabbing red and black plaid, is creative.

Cynthia and Ken match, more so than any other couple here.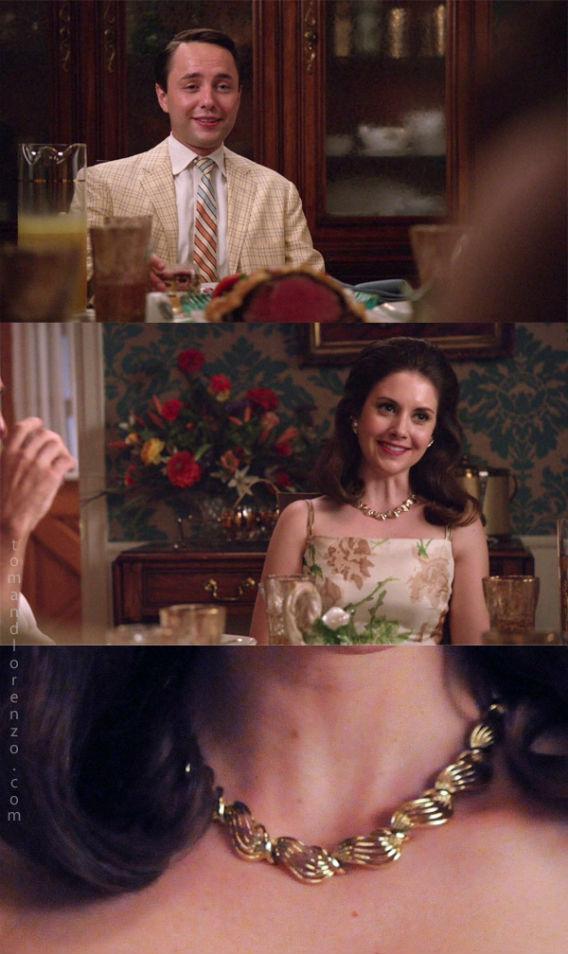 … Although Pete and Trudy's beiges call back to each other. Pete's the only man who didn't take off his jacket in the heat. That's partially because he's so stuffy, but it's really because, as someone keenly aware of etiquette, he knows it would be bad form for a host.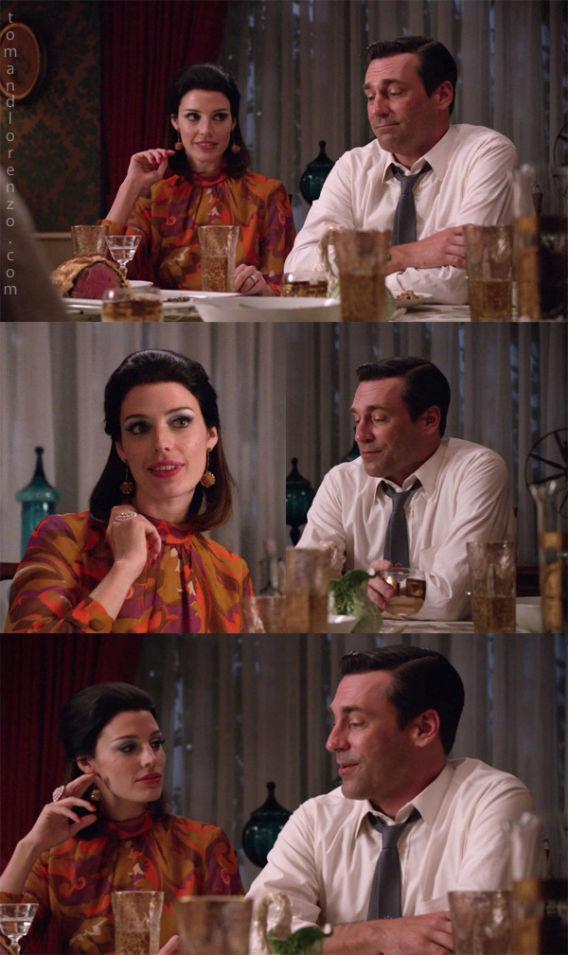 But Don and Megan's outfits don't call back to each other at all. We don't think that's an indication of the state of their marriage. After all, Pete and Trudy's outfits match more and they have the most troubled marriage in the room. Instead, we think it reinforces Megan's independence from Don. She doesn't do what she's told, unlike other wives.