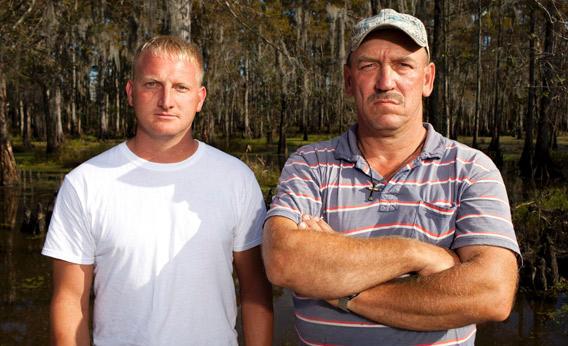 Fans of NBC's smart-alec sitcoms Community and 30 Rock are accustomed to worrying that disappointing ratings will doom their favorites to cancellation. So their performance last Thursday night wasn't a surprise: Community attracted just 3 million viewers and 30 Rock a mere 2.79 million. Meanwhile, over on History, as the channel is now known, a show called Swamp People was seen by 4.5 million people and drew more 18-to-49-year-olds—the group that advertisers most want to reach—than any of the shows in NBC's lineup.
In fact, as Vulture's ratings guru Joe Adalian noted, Swamp People was seen by more 18-to-34-year-old men than anything on network television that night, with the single exception of The Big Bang Theory. How could a low-profile cable reality show attract more young men than a long-established, heavily promoted juggernaut like American Idol?
Head over to the History website to watch an episode—or tune in tonight—and you'll understand its success. Swamp People, the story of Cajun alligator hunters on Louisiana's Atchafalaya Swamp, is a testosterone-tickling genre-bender that combines the intense competition of sports programming with the adrenaline charge of dangerous-job reality shows.
History has said goodbye to the World War II documentaries that were once Tony Soprano's preferred viewing. Its biggest hits are Pawn Stars, about a family pawn store; American Pickers, which follows a pair of antiques scouts as they travel the back roads of the Midwest in search of dusty treasures; and butch franchises like Swamp People, Mudcats (about an Oklahoma hand-fishing contest), Ax Men (about loggers), Ice Road Truckers (about ice-road truckers), and Full Metal Jousting, which, the show's website is keen to point out, is no relation to Ren Faire nerdery—it is where "the toughest riders in the nation face off in a bone-crushing competition for big money."
This macho lineup has helped History become the No. 2 cable network among men 18 to 49. Only ESPN's wall-to-wall sports action and commentary attracts more dudes. Of course, licensing rights for pro sports are incredibly expensive; History has lured guys by creating their own competitions while borrowing a few tricks from the sports-broadcasting playbook.
Shows like Swamp People learned many of their signature moves from the world of sports. Just as CBS cuts from one hole to another during its coverage of the Masters, History switches up the action on Swamp People—before you tire of Troy Landry's battle with a big-headed beast, it's off to another part of the bayou, where 21-year-old Austyn Yoches is stepping into an island of fire ants in pursuit of a gator. (Of course, CBS's technicians need only worry about stray azaleas and wayward drives; History's camera operators must contend with storms, snakes, and 800-pound alligators.) Every change of scenery is signaled with a look at the map and a cut to a dramatic helicopter shot of southern Louisiana's vast flooded forest.
For the men (and two women) of Swamp People, alligator hunting is a business rather than a sport—selling the gators' meat and skins can provide as much as half the hunters' annual income—but there are other parallels to the more conventional contests on ESPN. There's even a game clock of sorts: Gator hunting is permitted only during the 30 days of September, and a limited number of tags are available.
The swamp people aren't athletes, but they must have nerves of steel (not to mention hands of steel—when a gator has bitten on their baited lines, the hunters reel in the thick nylon ropes on which the creatures are struggling without the aid of gloves), a sure shot (although gators grow as long as 14 feet, the "kill spot" on the back of their head is smaller than a softball), and the strength to haul the dead animals into their boats without swamping. And most of all, they need the outdoorsman's equivalent of LeBron James' court sense—a feel for the territory that comes from spending thousands of hours on the bayou.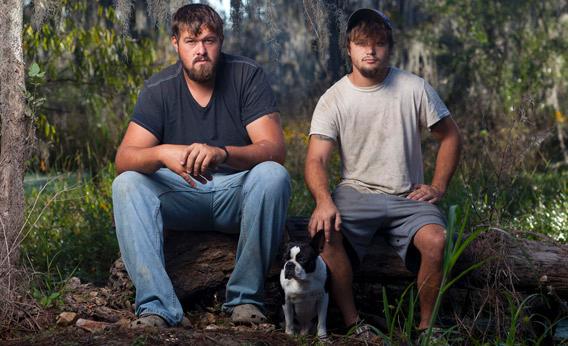 As in the world of sports, there are rivalries. Ax Men pits logging crews from around the nation against one other, and Swamp People promotes an informal contest to unseat Troy Landry as "king of the swamp." As Dirk Hoogstra, History's senior vice president for development and programming, told me, "If there's a competitive aspect to something, and there's drama around it, we're going to focus on it. Men are competitive, and they enjoy watching that play out."
Or perhaps the appeal of shows like Swamp People is more primal. This isn't a pastime where men trot around a neatly manicured field in freshly laundered uniforms; it's an existential struggle between man and nature. It's about battling prehistoric creatures with razor-sharp teeth and a 600-pound weight advantage. It's about passing down culture and skills that have been in families for generations. It's about rough-hewn outdoorsmen who head off into the flooded wilderness without charts or life jackets.
For History's Hoogstra, that's the key to the show's appeal, especially to viewers who earn their living by more conventional means: "When you're working in a high rise, and you live by the clock, there's an aspirational quality to looking at these guys and saying, 'These guys are carving out their living on their own in this beautiful environment. They are the modern-day American pioneers.' "
History seems to have found the right bait to attract male viewers, but these shows aren't just for guys. The recipe for Swamp People's success calls for a few pounds of raw male energy, a healthy portion of gorgeous scenery, a pinch of family dynamics, and a boatload of guns and gators. But the key ingredient is sweat and struggle: In today's economy, we all want to watch men at work.
---