A few years ago I met a nice young couple at a café near where I live. I'd see them there most mornings. She was a fashion designer; he was a musician. She was sweet, friendly, funny—a wit. He was more aloof—or rather, sleepy. He'd shuffle in to get his coffee with matted hair, looking like he'd been dredged out of nearby Buttermilk Channel.
It made sense: He sang in a band, he kept late hours. "You should listen to Nate's band, they're really good," the girl told me a couple of times. "They're a rock band, but the music's very pop. You'd like it." I'm sure I did what I usually do when someone recommends their boyfriend's band, their girlfriend's novel, their cousin's blog. I smiled and nodded—I'm sure I'd love it, very poppy, sounds like my thing, can't wait, I'll check it out right away—while making a mental note never to get within a country mile of the Really Poppy Rock Band Whose Music I'd Just Love.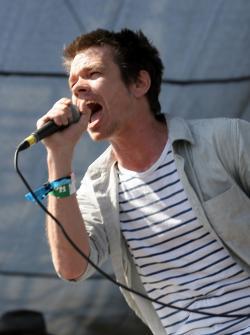 But it turns out my café friend was right. Her boyfriend's band, Fun., are a rock group who write sharp, surefooted pop songs. They're really good. I love them.
Fun.'s second album, Some Nights, was released two weeks ago. It's loads of—there's no other word for it—fun. On their 2009 debut, Aim and Ignite, Fun. showed equal flair for pop and pomp: catchy songs that took hairpin turns into the baroque. On Some Nights, the songs are better still, the arrangements even more flamboyant, and the music holds a headier mix: some Queen, some auto-tune, big wind-whipped melodies that would send Andrew Lloyd Webber scrambling for cover, beats that would sound at home on a Drake album. (The album was co-produced by Jeff Bhasker, who has worked with Drake, Kanye West, and other hip-hop and R&B artists.) It all comes together in the album's centerpiece and first single, the current No. 1 song on the Billboard Hot 100, "We Are Young."
It's a ballad that booms and gusts, with showstopper chorus that heads over the top, and keeps going: "Tonight/We are young/So let's set the world on fire/We can burn brighter/Than the sun." It takes a big tune and a bigger voice to sell a hunk of cheese like that, and "We Are Young" has both. Nate Ruess—the kid from the coffee shop—is a startling singer, with a voice full of rock snarl and Broadway panache. You can hear it on the studio recording of "We Are Young"—and on the acoustic version that has gone viral on YouTube. Ruess has a bold mid-range and his voice holds its power when he goes up the ladder into falsetto. But what the guy really has is star-quality, an ineffable je ne sais quoi that grabs you by the ears and holds you there. His voice isn't just pretty. It's riveting.
In recent years, '50s and '60s teenybopper music has become the trendy retro gesture, turning up in everything from Beach House and Best Coast to Adele and Katy Perry. For my money, "We Are Young" is the finest of the lot—the tastiest blend of malt-shop melodrama and 21st-century pop. The chord progression, plinked-out staccato-style on piano, nods to doo-wop, as do the vocal embellishments in the melody. ("We can burn bright-ah/Than the suh-oh-wah-oh-won.") The melody feels timeless and inevitable—a tune that's been hiding out in a cobweb-covered file cabinet in the Brill Building. But it's unmistakably a song of 2012, poked and prodded by synthetic beats, with lyrics that are pure emo: "Give me a second/I need to get my story straight/My friends are in the bathroom/Getting higher than the Empire State." Meanwhile, Ruess himself seems to inhabit different eras, sounding both younger and older than his 29 years: like a teenager in love and a bleary old-timer, staring down the wrong end of an all-night bender. Come morning, he'll need a strong cup of coffee.