Since 2000, only 15 new records have been given five-star reviews by Rolling Stone. A few of these records were by musicians that most listeners would agree were in their primes: Beck, Kanye West, The White Stripes. However, while the publication has recently railed against Wall Street firms for improperly rating sub-prime mortgages, it hasn't taken the same precautions against its own gross inflation in the rating of sub-prime albums, at least when it comes to certain classic rockers.
Exhibit A: Bruce Springsteen. The Boss's latest album, Wrecking Ball, hit the top of the album charts this week—but has received only mixed to positive reviews overall. (Slate's Jody Rosen, a big Springsteen fan, called it "the work of a man who has forgotten what he's good at.") But it garnered a perfect five stars from Rolling Stone, the magazine's first five-star review since Kanye West's My Beautiful Dark Twisted Fantasy in late 2010.
In fact, every rock album Springsteen has released this decade has received a perfect five stars. (His one original folk album during this stretch, 2005's Devils & Dust, got four-and-a-half stars; his album of Pete Seeger songs, 2006's We Shall Overcome: The Seeger Sessions, was given four.) Which means that Bruce Springsteen has accounted for more than a quarter of all five-star reviews given out by Rolling Stone to new albums during this young century. (A handful of reissued classic albums have also received five stars.)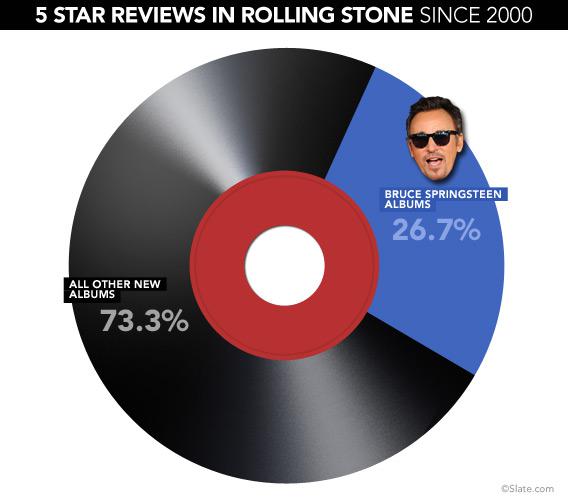 It began with 2002's The Rising, an album that received fairly wide acclaim. But as the 21st century has progressed and other critics have wavered in their Springsteen love, Rolling Stone has maintained a decade-long standing ovation.
When Magic appeared in 2007, New York said that "most of the material has a certain karaoke-like vibe." Rolling Stone made a similar point somewhat differently, calling it "the most openly nostalgic record Springsteen has ever made." Two years later, SPIN said of Working on a Dream that "one of rock's most eloquent lyricists is in the awkward position of having little of interest to say." Rolling Stone, meanwhile, declared that "moment for moment, song for song, there are more musical surprises than on any Bruce album you could name."
And now we have Wrecking Ball, which, according to Pitchfork, "isn't a disaster." Or, as Rolling Stone put it, is "the most despairing, confrontational and musically turbulent album Bruce Springsteen has ever made."
Why does Rolling Stone love the Boss so much? Well, the magazine was founded in 1967, and it has always displayed a preference for big, classic rock 'n' roll that wants to save the world. The bard of Asbury Park perhaps fits that bill better than anyone. Also, Springsteen did play editor Jann Wenner's 60th birthday party.
Whatever the reason, the magazine loves the guy way more than any other outlet for pop music criticism. Here are the scores for Springsteen's four rock albums on Metacritic (which uses a 100-point scale) with the Rolling Stone reviews removed: Wrecking Ball, 70.96; Working On a Dream, 66.93; Magic, 71.73; The Rising, 76.95. Here are Rolling Stone's scores for the same albums: 100; 100; 100; 100.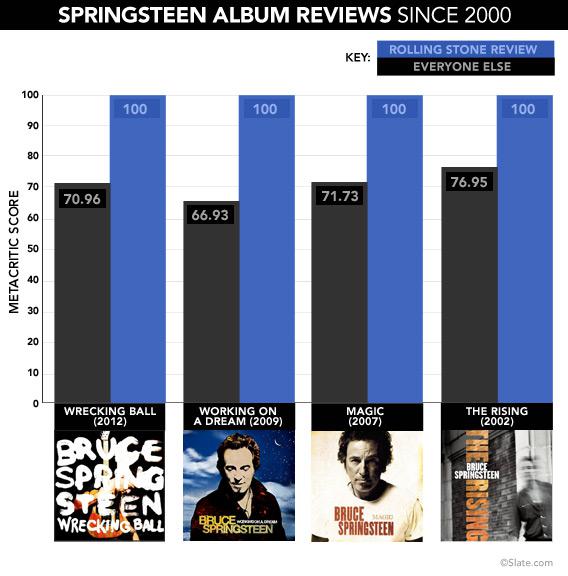 Just so we're clear: We here at Brow Beat love you, too, Bruce. But maybe not quite that much.