Also in Slate, Josh Levin and Jim Pagels detail the 18 most hateable moments in Duke basketball history.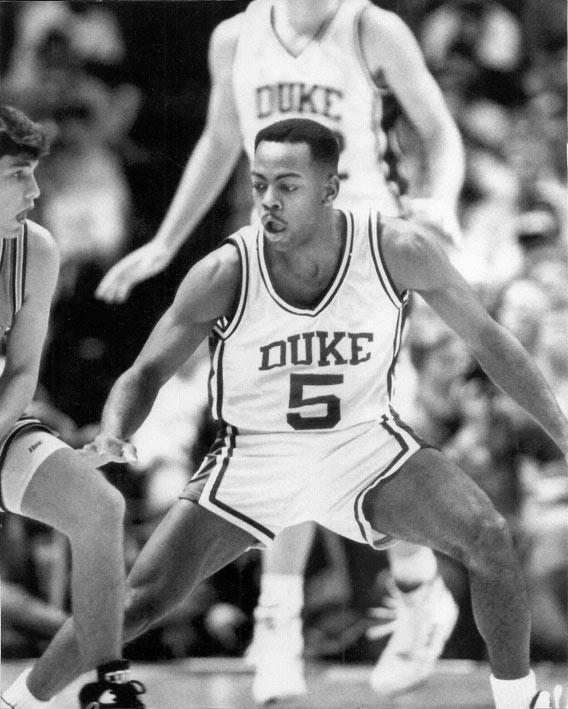 On Oct. 15, 1991, dozens of students shuffled into Duke's Cameron Indoor Stadium with hopes of making one of the best college basketball teams ever. In the real world, walk-on tryouts aren't cinematic. As the hopefuls scrimmaged, it became clear who was going to grab the Blue Devils' single open roster spot: Ron Burt, a senior from Kansas City. (Among those who didn't make the cut: future CBS March Madness staple Seth Davis, who at the time wrote for the campus paper.) After the tryouts, Burt got a call from Duke assistant—and current Harvard coach—Tommy Amaker telling him to show up for the next day's practice. "I was excited for a second, but then it hit me," Burt says. "I was scared as hell."
Over the next few weeks, you'll hear dozens of stories about the 1991-92 Blue Devils, who 20 years ago beat Kentucky in the greatest college basketball game ever played en route to their second straight NCAA title. Duke's dominance that season surprised no one. Burt's path, on the other hand, was both unlikely and fortuitous. On a team featuring four NBA lottery picks, he was a bizarre outlier: a 6-foot college senior who played his high school hoops in rural Maine and whose previous athletic peak was an intramural championship.
Growing up in the 1980s, Burt's favorite sport was baseball and his favorite player was the Cardinals' Ozzie Smith. Burt gave up the game when he was a teenager, however, seemingly putting his sports aspirations aside for good. On the suggestion of his aunt, a professor at the University of Massachusetts, he attended Gould Academy, a tiny boarding school in Bethel, Maine. At Gould, he played on the basketball team, and he was accepted to Duke the same year as eventual co-captains Laettner and Brian Davis.
As freshmen, Burt and his buddies—including Mark Williams, who eventually became the manager of the Duke team—formed the Diaper Dandies, an intramural squad named for one of Dick Vitale's favorite insufferable catchphrases. Together, the Dandies won a pair of campus titles. In his spare time, Burt also played pickup ball with members of the varsity team. "If you can hold your own and not slow the game down, they'd always welcome you," Williams says.
In the spring of 1991, the mechanical engineering major saw an opening. Two Blue Devils, Billy McCaffrey and Crawford Palmer, had decided to transfer, leaving Duke with just 11 scholarship players. That summer, Burt spent his days running from Kansas City's Hilltop Townhomes, where he lived, up and down a gorge, and on to the nearby Blue Valley Recreation Center, where he shot hoops and lifted weights. When that work paid off and he made the team, his mother reacted like mine would have—by telling the whole family that he'd be starting in no time.
The initial euphoria wore off quickly. Every time he got onto the court, Burt says, it was "like looking down the barrel of a loaded gun." Among other talents, there was petulant and demanding Christian Laettner ("Not the most diplomatic person I've been around," Burt said), future All-Star and Sprite pitchman Grant Hill, and Bobby Hurley, an All-American junior point guard who was robbed of a potentially great pro career by an auto accident. (The team's fourth lottery pick: Cherokee Parks.) Burt's job each practice was to attempt to make Hurley's life difficult. "You knew at the end of the day, things were not going to be very good for you," he says.
During one of his first days as a Blue Devil, he sprained an ankle. When a trainer asked why his ankles weren't taped, Burt was dumbfounded—he didn't realize that was mandatory. Practice, Burt recalls, was conducted at a frightening pace. "I could compete well for a couple of minutes," he says, "but Bobby would go through an entire practice then be on the StairMaster for another hour."
For Burt, facing Hurley caused a series of existential crises. "This is pointless," he'd say to himself, "I don't know if they're getting anything out of this." Occasionally, he got dunked on, spurring teammates to start choruses of "Roooooonnnnn!" He also once made the mistake of trying to strip the ball from Laettner, who promptly elbowed him in the teeth.
As drained as he was at the end of each day—"I don't think I was ever not tired again until the season was over"—Burt still reveled in his minor celebrity. Before a preseason exhibition against the Soviet Selects, the late Al McGuire approached and said, "I'm hearing you're outstanding in the open court." And with the game against the Soviets in hand, Burt actually saw some action. "The first thing I did," he says, "was dribble the ball off my foot out of bounds."
That season, Burt played sparingly. Thirty-eight minutes, to be exact. He attempted 11 field goals, made three, and scored 10 total points. But Krzyzewski didn't treat his only walk-on like a walk-on. The second semester of his senior year, Burt was awarded a full basketball scholarship. And like his high-profile teammates, he wasn't immune to his coach's wrath. One day, Krzyzewski went around the locker room, harping on each player's shortcomings. "We thought you were going to be much more vocal, we think you're holding back," he said, looking at Burt. "We expect you to bring more energy." In the moment, Burt felt less abashed than proud: "He's actually talking to me right now."
During the 1992 NCAA Tournament, the Duke program itself was in the crosshairs. That didn't seem to bother the Blue Devils, who rolled up three straight double-digit victories en route to an East Regional Final matchup against Rick Pitino, Jamal Mashburn, and Kentucky. With 2.1 seconds left in overtime, Sean Woods hit a bank shot to give the Wildcats a 103-102 lead. During the subsequent timeout, Laettner guaranteed a Duke victory. Burt's thought at the time: "Whatever, dude."
Burt was skeptical, in part, because he figured Kentucky would triple-team Laettner, who had 29 points and literally hadn't missed all night. Laettner, though, had little trouble catching Hill's baseball pass above the foul line. The national player of the year dribbled once to his right, spun, and lofted up a jumper. When the now iconic shot hit the net, Burt, who was sitting on the end of the bench next to forward Christian Ast, leapt up and sprinted toward Laettner, who'd taken off down the floor. Burt thinks he was one of the first players to reach Laettner. Then, he says, everybody just went "down in a heap."
Gene Wojciechowski's book The Last Great Game refers to Burt only twice in its 320 pages. One of those mentions comes near the end, when Laettner says he "watches replays of the Duke-Kentucky game … to see the joy on the walk-on Ron Burt's face." I read Burt that passage and asked if it could possibly be true. He laughed. "I honestly do believe that," he says. "It was just one of those moments. There are only a few people who can say they've had those moments. They're very rare."
In the Final Four, Duke disposed of Indiana and Michigan's Fab Five. Burt and Williams, who were roommates their final three years of college, say it took months before they came down from their championship high. Burt actually had a chance to attend graduate school at Duke and play another year of basketball, but opted against it. "Part of me just thought that moment was so perfect," he says. "I didn't want to mess it up."
Now 41, Burt works in finance and lives in Brooklyn. Over the years, relatives have snatched up most of his old Duke gear, leaving him with just a ratty practice jersey. In his basement, there's a small shrine, with photos and his Glenn E. "Ted" Mann Jr. Award, given annually to the Blue Devils reserve who contributed most to team morale. Two decades later, people still ask about his days as a walk-on. "Guys will say, 'I hate Duke,' " Burt says, "but that must've been pretty cool, right?"
Hang Up and Listen host Josh Levin, college hoops stats maven Ken Pomeroy, and Basketball Prospectus and ESPN.com writer John Gasaway will be chatting with readers about March Madness this week: What are the best strategies for filling out your bracket? Which teams are likely upset victims? What stats are most predictive of NCAA Tournament success? Join them on Slate's Facebook page at 1:30 p.m. EST on Wednesday, March 14 to take part in the chat.