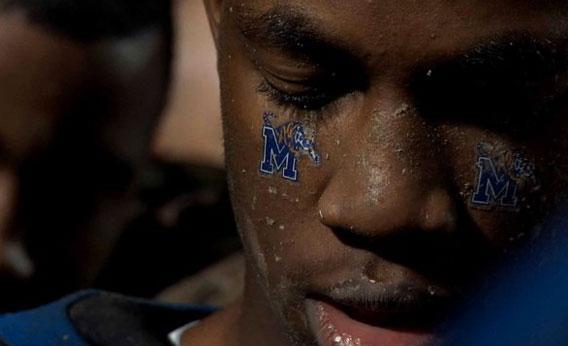 Undefeated, Dan Lindsay and T.J. Martin's Oscar-nominated documentary about an inner-city high school football team in Memphis, Tenn., isn't the pigskin version of Steve James' classic 1994 doc Hoop Dreams. This modestly scaled but inspiring movie, which focuses on the Manassas Tigers' 2009 season, lacks the sprawling scope of a film like James', which followed the lives of two high-school basketball prodigies over a period of years. At its heart, Undefeated is a simple character portrait of Bill Courtney, the volunteer coach who squires the Tigers to something resembling victory over the course of that tumultuous season. (The movie's title isn't meant literally; there's no shortage of triumphant wins here, but plenty of stinging losses too.)
Courtney is a white man, and every member of the team he coaches is black—but racial tension doesn't play a large part in Undefeated (though there is one away game where a nearly all-white crowd gawks at the Tigers' arrival onto the field). What Courtney's players care about, what makes them so fiercely loyal to him and to their perpetual underdog of a team, is that this gruff, demanding, often foul-mouthed man—a volunteer coach who makes his living running a lumber business—is a born teacher and mentor, driven by an all-consuming passion to make the Tigers the best they can be, not only athletically but academically. For many of these young men, football represents their only ticket out: Forget going on to play pro football, they just want to make it to college. "Even if I don't make it out of Tennessee, I'm gonna get out of Memphis," vows Montrail "Money" Brown, an ambitious senior who's both the team's smallest player and the one with the best grades. Money is the team's success story, a seeming shoo-in for a scholarship—until he sustains an injury that may keep him on the bench for the rest of the year.
The team's offensive star is a hulking left tackle named O.C. Brown, also a senior, whose combination of speed, agility, and size is so appealing to college scouts that he has fistfuls of recruitment letters in his gym locker: "These are from this week," he tells the camera with shy pride. But O.C. struggles to maintain the grade-point average he needs to get into college: "I'm smart in a way, but I'm not the smartest kid in the world." Later in the season, Chavis Daniels joins the team, fresh from a year in a junior penitentiary. (In a half-mocking reference to his own shaky self-esteem, he insists on the number 0 for his jersey.) Chavis, who played on the team as a freshman, is eager to reassume his place, but his anger problem has him lashing out at his teammates for trivial reasons, with the indefatigable Coach Courtney interceding as mediator, therapist, and sometimes enforcer.
The ultimate praise given to sports movies is always, "Even if you don't care about sport X, you'll care about these characters," and that's certainly true of Undefeated (I don't, and I did). But there's no question that understanding the nuances of football would help in enjoying this movie to the fullest. Many scenes take place on the practice field or during games, and they're there for a variety of dramatic purposes: some to demonstrate a particular player's prowess, some to advance the story, some just to get a good laugh. I might've preferred more scenes that explored the larger context of Manassas High (how does the student body feel about their football team, which has never won a playoff game in the school's 110-year history? How is Coach Courtney regarded among the other faculty?) or spent more time with the teenage players in their homes and classrooms. But the filmmakers' choice to concentrate on what happens on the field will no doubt be appreciated by football-loving viewers—and if nothing else, that narrowness of focus keeps this 113-minute film moving along at a lively clip.
I'm still stinging a little that The Interrupters, Steve James and Alex Kotlowitz's masterful 2011 documentary about violence mediators on the South Side of Chicago, didn't get an Academy Award nomination and Undefeated did. Isn't it possible that two movies about poor black kids in the inner city could be among the best of the year? But if Undefeated does take the prize—like the team it documents, it's hardly the front-runner—it will be tough for anyone who has seen this movie not to well up with vicarious pride. After serving a suspension from the team for bad behavior, the troubled Chavis tearfully apologizes to his teammates and returns, trading his "0" jersey for one that reads "35." About to go out on the field for an important late-season game, he murmurs to Coach Courtney, "I'll die for you tonight. I'll die for you." Loyalty and courage like that deserve a lot more than just an Oscar.
---