Also in Slate, read June Thomas' essay on the allure of home-renovation TV .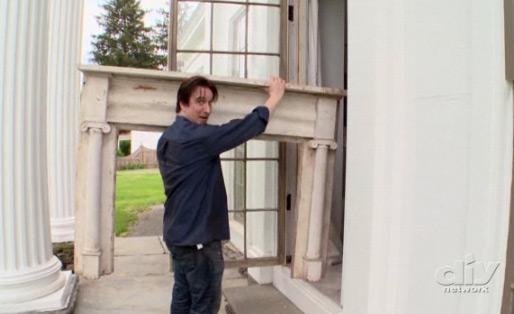 In The Bronson Pinchot Project, which debuts on the DIY Network this Saturday, the star of Perfect Strangers reveals his lifelong passion for historical properties. When he isn't acting, Pinchot lives in rural Harford, Pa., where he spends his days working on the half-dozen properties he owns there. The program shows him shopping for gasolier globes and ransacking salvage yards as well as supervising some spectacular transformations. Slate spoke with Pinchot about the series, his attitude to "restoration," and whether his homes are his friends or his harem.
Slate: Why did you agree to do the show?
Bronson Pinchot: Our agreement is that I simply get on with what I do, and they film it. There's none of the stirring of the reality TV pot. We've all become too sophisticated for that as viewers. It's almost like a great date when you forgot you had a date, so you rush out and you meet the lady at a restaurant, and you're just dressed in your favorite clothes, not the ones you think you should wear for a date, and she thinks you're the most wonderfully naturally attractive guy. So I just get on with what I do, and that works for them.
One day I came down in my purple pajamas, and I just got so excited that I never got dressed. I didn't do it because I thought it would be delightfully eccentric. I just couldn't go upstairs and change my clothes.
Slate: You share a lot of personal stuff in the show. You're quite exposed. You're a star, and this is realer than reality; there's no makeup or wardrobe.
Pinchot: I'm naked, but naked on my terms. I think if I wrote a book about the experience, I would call it Naked on My Terms. In the pilot, we got some 1860s gasolier globes, and when they arrived, they were broken. It broke my heart, but then I got on with it. Afterward, I looked at the footage, and I thought, "So that's what you look like when you're really heartbroken." I've done a million movies where they've said, "Come on, baby, you can pump it up," or plays where the director tells you how it's appropriate to emote. After 26 years, I looked at myself, and I thought, "That's you when you're profoundly sad."
The other thing is that it's what I love. I've noticed that if you're doing a movie that's kind of meh, you look in the mirror, and you really scrutinize your face, and you think, "Well, I could have used a little more shadowing under the jaw." But if you're going to see salvage, and salvage really is the greatest joy in your life, who cares? I don't care how I look, because I want to see the salvage.
We recently filmed a scene where we were looking for some clapboards. Nobody ever saves clapboards. It's the same with vintage clothing, people save jackets and pants and skirts and hats, but they don't save socks. There are certain things that are so homely that nobody saves them, so they become quite rare. I wanted to do a house with completely original early 19th-century clapboards. So we pulled up in the truck, and I saw them in a pile from the truck. While the truck was still moving, I opened the door and jumped out and ran away. My wonderful producer said, "Bronnie, Bronnie, get back in the truck. We need to have a nice shot of you pulling in." I said, "Nothing doing, I've got to have these clapboards right now. I physically cannot get back in the truck."
Slate: Don't you worry that if viewers catch your passion for period houses from the show, they'll compete against you for materials? Aren't you concerned that they'll be bidding against you in online auctions? That they'll get to the salvage yard before you and get the good clapboard?
Pinchot: That's almost like saying, "If I write from the heart about exactly the kind of woman that I would like to spend the rest of my life with, and someone else sees the description, then they're going to get her." It really is in the interests of the old houses and the old salvage to be nurtured and picked up and dusted off. The thing that I want to happen is for people to pick up the idea of "Stablilize but don't restore."
I don't even know what restore means. Restoring is a very arrogant concept. If you're taking a house from 1812, do you restore it to how it looked the day after it was built, or restore it to the way it looked in 1828, or the way it looked in 1872? Do the minimum to stop it from falling apart, and then get away. Leave it alone, the same as you do with children. You can't take a little girl who loves dump trucks and put her in a tutu. You really can't. And if you do, somebody's going to run away from home. Let them be, and give them the best possible dump truck you can.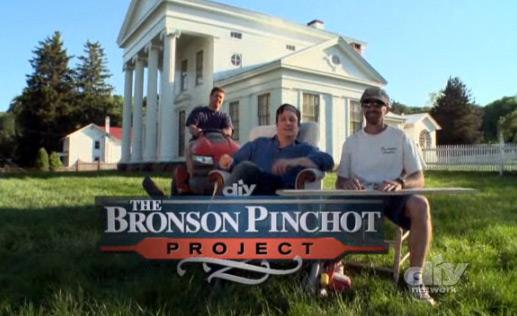 Slate: What's your relationship to these homes? Are you working on them as an investment? Do you live in them all?
Pinchot: They're just friends—that's my relationship with them. Once or twice, I've said, "I'm going to make this wonderful, and then I'm going to rent it." As soon as it started to be good, I thought, "No, I can't let people in here. What if they accidentally hurt it or break the cupboards?" They just become parts of the family. They're my harem.
Slate: The carpenters and contractors that work on your houses have a naturalness to them. You don't see those kind of guys on TV much.
Pinchot: They're not airbrushed at all. Everybody on the show is homegrown. They still don't really get that we're doing a television show, and they probably never will. I have to turn in an episode, and I've got guns to my head from every quarter from people who need the footage so they can start to edit it, and yet people don't show up because it's hunting season. That's part of their charm.
Slate: On most DIY Network shows, the homeowners join in the work. In the pilot, we see you shopping and making decisions, but you're not wielding a hammer. Do you also knock in nails?
Pinchot: I really don't. At the beginning, they said, "Somebody give him a tool and let's pose with it." And I said, "No. If you want to see what I do, get me sketching with 500 books on either side." I'm creating stuff; that's my work. It's hard to convey that on television, but I think you ought to try.
Even my guys say sometimes, "When are you going to do some work?" I always say the same thing, sometimes lightly and sometimes a bit sternly: "Any time you'd like to change places with me, you may stay up all night, you may assemble the reference library of 700 books, you may find the houses, you may buy the houses, you may find the salvage, and you may do the drawings. Then I will be happy to dig the hole."
Slate: Is working on your houses still fun? Has doing the show affected your enjoyment of it all?
Pinchot: The only difference is that I finish things now, because I must. In the old days, I would say, "Well, someday I'll find the perfect window surround, so although we've framed in all the windows, and we've found the wainscot, I'll come back to that another year." Now I must finish them, because I must turn in finished episodes. And the discipline that imposes is great, because I've now finished eight great projects, and I'm really enjoying them.
My favorite thing in the world to hold my sides and howl over is when you see on the cover of a shelter magazine, "Mauve is the new taupe!" I don't care, you idiots. That's the nice thing about working entirely with salvage: You just take what you get. I just found some bird-vomit-colored wood. It's original painted wainscoting from about 1825. There's a lot to do something with. Would I have picked that color? No. I wouldn't have said, "Dear God, let me find some bird-crap-colored wood." But there's so much of it, and it's so nice, I will put other material around it. I will put some old early 19th-century textiles to go with it, and I will make a room.
The hunters brought in squab, so we're going to have squab. I'm not going to go out and buy lobster.
This interview has been condensed and edited.