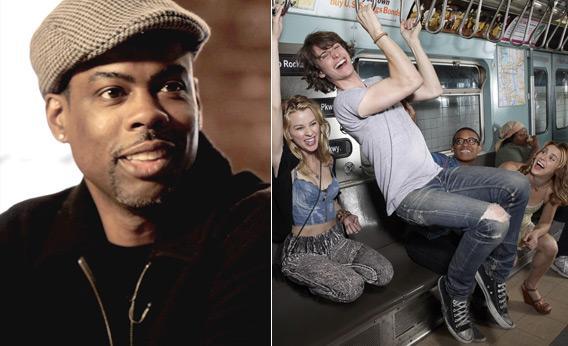 If you're anything like me—and I hope for your own sake you're not—then you stoked your romance with New York City in front of PBS late at night in the early '90s. Viewers like you responded to a matched set of indie hits the channel then favored—Whit Stillman's Metropolitan and Spike Lee's She's Gotta Have It. Audrey Rouget, Nola Darling. Paleface, redskin. Cool, hot. Uptown, Brooklyn—very specifically Fort Greene, depicted as an urban paradise populated by black nerds and the women who have got to have it from them. A revelation! Nelson George, a talented journalist and a producer of that film, has lived in that neighborhood since back in the day and delivers it a love letter in the form of Brooklyn Boheme (Showtime, Thursday at 8:30 p.m. ET).
I endeavor to review this documentary in full awareness that a silent majority of my fellow Americans do not care what is going on in this corner of Paumanok. I am also aware that there are others who do not care so intensely that they boil with rage at Brooklyn, pleading for the powers that be to shut up about her, which ain't gonna happen. But about Fort Greene: The Encyclopedia of New York City is telling me that, in the 1870s, half of the black population of Brooklyn lived in its embrace. George picks up the story a century later, when a number of jazz musicians, Lee's father among them, planted their flag at the foot of the Manhattan Bridge. A few years on, the neighborhood developed into a center of black creativity—one centered on the offices of Spike's production company. To hear George tell it, it was a Shangri-La of conceptual artists, nascent hip-hop stars, Hollywood stars in the making, and spoken-word poets. Bourgie sorts of all races soon followed, as did Erykah Badu's headwrap, and all but the most tenacious crackheads were gradually crowded out.
The best moments in the film find George chatting warmly with old friends and neighbors including Lorna Simpson, Rosie Perez, Branford Marsalis, and Spike, who mentions buying a brownstone for $45,000, a sum that, these days, is a good start on kitchen renovation. The highlight is Chris Rock's visit to his old apartment—a pilgrimage far more satisfying than Lady Gaga's was last year on 60 Minutes. I fear to know what broker's fee the current tenant paid for a place where once burglars came at Rock's door with a sledgehammer.
There is goopiness in this billet-doux. Loath though I am to diss anything that might introduce anyone to Vernon Reid, it must be said that this documentary is intermittently hilarious. Its handling of the topic of gentrification is not strictly cogent and sometimes intersects with its boosterism at odd angles. As a Black History Month presentation, it's very lift-every-voice-and-sing-about-our-fatty-tuna-rolls. For real: The film presents a moment of Touré extolling the virtues of his sushi place. Or check out the scene when the camera crew follows George and a pal down the street. They run into an old friend who starts reminiscing about a party at Rock's old house. The guy looks back mistily: "I said, at that point, 'I would love to get a carriage house if I ever could' … and there you go!"  At such moments, the film plays like a Corcoran Group promotion remixed by Black Star, featuring Marty Markowitz.
The film overreaches at regular intervals. At one point, George says, "A lot of folks like to compare the Fort Greene-Clinton Hill scene to the Harlem Renaissance, but that's not a perfect comparison." He then makes the claim that the Harlem Renaissance was mostly literature and a little jazz, while his thing was much broader. I dunno; if you were stranded on a desert island, would you prefer to console yourself with the work of Langston Hughes and Nella Larsen? Or Wesley Snipes and the guy who got in a fight with Julie on the first Real World? That would be Kevin Powell, who the film implies is a Brooklyn poet in the tradition of Walt Whitman. Elsewhere addressing the literary prehistory of the area, George gives Richard Wright a fine salute. But in his haste to associate his hero with his 'hood, George fails to drop the fascinating factoid that, at another time, Wright lived in Brooklyn Heights, in the same house as W. H. Auden, Carson McCullers, and Gypsy Rose Lee, who I assume hogged the bathroom.
The takeaway here is that the success of Do the Right Thing (set in Bed-Stuy) consolidated a community—first came the artists, then came the kind of people who actually drink Absolut Brooklyn, a vodka available under a label designed by Spike Lee, who moved to the Upper East Side ages ago. The artists now go to Bed-Stuy; the spoken-word poets may, God willing, have moved onto other things; and something of a hybrid Fort Greene spirit now haunts the general area. Let's look at the bigger picture and put it this way: When Mookie threw the trash can through the window at Sal's, he paved the way for the truffle ravioli at Chef's Table.
A flip of the channel, a sprint to the G train, and you're watching I Just Want My Pants Back (MTV, Thursdays at 11 p.m. ET), a comedy adapted from a novel by David J. Rosen and created by Doug Liman, who is now 16 years past his directorial debut, the generational touchstone Swingers. Oh, had you forgotten that you were old? Well, this new show, glossing the sex lives of twentysomething pleasurebots, is here to remind you.
Our Greenpoint-dwelling hero is Jason Strider (Peter Vack), a slacker who'd really rather not be. He wants to be a music journalist, but in the pilot he works as a pissant at a casting agency under what the press materials refer to as a "no-nonsense boss." That's kind of a mischaracterization. The guy's a sadist, yes, but it's Chris Parnell in the role, so the nonsense is baked in.
Vack is well cast. He has Andy Samberg's hair, Stephen Malkmus' nose, and a mouth full of teeth as wide as billboards. His pants were also well chosen, neither too tight nor too relaxed. The costume department saves the superskinny jeans for the identikit kids it so ably mocks. Here is the deal: Goaded by his awesomely shallow female BFF, Jason picks up a honey at a bar. They get back to his place very quickly and start ripping off their American Apparel shirts before they even get to the bedroom, which is convenient because she wants to do it in the kitchen. Specifically, she wants to do it in the refrigerator. Not beside the refrigerator, 9 1/2 Weeks style, but in the refrigerator, with her rump in the air and face, presumably, in the stale hummus. In any event, she walk-of-shames away in Jason's trousers the morning after. A quest begins.
What was the hipster? The show is here to tell you in the person of an alleged friend of Jason's named Lench (Nick Kocher). Upwardly mobile—hey, shit floats—Lench is a media hotshot and an invigorating jerk. As we meet him, he is launching a magazine based on "environmental sustainability" and "hot chicks." It is called All Naturals, which may be an actual magazine that I am on the comp list of. At the launch party, Lench licks his lips at "superhot locavore sluts and delicious raw milk cheese."
Elsewhere, we get fumbling foursomes, soulless hookups, casual cruelty, and a satisfying sneer at social-climbing ("Dude, Franco's doing a dramatic reading of his Wikipedia page on the roof"). The show plays sometimes like a screwball of manners, sometimes like a post-grad Charlotte Simmons adapted as a first-person shooter game, and sometimes like Happy Endings on some kind of drug. Which drug that would be I don't know, because I'm too old to know much about what the good new drugs are. But this quick, mean, glib, giddy, satisfyingly filthy show might be one of them.
---