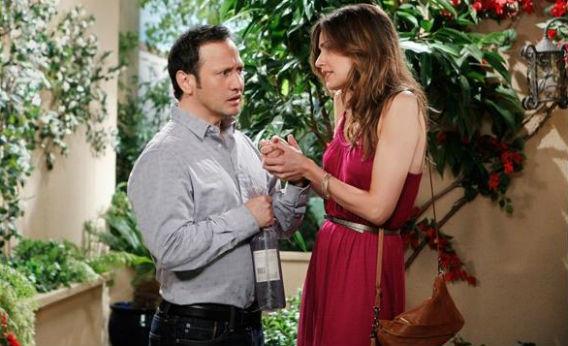 When CBS launched Rob, a new Rob Schneider sitcom about a clueless gringo who marries into a Mexican-American family, in January, the critical response was scathingly unfavorable. The Denver Post's TV critic called it "genuinely offensive"; the New York Times said "the entire show is predicated on cheap ethnic humor"; and TV Guide's Matt Roush declared Rob's new family to be "a sprawling brood of shockingly stereotypical clichés."
And the premiere was abominable—the scene in which Rob's new relatives discover him with his pants around his ankles apparently humping his wife's abuelita had me diving for the remote. It seemed that Rob would be just another in the long line of shows that treat their Hispanic characters as buffoons at best, or crooks at worst. But in fact, many critics missed the point. Rob is a show with great potential for many reasons—not the least of which is the way it demonstrates the dramatically changing TV environment for Latino actors. The real story of Rob is that even as aggressively downmarket a sitcom as this gives its Hispanic actors plum roles—and takes as its dramatic raison d'être the notion that a boorish, privileged Anglo needs to develop a more realistic, nuanced understanding of the Latinos in his life.
Rob, of course, is a complete idiot; his entire knowledge of Mexican-American culture seems to be limited to guacamole, sangria, and siesta—never mind that the last two, like the actress who plays his wife, come from Spain. But Rob also explores how his new family responds to his arrival. This isn't about subverting stereotypes; the premiere failed to raise a laugh when it had the in-laws applying ignorant clichés usually associated with Hispanics to Rob. It's about characters changing their habits and expectations to reflect new realities. In the world of Rob, both sides need to learn to assimilate.
It certainly makes sense that Rob would want Maggie's family's approval. Her parents, Fernando and Rosa, are the center of a loving, intact family. Fernando, played by Cheech Marin, is a successful businessman with conservative political views. (He wants the government to "build a giant wall across the border and patrol it with cannons.") Rosa (Diana Maria Riva, who's made the most of smaller roles in shows like The Good Guys, Studio 60 on the Sunset Strip, and The West Wing) lives to make her only daughter happy.
Since Maggie's grandmother doesn't speak English, she's relegated to reciting phrases from Spanish 101, a shameful waste of a great actress like Lupe Ontiveros. But Rosa's brother Hector, constantly scheming to line his own pockets, is played by Eugenio Derbez, one of Mexico's pre-eminent comedians. His clowning doesn't appeal to me, but Derbez is bringing a Univision-esque, south-of-the-border comedy style to U.S. television. In effect, he's facilitating another kind of assimilation.
Many of Rob's themes were first explored in Chico and the Man, which aired between 1974 and 1978 and was the first U.S. series set in a Mexican-American neighborhood. In that show, a charismatic young Chicano (Freddie Prinze) gradually won the affections of a crabby old white guy who didn't hate Mexicans so much as he objected to the way changing demographics were shaking up his world. It's a little depressing that nearly 40 years after Chico was first broadcast, we're still stuck at the "first contact" stage in our depictions of the relationships between different communities, but at least television is once again paying attention to Latinos.
After a litany of short-lived, earnest dramas about Latino life—including Qué Pasa, USA?, Resurrection Blvd., and American Family: Journey of Dreams—the next Latino-focused show to succeed without a noncommercial assist from PBS or premium cable was George Lopez, which ran for six seasons on ABC and has been a hit in syndication. Like Rob, it was an unsophisticated comedy about an imperfect family—the character "George Lopez" grew up unloved by his cold, selfish mother—that undercut stereotypes about Mexican-American life. Like Fernando on Rob, George favored tighter border controls; once, driving from Los Angeles to Phoenix and finding nothing but Norteño and ranchero music on the radio, he complained, "It's nice to be the country's largest minority, but couldn't we leave one soul station in the desert?"
Today, Latino actors have leading roles in TV's most-lauded comedy (Colombian-born Sofia Vergara as Gloria and Rico Rodriguez as Manny on Modern Family), the No. 1 drama (Cote de Pablo may play an Israeli-born federal agent on NCIS, but the actress was born in Chile and raised in Miami), and the reigning kids' show, the Disney Channel's Wizards of Waverly Place, which ended its run last month. (Wizards, which starred Mexican-American Selena Gomez and Cuban-American Maria Canals Barrera, was cable's highest-rated scripted show in January.) And for my money, the breakout star of this TV season has been Glee's Naya Rivera, who plays Santana Lopez, the crabby spitfire from Lima Heights Adjacent.
On Modern Family and Glee, the Latino characters are cut off from their culture. On the former, there's a discomfiting sense that the white Pritchett family rescued the Delgados from poverty (if we believe Gloria's tales of her early life in Colombia) and bad parenting. (When Manny's biological father, Javier, comes to visit, Jay always has to step in to save his stepson from disappointment.) The one time someone from Santana's birth family appeared on Glee, it was a total downer: Her abuela broke her heart by kicking her out of the house after she came out. Wizards of Waverly Place sometimes explored Mexican traditions in a bicultural Italian-Mexican family—Alex celebrated her quinceañera, for example—but the kids' more splashy heritage (as wizards, natch) tended to dominate. At least on Rob, the focus is on Mexican-American culture.
The success of a few actors with roots in Latin America is just a first step, but we've come a long way since 1986, when agitprop musician Lalo Guererro wrote "No Chicanos on TV." Back then, Guerrero complained: "There are Chicanos in real life/ Doctors, lawyers, husbands, wives/ But all they show us on TV/ Are illegal aliens as they flee/ Or some poor cholo that they bust." These days, Latinos on television don't only play maids and drug dealers—they also play lawyers and doctors. We've had a Chicano president. Heck, a Chicano actor played the Colonial Fleet commander who saved humanity.
The biggest void is on the other side of the camera. Even successful Hispanic-themed comedies from Chico and the Man through George Lopez have had very few Latino names in the writing and production credits, and the same is true for Rob. David Simon said that he would've loved to devote a season of The Wire to immigration and how the new Latino community has transformed Baltimore, but none of the show's veteran writers were familiar with the culture. It's too bad no one suggested to Simon that he hire some writers with immigrant backgrounds instead of depending on the stable he'd used for the show's other seasons.
Rob isn't just getting better by the week; it looks like a hit. Last week it drew more than 11.5 million viewers. If, as seems likely, Rob survives, I'm hopeful that the show's creators will make some smart hiring decisions for future seasons. It's not that I trust Rob Schneider to do the right thing—it's that with Latinos at 16 percent of the U.S. population and growing, and with CBS Television Studios producing the show, it would be a clever business decision on the part of America's canniest network.
---