Yesterday afternoon, at the supermarket, tossing chips and salsa in the cart for reasons seemingly unrelated to free will, I caught one of the deli guys in an uncommonly unsullen mood. Edgy with anticipation, he said, "You gonna watch the game?  You know who's playing halftime? Madonna! Of all people! Madonna finally decided to show up!"
The greatest marketing agent of our lifetime was on duty for a pseudo-eventful 12 minutes yesterday, and she performed well enough to add another Salesman-of-the-Month plaque to her trophy case, despite opening her medley passionlessly, with a regally complacent "Vogue" and a charmless version of "Music."
But when considering Madonna, it's safe, here and there, to forget about the songs for a moment: The sets and costumes in evidence at her entrance were arresting in their awesome gaudiness. They presented a wet mess of antiquity hybridizing: Caesar's Palace classicism meets Egyptological pomp. (Was the halftime show sponsored by Bridgestone or by Ozymandias?) They seemed calculated to gratify observers ranging from Camille Paglia (an old-school admirer of Madonna's Dionysian porno-chic) to Esquire's Tom Junod, who, anticipating the performance in a Feb. 1 blog post, referenced the Super Bowl spectacle's "Christians-versus-lions atmosphere of excess." And Madonna's gladiatrix skirt combined with the choreography—the yoga poses, the military-drill steps, the funambulism and un-fun athleticism—to conjure an idea best expressed by Robert Christgau, that there is "more gym than boudoir in the way she pump[s] her crotch."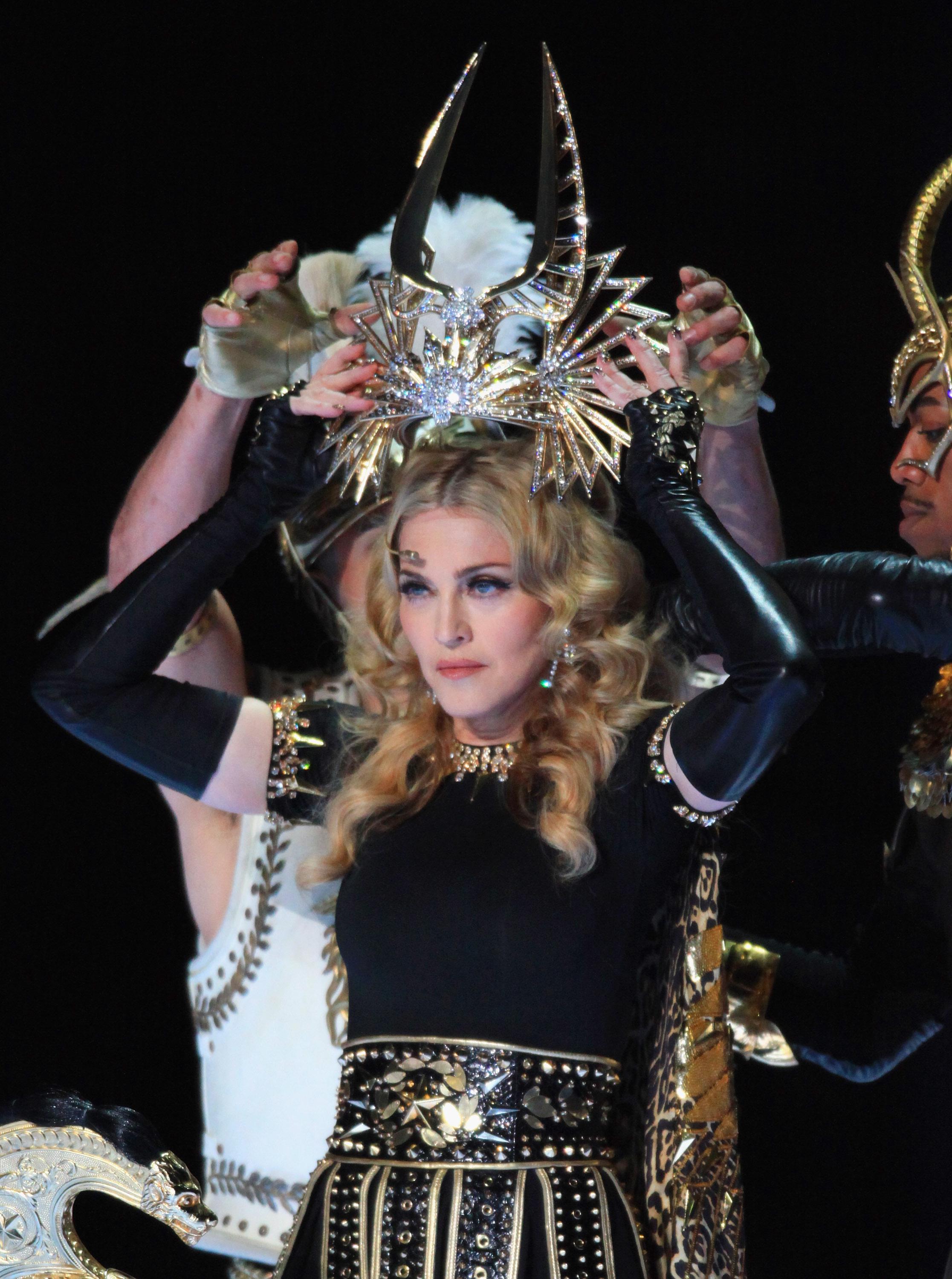 Madonna did not get into a groove until she came to the new "Give Me All Your Luvin'," the lead single from her 12th studio album, titled MDNA. (Madonna was thus using her vast platform to move a product titled to pun on the name of a club drug. Isn't America a wonderful country?) In its surface euphoria, its slinking tinniness, the song is a jingle for itself, like a Shangri-Las ditty processed into a Target ad. The video is a giddy pastiche of arch self-reference and practiced shoplifting from the emporium of signs; at this point in her life, when Madonna appropriates Marilyn Monroe's image, she is making a third-generation comment on Warhol's Marilyn and mass production. The cheering within the song—which rhymes Madonna and wanna, which infectiously shakes its pomo pompoms at the manufacture of desire—brought something alive in the old girl on Sunday night. Her narcissism really can bring out her best qualities. Her narcissism really can be her best quality, and she lit up with "Luvin'," she marched into a martial "Open Your Heart" with energy, and finally she reached into her chest for a set-closing "Like A Prayer," her thin voice pulsing with bravery.
This year marks the 20th anniversary of Martin Amis's review of Madonna's Sex and this morning Madonna-ologists will find that article looking more prophetic than ever. "Not greatly gifted, not deeply beautiful, Madonna tells America that fame comes from wanting it badly enough. And everyone is terribly good at badly wanting things." The football game was a chess match. The media spectacle was a pep rally for late-phase capitalism. Madonna showed up to accept her crown a homecoming queen.
Previously: Who Was That Guy in the Toga With Madonna? And What Was He Doing?