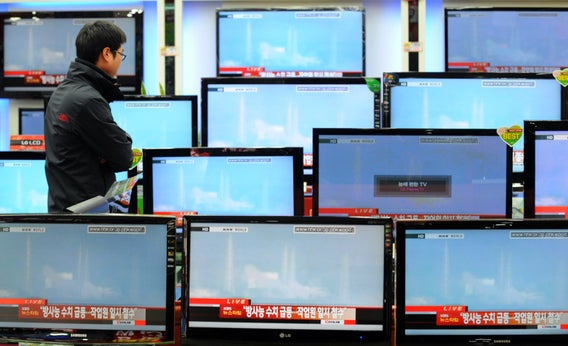 In the 1950s, entrepreneurs started selling people with bad TV reception a wired connection to a large, community antenna. That was the start of cable television, now the dominant way of selling television to Americans.
Aereo, which launched today (backed by Barry Diller and IAC) is trying to turn the original cable model against the cable companies. Here's how it works. If you sign up for Aereo, you effectively pay to lease your own tiny antenna (located in Brooklyn—for now, it's New Yorkers only). That antenna is attached to a cloud DVR service, from which you can stream broadcast content to your computer, laptop, iPad, or TV (the latter if hooked up to Apple-TV). To the user, it ends up looking like broadcast TV to the desktop or laptop, with a built-in DVR. Pretty handy. No cable content, but it costs just $12 a month.
Using Aereo is a bit of a head-spin. Your browser really does become a TV set: There you are, flipping channels, looking for something to watch. Unlike Hulu, YouTube, or Apple TV, Aereo feels just like watching TV on your computer—with all the good and bad that that implies. It had been years since I last turned on regular TV in the daytime; I had no idea that Family Feud is still running.
So why bother with this whole setup—the individualized antenna and so on? Because Aereo is as much a legal innovation as a technological one. It takes advantage the fact that you have a right to free over-the-air TV, as well as a right (under the Sony and Cartoon Networks decisions) to store that content in a virtual DVR, so long as you're the one deciding what programs to store. Finally, "net neutrality" rules mean that cable can't block or degrade the Aereo feed. Put it all together and the result is that Aereo pays no licensing fees whatsoever. That's how you get DVR broadcast to your computer for $12 a month. Cable TV in New York, by contrast, starts at about $30 a month for the absolute basics, with more for DVR services.
Is it legal? In the 1960s, community antennas were subject to a campaign of copyright infringement lawsuits that make the Napster campaign seem like a game of toy soldiers. I spoke with one of Aereo's lawyers at the launch today, and she seemed confident that the user-directed nature of the product cured any legal problems. But it does feel like a cable duplicate, and it remains to be seen whether the networks will take this lying down—or rather, as they have usually done, come up with a new theory of copyright infringement. Furthermore, Aereo's model depends on broadband providers continuing to obey the FCC's net neutrality rules, which to my mind shows how important net neutrality remains to any prospect of lowering the price of TV. 
Barry Diller, who is backing—though not running—the project, described it as an attack on "media consolidation." He has made a career out of challenging TV business models one way or another, sometimes successfully, sometimes not. Consider this a shot fired in the war for the future of television.
---