It was a soulful and at times tearful night at the Grammys, as Adele swept all the major categories with six wins (including song of the year, record of the year, and album of the year), and an industry mourned the untimely death of legend Whitney Houston. Still, while tributes multiplied in a year that also saw the deaths of such stars as Etta James, Gil Scott-Heron, Don Cornelius, and Amy Winehouse, the ceremony was as outrageous, overstuffed, and over-the-top as ever, with Chris Brown joining Deadmau5 and others in a weirdly rave-ish tribute to Soul Train creator Cornelius, and Nicki Minaj putting on a long, Exorcist-themed performance of "Roman Holiday"—to name just two of the more outlandish segments in the nearly four-hour program.
The alternately celebratory and mournful night got off to a rousing start with Bruce Springsteen, a small orchestra, and a (saxophoneless) E Street Band performing the new single "We Take Care of Our Own." However, it wasn't long before a moist-eyed LL Cool J acknowledged the night's "death in the family" and led the star-studded audience with bowed heads in prayer. A video of Houston's jaw-dropping Grammy performance of "I Will Always Love You" helped segue to a more celebratory tone, before Bruno Mars compelled the audience to "get off your rich asses."

Jennifer Hudson took the tough assignment of singing the main tribute to Houston, with only a day's rehearsal. Hudson, who paid tribute to classic soul singers like Florence Ballard, Etta James, and Aretha Franklin (Houston's godmother) in an Oscar-winning role in 2006's Dreamgirls, struggled to get through "I Will Always Love You" without breaking down in tears. (Gawker has the video.) Houston was nominated for 26 Grammys over her career and won 6, including album of the year for the soundtrack to The Bodyguard and record of the year for "I Will Always Love You."
The Grammys agreed with Slate readers, who chose 21 as the best album of 2011 with 16 percent of the vote in our poll. While Kanye West's My Beautiful Dark Twisted Fantasy, perhaps the most acclaimed of all eligible albums, wasn't even nominated in the category, it did take home the prize for rap album of the year.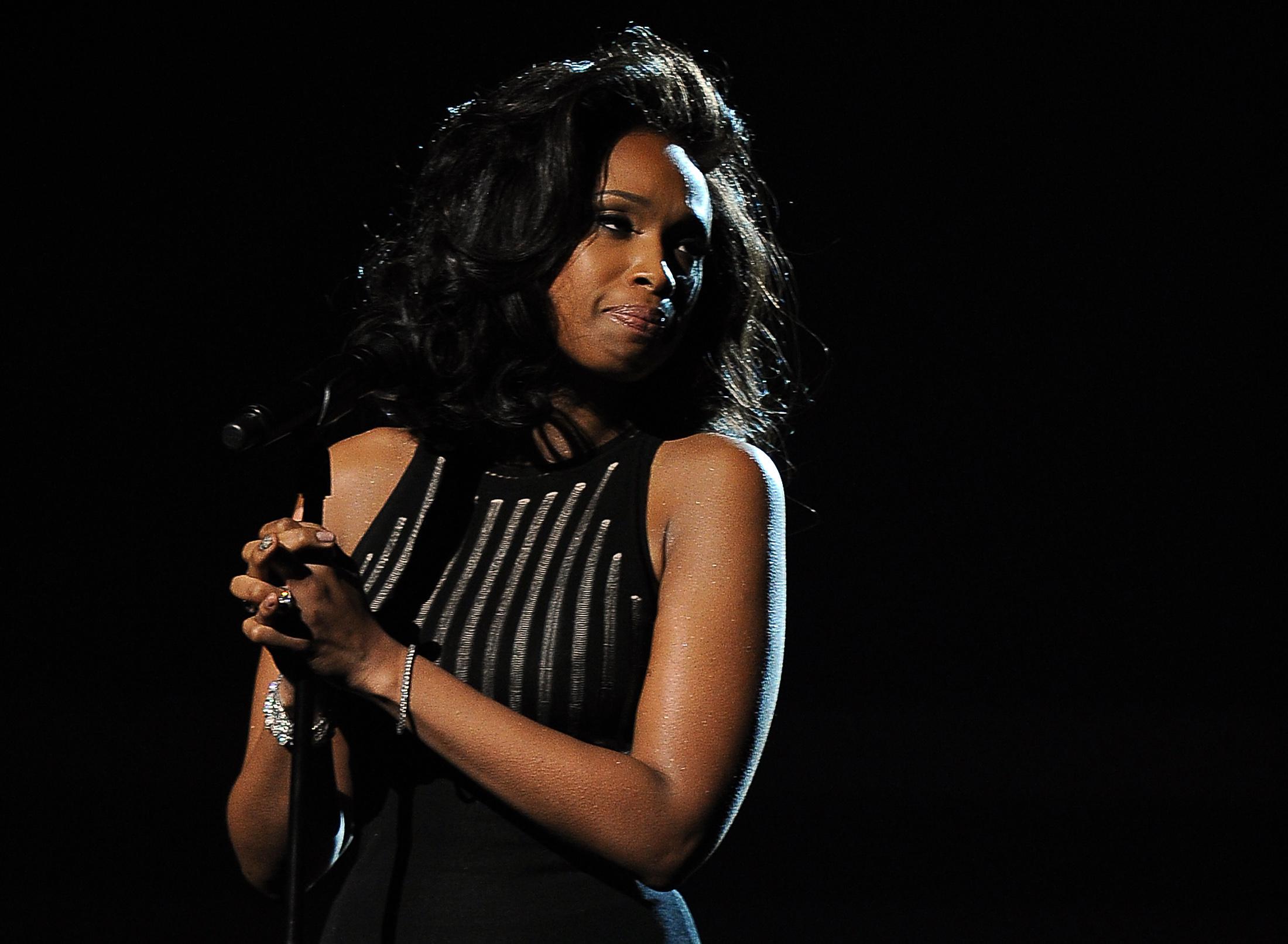 Indie band Bon Iver won best new artist and best alternative album for their self-titled sophomore effort, though they refused to perform. In his unusually casual acceptance speech, lead singer and songwriter Justin Vernon seemed unsure what to think of sharing the stage with major label pop stars like Katy Perry, Bruno Mars, and Rihanna—but perhaps the most bizarrely anti-pop statement of the night came from The Foo Fighters' Dave Grohl. The onetime Nirvana member dismissed the value of computers as instruments, only a few commercial breaks before performing with techno producer Deadmau5.

Alison Krauss won her 28th Grammy, surpassing Quincy Jones for most Grammy wins of any living person. The bluegrass singer has racked up the second most Grammy wins of any artist, second only to longtime Chicago Symphony Orchestra conductor George Solti, who won 31.

Adele, 23, is one of the youngest album of the year winners in Grammy history, joining artists like Stevie Wonder (who won in consecutive years at 23 and 24 years old), Alanis Morissette (who won at 21), Barbra Streisand (who won at 21), and Taylor Swift (who won at 20). (Adele also won best new artist in 2009 at age 20.) 21 was 2011's best selling album, spending the entire year in the Billboard top ten and selling almost 6 million copies.

The complete list of nominees and winners.
Previously:
Whitney Houston, 1963-2012
Why the Grammys Are Making Justin Vernon Insufferable
Grammys Pour Cold Water On Kanye's Fantasy
Dubstep's Breakout Year In One Infographic