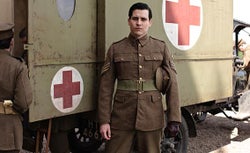 Chaps,
Dan, I love your Most Hated Crawleys list, and I'm struck by how much my personal ranking has changed between Seasons 1 and 2. Last year I adored Lady Cora. I loved the way Elizabeth McGovern balanced can-do American optimism (we must find a way to smash the entail so Mary can inherit the pile of bricks my fortune rescued) and offended disappointment (OK, we can't get around the stupid legalities, but let's figure out a sneaky way to achieve the same result). As an immigrant myself, I related to Cora's cultural isolation—how could she remain so cheerful when she was surrounded by snobs contemptuous of her homeland and her bloodline? And she seemed like a good mother—caring and confiding, but realistic and practical. Now she seems spoiled and weak. Her squabbles with Cousin Isobel are petty territorial disputes, and she is too much in O'Brien's thrall.
Last year I was almost envious of Robert and Cora's relationship—a marriage that despite all the odds was loving and respectful. Now they seem like a couple of idiots reciting meaningless words. That ridiculous bedroom speech Robert made: "We dreamed a dream, my dear, but now it's over. The world was in a dream before the war, but now it's woken up and said goodbye to it. And so must we." I wanted to put a pillow over his face! Of course a man like Lord Grantham would be all puffed-up and grandiose, but this is an intimate conversation with his wife, not a speech at a regimental dinner. It made me question the foundations of their marriage.
Thomas—lovely name, by the way—stirs my soul. He's so slippery that even when he appears to be acting out of genuine kindness, as when he offered comfort to the handsome officer blinded in a gas attack, I can't help wondering if he's working an angle. He's ambitious, a trait that's always punished in the Downton universe, and he's out for himself, but I understand his motivations more than self-denying Bates' or honorable Carson's. He knows that his biggest, perhaps his only, asset is his handsome face, which won't keep its allure forever. If he's going to get out of service, he needs to make his move soon. Seth, are my biographical similarities with Thomas—I, too, am Northern, common, and "different"—blinding me to his many faults?
Dan, I was also taken with Lady Edith's special talent for observation. I wonder, is she supposed to be a stand-in for us viewers? Asked how she knew so much about "a pack of strangers," she replied, "They're not strangers to me." It struck me that the three of us are devoting a good bit of time to getting to know these strangers who invade our homes every Sunday evening.
I found the perfect gift for you two: Lady Mary and Lady Cora are recording an album together! (Warning: That link contains Season 2 spoilers.) I was hoping that Michelle Dockery and Elizabeth McGovern would stay in the Downton period and do a collection of World War I songs. Instead it seems that McGovern is writing original material. It's probably just as well—it's hard to imagine Downton fever sending "Pack Up Your Troubles in Your Old Kit Bag" or "Over There" to the top of the Billboard charts. (Someone should record this amazing attack on conscientious objectors, though. It makes the white-feathers girls look saintly.)
I'm off to join Sibyl on the moral high ground,
June
Note: Out of consideration for viewers in the U.S., please do not post Season 2 spoilers in the comments.
---