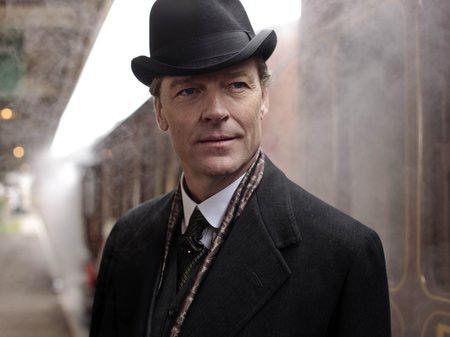 June, you're right, ultimately we are in this for the soapy pleasures. Which makes me wonder if a key to Downton's success here is that it's filling a niche American TV has abandoned. Whatever happened to all those prime-time soaps about wealthy families? The '80s airwaves were lousy with them: Dallas, Dynasty, Falcon Crest. But they've disappeared. Perhaps the closest thing we've got now is the Kardashians and they're a very different, and slightly less scripted, kettle of douchebags.
So, Episode 1! England is at war! Everything is changing! Or is it?
Lady Sybil is still a plucky proto-feminist, insistent on joining the war effort and (given the show's internal logic, this is progressive) learning to cook. Bates is still a bizarrely uncommunicative self-flagellant. Cora still looks and sounds like she's on Xanax half the time. The Dowager Countess still brings good zing—though I admit that her dismissal of Cora's flower arrangements as more fitting for "a first communion in Southern Italy" left me bewildered on multiple fronts, and her reference to "the guns at Lucknow" sent me scurrying to Wikipedia.
Other characters have undergone gentle shifts. It appears, for now, that O'Brien has ceased to be a heavy. Save for some light hazing of the rookie housemaid, she's been on excellent behavior so far—even showing kindhearted tenderness toward Lang, the shell-shocked valet. In her place, Molesley—once Matthew's valet and butler, now in a tenuous position with Matthew gone to war—has stepped up as Downton's potential new downstairs troll. He's a draft-dodger, he's envious of Lang, and frankly I'm not the least bit comfortable with the way he's been sniffing around after Anna.
Meanwhile, Lady Edith has displayed unexpected breadth. Not content with ruining her sister's reputation, she's now attempting to ruin that unfortunate farmer's marriage. She's a one-woman wrecking ball! And seemed remarkably casual about adulterous smooching, wouldn't you agree? (I do enjoy Downton's old-school attitude toward physiognomy: It doesn't hesitate to make the least conventionally lovely daughter also the least likable.)
Lady Mary remains unfulfilled and indecisive, but seems on the verge of figuring out what it is she really wants. She's taken to praying for Matthew's survival and, it seems, his heart. Sadly—having "blotted her copy book" with that Turk and then botched her salvation by toying with Matthew's emotions—she once again finds herself a pawn in others' games. Cora, Lady Rosamund, and the Dowager Countess are in constant, clucking conference over her future. Even her suitor Sir Richard views her more as a partner in empire building than as a flesh-and-blood lover.
Which brings us to this season's new characters. Bates' wife appears to be O'Brien 2.0—purely and deliciously evil, for no clear reason. Ethel the ginger housemaid comes on a bit uppity, but I've a feeling we'll like her in the end. (I do miss Gwen, the previous, more fetching ginger housemaid.) Hard to get much of a read thus far on Lavinia Swire, Matthew's betrothed. Is she more than just a "little blond piece," as the Dowager Countess has pegged her?
Most intriguing of all is Sir Richard Carlisle. This aging newspaper magnate seems to fancy Lady Mary as the Wendi Deng to his Rupert Murdoch. But there's something sketchy going on, and only Lavinia knows the score.
I'm eager to watch as yet another class stratum—moneyed but unmannered—finds its place within the Downton universe. And I wonder if this self-made man, in the course of his dealings with the Crawley clan, will affirm for us the useful lesson Jimmy Stewart imparts near the end of The Philadelphia Story: "I made a funny discovery that in spite of the fact that somebody's up from the bottom, he can still be quite a heel. And even though somebody else is born to the purple, he can still be a very nice guy."
Loading the guns at Lucknow,
Seth
Editor's note: For the benefit of American readers who haven't yet seen Season 2 of Downton Abbey, please do your best to avoid spoilers when commenting.
---