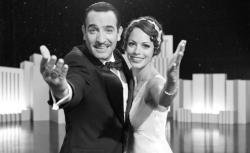 I had a lot on my mind re: The Artist, which I enjoy greatly, though it's weakened somewhat by the far-flung nature of its reference points (Herrmann's "Vertigo" score?). Writer-director Michel Hazanavicius' fallback instinct for parody, albeit sophisticated parody, doesn't always blend with the film's morose, Borzage-tinged story turns, as we see Jean Dujardin's George Valentin eat it in the early talkie era. But it's charming. Dujardin is new to a lot of people in America, certainly those who haven't seen the OSS 177 larks, and if he wins best actor at the Academy Awards it'll be a variation on the Roberto Benigni Life is Beautiful win:  Darling foreigner occupies hearts and minds of industry people dying for reassurance and comfort. This time legitimately, without any lingering, insidious Holocaust revisionism.
That's what I wanted to write about, but then I read the first tweets about Jim Hoberman getting canned. So many good and worthy critics no longer enjoy the perches and pulpits they deserve, but this loss—temporary, I hope—is something more epochal. The veteran Village Voice critic is one of the titans and standard-bearers; Hoberman's work showed a lot of us what was possible. Does still. I was rereading Dream Life, his cultural survey of 1960s cinema the other day. What a fantastic mind he has, what acumen for nailing the connections between our consumer tastes (car ads, The Alamo, The Green Berets) and the country itself. His critical intelligence is just so far beyond the ordinary. And if he served as a mentor to Manohla Dargis, that's reason enough to celebrate his being at the Voice. For shame.
Stephanie, you and Dana brought up the concept of shame or, by inference, the uselessness of the "guilty pleasure" hedge when people talk about movies they like for the "wrong reasons," or like apologetically, with some sort of asterisk. Why the guilt? Even with the rare, blatantly bad movie I adore, such as Russell Rouse's 1966 melodrama The Oscar, which (as Willie Nelson sang) is always on my mind this time of year, it's not a question of guilt. I adore its confidence in every wrong note. Stephen Boyd as Frankie Fane, the hungry actor practically willing to kill to get an Academy Award: This is the stuff of Joseph E. Levine gold, feverish in the extreme, transcending with ease the timid absurdity of the connoisseurs' current, wanly pathetic bad movie of choice, Tommy Wiseau's The Room. The Oscar has Harlan Ellison dialogue that has to be heard to be believed, and not only for its obsession with "meat" and "glass" metaphors ("And you! You gotta glass head I can see right through!"). It has Elke Sommer, spoofed just so by Catherine O'Hara in the SCTV parody The Nobel, and it has Tony Bennett as Hymie Kelly, lapdog to our anti-hero, saying things like: "Frankie, swingin' party down in the Village, lotsa chicks!" It never stops. I dearly hope to host a screening of this underseen schlocksterpiece someday soon.
But back to actual quality. I'm hearing multiplex audiences for The Artist are skewing not just older, but old, period. A Tribune colleague went the other night, loved it, and was the youngest one in attendance he figured by 20 years. Will a silent movie prove to be too much of a hurdle for younger or even middle-age moviegoers? I wonder. Even so, in this boom time for ardent, artfully expressed film nostalgia (Hugo, War Horse, et al.), The Artist is eyeing the big prize, the award that stoked Frankie Fane's blind ambition so memorably.
---