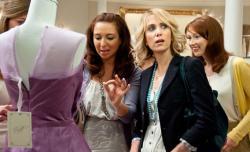 Dan, Stephanie, Michael:
Assembling my top 10 list, it struck me that our histories of the year in movies are also histories of ourselves, what we were craving and rejecting and trying to figure out that year. In 2011, for reasons it would probably require a team of skilled therapists to figure out, my tastes ran, for the most part, to movies with structure and internal cohesion. It wasn't enough that a film contain powerful moments or great performances or smart cinematic ideas; I wanted it to hang together, to be a well-crafted, functional aesthetic object. (Maybe that's why, even as I sensed it added up to little more than a shallow exercise in style, I sort of loved Drive. It just worked on me, making me sweat with anxiety and swoon for the absurd movie-cool of Ryan Gosling's nameless existential chauffeur.)
Many of the films that got on my nerves this year—Martha Marcy May Marlene, Shame, and even, I'm sad to say as a Kelly Reichardt fan, Meek's Cutoff, which lost me toward the end when it got all self-consciously mythic—did so because, when it came down to it, they didn't seem to know quite what they were doing, or tried to do too many things at once. (An exception to that rule was The Tree of Life; though it was so uneven it seemed unfinished, that movie still felt to me like a glimpse into the sketchbook of a great working artist, and I went back a week after seeing it to be dazzled and confounded a second time.)
Some other year, I might have loved Margaret enough to, if not join #teammargaret, at least wear their colors on game day. (At any rate, I loved watching their grassroots campaign take shape on Twitter—the film's champions not only took on Goliath, aka Fox Searchlight, but got him to schedule awards screenings, thanks to which latecomers like me were able to see the picture.) But Kenneth Lonergan's long-awaited second film after the small miracle that was You Can Count On Me felt to me mainly like a monument to the movie it could have been (and perhaps was in earlier, longer versions, one of them edited by Martin Scorsese).
Poor lovely, ruined Margaret, like Anna Paquin's troubled high-school heroine, seemed almost to stagger under the weight of its own unfulfilled promise. Lonergan excels at writing and directing moments of interpersonal intimacy, like Paquin and J. Smith-Cameron's wordless mother-daughter embrace at the opera, or Kieran Culkin's elaborately casual deflowering of Paquin (can I get a witness to the steadily blossoming comic genius of Kieran Culkin?), or the tense faceoff between Paquin and the possibly felonious bus driver played by Mark Ruffalo. But (in a corollary to Stephanie and Michael's "beautiful cinematography isn't enough" rule), these jewel-like moments weren't enough to constitute a whole film. Margaret's choppy, ungainly pacing, its abandoned characters and subplots, all seemed like side effects of the film's troubled production history rather than deliberate choices on Lonergan's part. I hope the belated wave of goodwill bestowed on his film gives Lonergan the leverage to create the great work this should have been; it's that Margaret I mourn for.
But, thank goodness, we don't go to the movies only to mourn. Some of the films that impressed me most were smart, solidly constructed romantic comedies like Bridesmaids or Weekend or the much-underpraised Our Idiot Brother. I suspect one reason for this gut-level preference is mortifyingly unsophisticated: I'm a tired working mother who would like to, just once in a while, sit still for two hours while attractive people make me laugh and cry.
The struggle for rom-com reform has long been a critical hobbyhorse of mine. Many of my rom-com reviews—of Just Go With It, Hall Pass, or that body-switch comedy with Jason Bateman and Ryan Reynolds whose name I refuse to look up on principle—tend to read like densely worded picket signs: I want something done about the decline of this once-great genre, and I want it now! Bridesmaids arrived like a blast of bracing fresh air on the stifling rom-com scene—"blast" being a loaded word, given the propulsive nature of the bodily emissions sent a-flying in that movie's big scatological set piece.
Bridesmaids felt radical not only in its belief that there could be a female-driven romantic comedy with wide box-office appeal, but that such a film could be big and brash and rude and still fully, proudly female. I loved the fact that the film's story centered neither around a male-female courtship nor a catfight about a man. Instead, it was a sharply etched portrait of two longtime friends at a point of divergence in their adult lives. (It's also a surprisingly sympathetic portrait of the new friend who comes between them: As Dan noted, the moment when Rose Byrne's dauntingly perfect villainness is suddenly revealed as a needy, friendless sad sack opens up whole new vistas in rom-com plot resolution.)
To me, the film's quintessential moment wasn't the Rabelaisian barfathon in the wedding-store bathroom, but that early scene where Maya Rudolph and Kristen Wiig, dissecting Wiig's romantic life in a coffeeshop, black out their own teeth with chocolate cake crumbs to make each other laugh. Romantic comedies often make the mistake of sentimentalizing happiness, giving us montages of dream dates and walks in the rain. That moment in Bridesmaids was a rare cinematic acknowledgement that sometimes true love (like true comedy) means getting frosting on your teeth.
I didn't get to The Artist, a movie many critics (including, to some degree, me, and apparently Dan as well) have had trouble whole-heartedly loving despite—or more accurately, because of— its prima facie loveability. Stephanie, you enjoyed Michel Hazanavicius' silent-film valentine without disclaimers or shame, and put it in your top 10 of the year: Tell us why we should stop worrying and give ourselves over to its pleasures.
Yours,
Dana
---