Like many kids who grew up poor in the American hinterlands during the 19th century, Louis Bloom left few public traces. Born in Muncie, Ind. in 1879, he was the oldest child of a widowed mother who took in lodgers. City surveys, census forms, and his death certificate reveal that he worked in the town's glass factories as a young man, and died in San Francisco in 1936 a government engineer. Given the family's poverty, it is striking that all three Bloom brothers, Louis, Rudolph, and Landess (though not their sister Ella) are recorded as graduates of Muncie High School.* That's it. No way to tell how tall he was, what sports he played, the foods he liked, or how he dressed.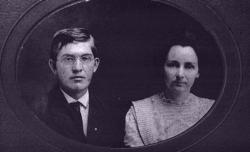 In 2011, though, a few hundred additional facts about the young Louis Bloom entered the public record. We now know, for instance, that on Wednesday Feb. 3, 1892, he ascended to the second floor of the Muncie City Building, turned left at the top of the stairs, entered the city library, signed the ledger kept by librarian Kate Wilson, and checked out The Wonders of Electricity. He came back the next day to return it and take out Frank Before Vicksburg; Friday it was Horatio Alger's Ragged Dick; Saturday The North Pole: And Charlie Wilson's Adventures in Search of It. Sunday, the library was closed; Monday Feb. 8, 1892 (his 13th birthday) he took out James Fenimore Cooper's The Deerslayer; Wednesday he returned for Ben the Luggage Boy (another Alger); Thursday he picked up Goodell's The American Slave Code in Theory and Practice; and Friday Henry Mayhew's (charming) biography of the astronomer Ferguson, The Story of the Peasant-Boy Philosopher. Altogether, 291 books checked out under his own name, plus another 28 in early 1895 under his brother Rudolph's. The only extant piece of Louis' handwriting is his name in the patron's ledger. If library records are usually the night sky of cultural history, a dim backdrop to action elsewhere, Louis's borrowing history is like a supernova.
For as long as I can remember, I have wanted to read like the dead. Not just to read dead authors—something a little bit creepier. Yes, I am aware that recapturing the actual experiences of long-ago readers is impossible, like visiting Mars or traveling in time. Still, I can't help reading inscriptions, plucking out old bookmarks, decoding faded marginalia. I catch myself wondering who was reading this a century ago, and where, and why?
So when I learned about What Middletown Read, a database that tracks the borrowing records of the Muncie Public Library between 1891 and 1902, I had some of the same feelings physicists probably have when new subatomic particles show up in their cloud chambers. Could you see how many times a particular book had been taken out? Could you find out when? And by whom? Yes, yes, and yes. You could also find out who those patrons were: their age, race, gender, occupation (and whether that made them blue or white collar, skilled, semi-skilled, or unskilled), and their names and how they signed them.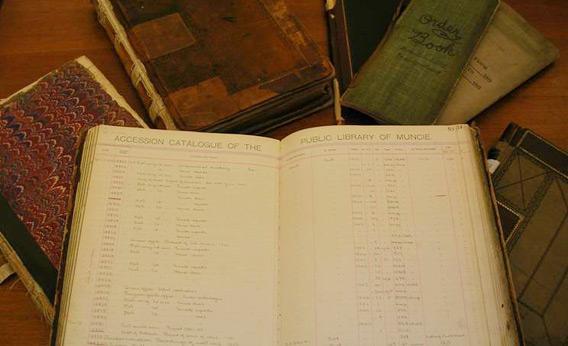 What Middletown Read is based on an incredible trove of unprepossessing ledger books found in an attic during the renovation of Muncie's 1904 library, and brought to light by Ball State University English Professor Frank Felsenstein. "Middletown," if you're wondering, is Muncie's academic drag-queen name: Ever since the sociologists Robert and Helen Lynd published a pathbreaking pair of books about the city (Middletown: A Study in Modern American Culture, 1929, and Middletown in Transition : A Study in Cultural Conflicts, 1937) the place has been awash in social scientists studying its every move; this database is in fact part of Ball State's Center for Middletown Studies.
There have certainly been extensively researched books on single libraries before, but no previous project includes a database that supplies, to ordinary casual Web visitors, this kind of in-depth history about a library's acquisitions and patrons. It's the interlinked combination of three different sorts of data—patron records, borrowing records, and library catalogue—that makes this such a revealing cache. As Christine Pawley (author of an illuminating study of 19th-century reading practices in Osage, Iowa) put it when I spoke with her, What Middletown Read is "an absolute goldmine, like nothing else I know."
(If comparable records ever do crop up in the United States, they'll likely be from the same time: Bernadette Lear has even compiled a list of 700 libraries that retain some century-old holding information.* Precious little data for libraries from before 1860 exists, and ledgers went out of favor for recording transactions by the 1920s. Moreover, privacy considerations mean that library records from later eras are either discarded right away, or off limits to researchers.)
Wayne Wiegand, professor emeritus of library and information sciences at Florida State, has argued that library use should be understood not as a lonely act but as part of the complex story of the social nature of reading. Sometimes we read what others of our age, gender, and class are reading, sometimes we strike out on our own, but the choices readers make always involve them in a public network, not just a public institution. Louis Bloom was a fabulous autodidact, but also just one of many Gilded Age youth coming of age in a town that the Indiana gas boom was rapidly turning into a small city.
Felsenstein and his co-director, Ball State history professor James Connolly, have been working extensively with the data about Muncie's 4,000 borrowers, and generously shared many of their preliminary findings with me for this article. (More of their research can be found here and here. Look for their co-authored book sometime in 2013.) For example, they discovered that fewer than 38 percent of Muncie patrons were blue-collar, though more than 60 percent of Muncie's families were blue-collar. They also discovered that blue-collar families were significantly more likely to have multiple library cards than white-collar families. With little spare cash to buy books—and with few forms of affordable daily entertainment—the single book permitted out on each card frequently was not enough for a blue-collar family with several avid readers. Blue-collar borrowers were also more likely to borrow classics, or older books, while white-collar readers gravitated to the latest fashionable books: Felsenstein and Connolly speculate this may reflect the availability of older books in the houses of wealthier patrons.
The website's deliberately open architecture has made it easy for data hounds, scholarly and otherwise, to jump in. Douglas Galbi, for example recently analyzed the median date of publication of the database's 20 most popular books: 1878. Hence, he pointed out, these books were probably between 13 and 24 years old when read, far older than the average book checked out nowadays.* Galbi also pointed out Middletown readers' predilection for government publications: The 1892 Report of the tests of metals and other materials for industrial purposes … had 107 recorded borrowers—Charles Dickens' Bleak House, by contrast, clocked 28.
When I jumped into the numbers game myself, the first thing I noticed was the incredible popularity of fiction in the library. Of the 175,218 transactions (that works out to about 39 per patron over a 10-year period, though there were quite a few wildly voracious patrons who borrowed hundreds of books) 137,188 (78 percent) were works of fiction. Of the 4,008 active patrons, all but 185 had borrowed at least one novel.
Who were they reading? Herman Melville barely registered (68 loans; the library did not even own Moby-Dick), Charles Dickens (587) and James Fenimore Cooper (691) did surprisingly poorly given their 19th-century reputations. Twain was a solid shower (877). When it came to authors I truly admire, only Louisa May Alcott (2,962) and Frances Hodgson Burnett (1,462) cracked the top 15, which is instead filled out with the syrupy Rosa Carey (1,922) and run-of-the-mill Hardy Boys forerunners like Oliver Optic (5,208) and Charles Fosdick (7,399).
I formulated research questions: Can you make any demographic generalizations about Mark Twain's readers? Well, none of Muncie's 15 known African-American patrons (yes, that's 15, among at least 739 African-American residents—now there's a research question) ever borrowed a Twain book. Can you make something of the fact that 696 women borrowed at least one of Martha Finley's highly sentimental and domestic Elsie novels—but so did 544 men (not boys, though: Almost all the male borrowers were born before 1878)? Or the fact that four books of short stories by Henry James were checked out 142 times, but that there is not a single loan of any of his novels? Was it meaningful that the African-American teenager Grant Frazier, himself a boot-black, had checked out five of the most popular Horatio Alger novels, but not the two that are explicitly about the rise of boot-blacks, Tom the Boot-Black; or, the Road to Success and the granddaddy of them all, Ragged Dick, or Street-life in New York with the Boot-Blacks?
That question of what books made the rounds among Muncie teenagers intrigued me. In essence, novels, especially the free novels you picked up in the library, were one of the key "social media" of the age. Just waiting to be told are fascinating stories of change over time, tracked via a single book and its various readers, or a single reader and her various books. For example, you can watch the 8th and 9th graders of Muncie tearing through Charles Fosdick's Frank series, the Percy Jackson of its day, in the winter of 1892: 21 kids, 54 loans.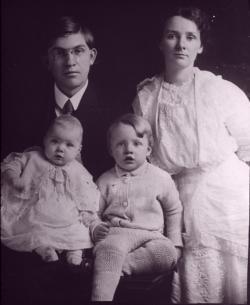 This time machine drew me inexorably back toward Louis Bloom. It charmed me right off the bat, for example, that he only got around to borrowing Uncle Tom's Cabin (115 borrowers) two weeks after he'd returned Wiliam Goodell's The American Slave Code in Theory and Practice (5 borrowers). I wondered if, by recreating the borrowing patterns of a single borrower, I could make myself into a proxy for him; make his experience in some small way my own.
This struck everyone I talked to as a highly suspect idea. Frank Felsenstein has tracked quite a few individual Muncie stories (he discovered that Louis Bloom's brother, Landess Bloom, who read oodles of nautical tales, went on to join the Navy) but he still feels that it would be dangerous to make strong claims about the relationship between library records and lived experience. Not least because books were often borrowed for friends and family, and because even blue-collar kids would very likely have had access, via loans, drugstores, and serialized fiction in newspapers, to plenty of other reading material.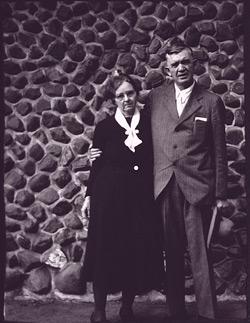 Still, I determined to read, or at least to sample, all 291 books Louis Bloom had checked out. Where possible I'd borrow the books themselves from a deep-pocketed library; otherwise, I'd rely on Google Books and other online editions. I'd happily gather what external facts I could about Louis, but fundamentally his booklist would be my passport back in time.
Some of the experiment's limitations soon became apparent. Though I dutifully read in natural light when I could, and was delighted when a power failure in our neighborhood meant I had to read Elsie Dinsmore for hours by a camping lantern, there never came a moment when I actually felt myself, well, time-traveled. If anything, checking yet again to make sure that I'd gotten the same edition Louis would have been reading, I felt myself turning into a pedantic antiquarian.
As time passed, though, I did feel myself growing strangely attuned to the Muncie library offerings. Passing Alcott Street on the way to work, I immediately started wondering what Louis and 396 other Muncie-ites had liked about Louisa May Alcott's unbelievably popular Under the Lilacs.
After reading half a dozen of his science books, I decided that Bloom loved to read about how to make things, and about penetrating scientific mysteries. He borrowed a great many books that began with clear accounts of replicable experiments, or "how to" projects: The Young Mechanic , for example, opens:
Of all people in the world who must not be neglected are, first and foremost, "Our Boys" and, of all boys, mechanical boys deserve a very high place in our estimation.
It then goes on to explain, in six beautifully lucid pages, how to make a wooden toolbox using only a knife, gimlet, hammer, square saw, and a few nails.
I started to see differences between books that had previously seemed indistinguishable. In a catalogue, The Wonders of Acoustics (no recorded borrowers except Bloom) and The Wonders of Electricity look very similar. Both are translated from the French, both more than 20 years old when Bloom read them. Still, I was pretty sure that Bloom would have preferred Electricity to Acoustics hands down. Why? Because Wonders of Acoustics fed the reader fabulous tales about talking insects, and made elaborate apologies for every hard cold fact it introduced.  Wonders of Electricity assumed that you wanted to become a master of electrical theory by replicating 18th-century voltaic experiments ("Galvani's experiment can easily be repeated. Remove all the upper parts of the animal …").
Still, I had to accept that this database was no time machine. More like a superpowerful telescope—but one that could only ever see a few inches of the moon's surface (Muncie, 1891-1902); and only ever perceive one incredibly narrow range of light (books checked out from its library). If I really wanted to bring Louis Bloom's youth to light, I needed a different way in.
Building on information Felsenstein and Connolly supplied, I used Ancestry.com and some fortunate Googling to trace Louis Bloom's life after Muncie. Once I found and established contact with his direct descendants (I'll spare you my agonies and disappointments), the emails and the facts came fast and furious. I learned that in 1907 Louis completed an engineering degree from the International Correspondence School of Scranton and that by 1910 he had begun a career as a stationary engineer for the U.S. Army, with a final posting in the Philippines from 1933 to 1936. And I learned about his Mississippi-born wife Esther, a self-taught artist who'd been on her way to the Art Institute of Chicago when, in a Little Rock Arkansas boarding house in the summer of 1910, she met Louis.
I learned about Louis' two deceased sons—Robert (born in 1911, father of Alan, Stuart, and Jonathan) and William (1913; father of William, Steve, Richard, and Joseph) —and all seven grandsons still alive, nearly all engineers, several with children, even grandchildren, of their own. I spoke extensively with Steve, Alan, and Stuart. Although I never learned how tall Louis was, or if he liked sports, or even what foods he liked, I did learn he was a classic Midwestern Republican in politics; that his son Robert (just about the only nonengineering type in the bunch), after casting his first vote for Hoover and ruing it bitterly, turned into a "Roosevelt liberal" and went on to a distinguished career as a professor of history at Gettysburg College. And I learned that Robert always spoke of his father as "a worthy man"; that Esther fell for Louis partly because he always carried a Bible in his pocket. That Robert corresponded with and eventually married a girl whom his parents had first taken a shine to in the Philippines. I heard reminiscences of pitched political arguments between Robert and his conservative uncle Landess Bloom (patron 4,588; 149 loans); and Stuart's faint memories of Louis' other brother Rudolph Bloom (341 loans).  I was oddly delighted to learn that like a French king, he pronounced his name without a final "s."
I was thrilled to find Louis and his descendants moving so successfully on out of Indiana, with the same love for mechanics and for scientific principles that had inspired him as a teenager. In all the grandson interviews, I heard different versions of the classic American success story that revolved around two things: a passion for analytical thinking and tinkering and a voracious love of reading. Just as I was finishing this article, Alan and Stu kindly sent this photo.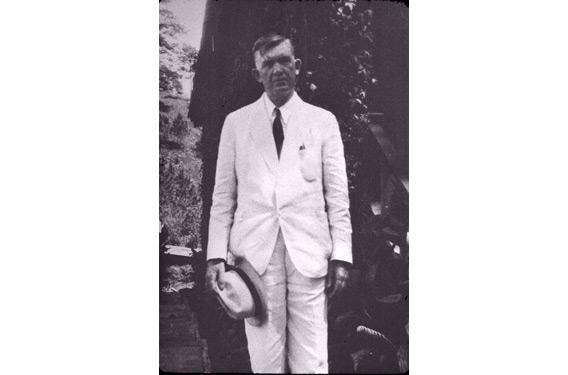 I took in Louis' earnest stare, rumpled hair and quizzically tilted head, and felt my disappointment about my copycat reading experiment fade a little.
Still, I couldn't help noticing that none of Louis' grandsons fell out of a chair in amazement when they learned that they could now track what their grandfather had read. All three interrupted me when I started talking about Horatio Alger, and my efforts to summarize Louis's beloved science books were met with a polite "Uh-huh" and a change of topic.
Steve and his wife Kimmy were happy to hear what I had uncovered about Louis and his family. ("Oh, cool" Kimmy said enthusiastically whenever a new biographical fact about the Blooms came up.) But when I asked Steve what it meant to him to know about his granddad's borrowing records, there was a pause and then he said, politely, "Oh, not that much." Later on, Steve told me about his own history of binge-reading as a fifth-grader: "Four or five books a week, I guess I cleaned that Base library out." So I delightedly told him that Louis too, when he got his first card at the age of 13, had taken out six books in his first week, four books in the second and third weeks. "Well, yes," he allowed slowly "that does seem like it might be a connection." Connection, I wrote in my notes, and bolded it. But was it?
The book I'm currently trying to write is about the way that ordinary readers—Louis, me, or you—can sometimes feel drawn into a book, so far into it, that it gives us a partial sense of a life elsewhere—until we recall that our hands ache, our eyes are tired, and it's time to pick up the kids. My working title is Semi-Detached, and that about summed up my feelings by the end of my Bloom experiment. I was partially there with Louis in the Muncie library—but I was also a very, very long way away. I'd gathered and crunched some data, and heard some stories, but …. I was always gaining on Louis, but somehow I was never fast enough to fall into stride with him, to turn sideways and find myself looking him straight in the eye. I was struck by Stuart's reaction when I asked him what we could deduce from his granddad's reading. He laughed and said, "You know, I don't even think the books I read as a kid say much about who I am now. It was all baseball then and I haven't even seen a game in 20 years. Even as a grown man I changed; I feel like I'm in my fourth lifetime now."
Stuart's point about the gap between what you read and who you are got me thinking. Maybe the way Louis receded as I chased after him was not my problem but my answer. In the books Louis checked out he found, as readers everywhere always do, more than just a perfect mirror of his own life (as if "what Middletown read" told us "what Middletown really was"). He also found a way out: a glimpse of the Italy where scientists experimented with frog's legs, or the state of Mississippi back when killing a slave was a simple property crime. The books he read might even have helped him catch a glimpse of what he wanted his own future to be working in the world of mechanics and of physics, far from Muncie ("Go West, young man"—yes, until you hit the Philippines). Thanks to those books, he too had a telescope. Like mine, it was small and imperfect, with no guarantees about the accuracy of what he glimpsed through it. Still, coming from the sort of Muncie life that he did (his mom had moved them in with in-laws, had even been threatened with having to send the kids off to various relatives) I bet that glimpse at a distant world loomed fairly large for him.
Alan gave me the final clue. All Louis' grandsons had described to me what it was to be a voracious reader as a teenager: reading rapidly and indiscriminately (Stuart); so absorbed that school bells would ring, the whole class would leave, and you'd still be in your seat with "the teacher laughing her head off" (Alan); or going through an eclectic pile of books fast that "the base librarians quizzed me about them to make sure I'd really read them" (Steve). Alan, though, also told me about going to the Wesleyan college library to research a paper on the Spanish American War and reading the card that listed his book's previous borrowers: Woodrow Wilson (Wesleyan's football coach from 1888-90, in case you're wondering). "That was some feeling." Maybe Alan was just being polite, but I like to imagine his grandfather Louis too leafing through books in the Muncie library and feeling a thrill at the thought of who'd been there before him. I think of Louis with his back toward me, and his head down in a book, doing his best, just like me, to step a little bit beyond his own time and place. Sometimes, what divides us also connects us.
*Correction Nov. 18, 2011: This article misstated the first name of a library researcher. It is Douglas Galbi, not Chris Galbi. 

*Correction Nov. 23, 2011: The article said Bernadette Lear compiled circulation information from libraries. In fact, she has compiled holdings information.
*Correction, Dec. 2, 2011: This article originally misspelled the name of one of Louis Bloom's younger brothers. It is Landess, not Landis.