Oh Snap! is Brow Beat's weekly photo feature. Have you spotted a project that's worth profiling? Pitch to ohsnapidea@gmail.com.

Warren Faidley didn't attempt to chase Irene. He correctly predicted that, for his purposes, she'd be an anticlimactic tropical flop.
"It's almost exactly what I thought it would be," the storm photographer said, "some moderate flooding, but not the epic hurricane forecast." "Moderate flooding" does not create the sort of dramatic images that Faidley is after. (You can see his images below.)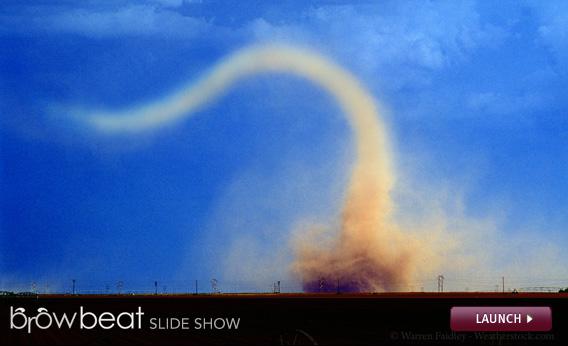 In the past 20 years, Faidley has documented thousands of storms: hurricanes Katrina, Andrew, and Ike; rare cyclones; and hail storms. He drives about 20,000 miles a year chasing these extreme weather events and selling his photos to magazines, textbook publishers, and advertisers. When he's not photographing storms, he's lecturing about them or analyzing them on the news.
Faidley is one of the original storm chasers, an unusual clan that consists of photographers, researchers, videographers, and others who pursue extreme weather events. It's a term he used to claim proudly, but that now makes him nervous. At parties, he says he's careful to clarify that he's a "journalist that chases storms" so that people don't just assume he's some danger-addicted wacko, like the ones they've seen on TV. 
True storm chasers, like Faidley, who make their living primarily off of storms, are relatively rare. Their work, he clarifies, is more a measured game of carefully calculated risk than some crazed race into the heart of a storm. Though TV shows on storm chasing are edited together to make it seem like a constant adrenaline-pumping adventure, the profession involves many  dull hours spent studying weather patterns and doing nothing.
"You're almost like a fireman, sitting there waiting," he says.
While there are certain indications that a dramatic storm is on its way, storm photographers have to be comfortable with gambling on the weather. Hundreds of miles spent pursuing a storm on a slight-risk day might result in a beautiful Wizard of Oz-type tornado image or nothing at all.  This is a big part of why professional storm chasers are dying breed.
"I just couldn't do it any more … it's not economically viable," explains photographer Roger Coulam, who is often referred to as one of the U.K.'s first storm chasers. Coulam used to spend every spring in Tornado Alley, the area between the Rocky Mountains and Appalachian Mountains that generally gets pummeled in the spring.  (You can see the resulting images in the gallery above.) He'd take tourists on storm tours during the day and hunt great images at night. But the effort isn't worth it any more. Stock agencies and publications simply don't pay enough these days and the tourists bog him down.
Still, he's not ready to let go. "Every spring, I get a strange urge that I should be somewhere else," Coulam says. Eventually he's going to give into that feeling, he says. "It's the only time I've seen something that makes my mouth drop open." And even in an oversaturated, underpaying market, that feeling is worth a great deal.
---