Also read Jessica Grose's "Interrogation" of Lisa Kudrow.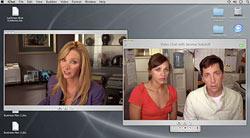 The static new half-hour comedy Web Therapy  (Showtime, Tuesdays at 11 p.m. ET) stars Lisa Kudrow as Fiona Wallice, an improbable practitioner of the impossible profession. Fiona is a shrink experimenting with "a new treatment modality." She loves that word, modality, and says it, enunciating with a stern and birdy warble, exceedingly often. It is a shibboleth and an incantation. Fiona seems convinced that employing it enables her to cling to a last shred of dignity that escaped her grasp long ago.
Her scheme is to harness the power of the Internet to dispense with "the self-indulgent blather that occupies a 50-minute session." There's no way around saying that something similar is true of the show, where worthy punch lines mosey around every eight minutes or so. Nonetheless, cheers to Fiona's sentiment; very often, on the couch, one fills time talking about trivial nonsense like his compulsive imaginings that a potful of rats is gnawing into the digestive tracts of his father and of his fiancee. "I have done the 50-minute session with people," Fiona says, "but they end up going on and on about feelings and dreams and memories and past experiences that add up to a whole lot of nothing as far as I'm concerned."
Misguided by these beliefs, Fiona invents the three-minute hour. She conducts the session via iChat, and the show conducts itself as an all-premise sitcom, which accounts for its static quality. The audience's perspective is limited to scenes unfolding on the desktop of Fiona's computer, where the webcam is always on. ("I like to keep myself company," she says.) Here, she not only counsels people suffering from the grave delusion that she has something useful to offer but even communicates with her husband (Victor Garber)—her partner in a loveless, sexless, endlessly acrimonious union—during the times when she's at her desk late in the evening and he's upstairs. In one such encounter, he asks when she'll be coming to bed. "Are we in the mood for a little something, at long last?" she asks. He responds, "Is there any soup in the house?"
One cannot argue with hubbie's reluctance to hit that, given that Fiona is needy and controlling and narcissistic and—as this opaque character sketch intimates, incompetent at being all these things. (Lisa Kudrow, high-strung in an indie-film idiom, somehow comes across like she's Hope Davis playing a Lisa Kudrow character.) Lacking a degree in psychology, I'm reluctant to guess at the specific confluence of disorders ailing Fiona's squirrelly persona, but she herself has not let her lack of formal training slow her down.
Rather, her preparation for a career in therapy involved studying at Wharton and working a finance job at a place called Lachman Brothers. Now there's a document on her desktop titled "Lachman Bros. Evidence" (pertaining to a bogus sexual-harassment claim), and one of her patients is the old colleague she entrapped into hanky-panky, and her only friend is the firm's tacky receptionist. The actor in the bimbo role, Jennifer Elise Cox, steals all her scenes, but this is just a misdemeanor offense. Though Web Therapy provokes a smattering of wry chuckles, I laughed but once when watching the first episode. The joke had been set up by Fiona's husband declaring that the only things that made money on the Internet were sex and genealogy. Later, one of her patients claims to have discovered that, as a consequence of his father's efforts as sperm donor, his new girlfriend is also his half-sister. Fiona exults tauntingly: "Well, that's sex and genealogy, right?"
Dreamed up by Kudrow with Don Roos (who directed her in  The Opposite of Sex) and Dan Bucatinsky (who is Kudrow's producing partner and Roos' partner-partner), Web Therapy occupies an overly irrigated terrain resembling the lands of both passion and vanity projects. Ambiently amusing but generally inert, the show is badly in need of a hard-edged producer to tell the series' creators that they cannot get by on charm, no matter how much of that precious quality is imported by such guest stars as Lily Tomlin, Rashida Jones, and Bob Balaban. And yet there's a germ of brilliance in the crafting of a comedy of embarrassment around a character who has lost the ability to be embarrassed by an actress who is supple in communicating brittleness. Fiona is a grade-A neurotic, and as Freud says, "a certain degree of neurosis is of inestimable value as a drive, especially to a psychologist."
---