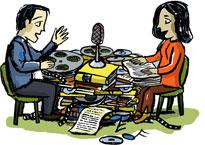 Listen to Culture Gabfest No. 141 with Stephen Metcalf, Jody Rosen, Dana Stevens, Julia Turner, and Forrest Wickman by clicking the arrow on the audio player below:
Don't miss a single episode of the Culture Gabfest. Subscribe to the free Culturefest podcast in iTunes or directly with our RSS feed. You can also download this week's episode here. And join the lively conversation on the Culturefest Facebook here:

In this week's Culture Gabfest, our critics Stephen Metcalf, Dana Stevens, and Julia Turner are joined by Slate editorial assistant Forrest Wickman to discuss Terrence Malick's ambitious new film The Tree of Life, starring Brad Pitt and Sean Penn. For their next segment, they're joined by Slate music critic Jody Rosen to discuss the recent death of influential poet and songwriter Gil Scott-Heron. For their final segment, they discuss playwright David Mamet's conversion to American conservatism. Here are some links to the things we discussed this week: The official website of Terrence Malick's The Tree of Life. Dana's review and Spoiler Special for The Tree of Life for Slate. Jessica Winter on Jessica Chastain's breakout turn in The Tree of Life and other great performances from unknown actors. Jessica Winter on director Terrence Malick's eccentric work process. Malick's previous films Badlands, Days of Heaven, The New World, and The Thin Red Line. Forrest Wickman's "Terrence Malick Cutaway or Nature Documentary?" quiz in Brow Beat. The New York Times' obituary for "Godfather of Rap"Gil Scott-Heron. Jody's appreciation of Gil Scott-Heron in Slate. Scott-Heron recordings "The Revolution Will Not Be Televised," "The Bottle," and "Whitey on the Moon."Jody's favorite Gil Scott-Heron album Winter in America. Alec Wilkinson's 2010 New Yorker profile of Scott-Heron, "New York Is Killing Me."The Weekly Standard's recent profile of playwright David Mamet. Mamet's forthcoming book The Secret Knowledge: On the Dismantling of American Culture. Mamet's 2008 Village Voice essay "Why I Am No Longer a Brain-Dead Liberal."Mamet's 1992 play about sexual harassment and political correctness, Oleanna. Dennis Miller's similarly public conversion to the Republican Party. The Culture Gabfest weekly endorsements: Dana's pick: the Gil Scott-Heron song "I Think I'll Call It Morning" from his 1971 album Pieces of a Man. Julia's pick: renting a car and driving in a foreign country. Steve's picks: Ezra Klein's across-the-aisle engagement with Paul Ryan on his Washington Post blog, and Mother Jones' article on the discovery of the photographs of previously unknown street photographer Vivian Maier by real estate agent John Maloof. Outro: "I Think I'll Call It Morning" by Gil Scott-Heron. You can e-mail us at culturefest@slate.com. This podcast was produced by Jesse Baker. Our intern is Forrest Wickman.
Follow us on the new Culturefest Twitter feed. And please Like the Culture Gabfeston Facebook.
---