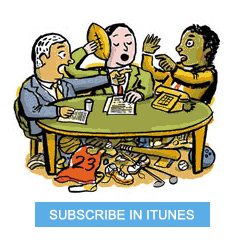 Become a fan of Hang Up and Listen on Facebook. Leave us a note, answer Mike's trivia question, and see what other listeners have to say about the latest podcast.
Listen to "Hang Up and Listen" with Stefan Fatsis, Josh Levin, and Mike Pesca by clicking the arrow on the audio player below or by opening this player in another tab:
You can download the podcast, or you can subscribe to the weekly Hang Up and Listen podcast feed in iTunes. (If you'd prefer to subscribe to the podcast in a program other than iTunes, here's the direct link to the Hang Up and Listen RSS feed.)
In this week's episode of Slate's sports podcast Hang Up and Listen, Stefan Fatsis, Josh Levin, and Mike Pesca discuss the first three games of the NBA Finals between Dallas and Miami. Guest Jon Wertheim of Sports Illustrated also joins the show to talk about Rafael Nadal's French Open win over Roger Federer and other French Open happenings. In the final segment, they discuss Buster Posey's season-ending injury and the ethics of smashing into home plate.
Here are links to some of the articles and other items mentioned on the show:
The Heat beat the Mavericks 88-86 to take a 2-1 lead in the NBA Finals.
Mike's question to LeBron James and Dwyane Wade after Game 2.
Rafael Nadal beat Roger Federer to win the French Open.
Jon's recap of the tournament for Sports Illustrated.
Li Na is China's first grand slam winner.
Is Nadal the best tennis player ever?
Sports Illustrated's S.L. Price on Nadal's possible decline.
Price's S.I. feature on Novak Djokovic.
Video of the Marlins' Scott Cousins plowing into Giants catcher Buster Posey.
Giants general manager Brian Sabean said, "If I never hear from Cousins again or he never plays another game in the big leagues, I think we'll all be happy."
Is Sabean a hypocrite?
Cousins defended the play; Posey said he's "not out to vilify Scott."
Hall of Fame catcher Johnny Bench says the play was Posey's fault.
ESPN.com's Jayson Stark on whether the rules should be changed.
The Baseball Codes blog on Sabean, plate collisions, and retaliation.
The Yankees' Mark Teixeira smashed into Bobby Wilson last year, giving the Angels catcher a concussion.
Hang Up and Listen's weekly Fosses:
Mike's Fosse: The 1964 NBA Finals, and Red Auerbach getting pelted with paper hatchets.
Stefan's Fosse: The 418-match winning streak of wheelchair tennis player Esther Vergeer.
Josh's Fosse:   Catching up with Usain Bolt.
Podcast production and edit by Abdullah Rufus.
You can e-mail us at hangup@slate.com.
---