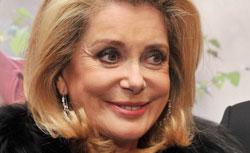 Perhaps the most efficient sketch of the singular screen charm of Catherine Deneuve comes from the critic Michael Wood in his British Film Institute monograph about Luis Buñuel's Belle de Jour. This was the masterpiece in which, playing a lady (Séverine) playing at whoredom, she descends through the id with a soft fall and lands with a wet smack. "Séverine moves around her apartment like a person who thinks everything in sight is breakable, including the people," Wood writes of the "subtle and precise" sequences near the film's end. "We are as close to her as we shall ever be. This isn't a Bergman actress, it's Catherine Deneuve. She's good, but she specializes in distance rather than depth."
This year, my fellow Americans, the special ravishing remoteness of Mrs. Deneuve will be coming to a theater near you. A 25-film retrospective runs at Brooklyn Academy of Music through the end of the month and then travels the country, and if you live anywhere near Chicago or Boston or half a dozen other cities, you should seize the chance to see her projected on the big screen, as God and George Méliès intended, in her roles as a fairy-tale royal (in Jacques Demy's Donkey Skin) and a mail-order enigma (in François Truffaut's Mississippi Mermaid) and—archetypally—a bored bourgeois housewife.
The series is a tribute to a presence who remains so beautifully aloof and regally unselfconscious that, last week, introducing Roman Polanski's Repulsion in Brooklyn, she accidentally unloosed a tasteless joke: "I had a chance to meet Roman Polanski at an early age." She was trying to say that she was grateful to Polanski for having directed her "very precisely." This idea of precision turns up at every turn in analyses of this most French of French actresses, a concern with cold strictures and razor-sharp exactitude.
Not incidentally, Deneuve plays another of her alienated homemakers in a new film—her hundredth, roughly—titled Potiche. Last week in Manhattan, director Francois Ozon introduced the film at Lincoln Center's annual Rendezvous With French Cinema by explaining that the title was analogous to "trophy wife," with the difference being that where American grasp for a brass idol, the French expression refers to "a kind of vase." The value of fragile objects, including sex objects, is extricable from their fragility.
A cocktail of winking farce and sincerest romantic melodrama, Potiche also offers an in-joke about Deneuve's résumé: Her character grew up the daughter of an umbrella manufacturer, and now her weaselly husband runs the family business, and the situation brightly nods to her breakthrough film, Jacques Demy's Umbrellas of Cherbourg, wherein she sang in the rain. Forced to manage the factory, our heroine struggles against obligations and tussles with obedience and, reinitiating an old romance with Gérard Depardieu's former union leader, melds issues of sex and gender with those about labor and capital.
You might say that the themes of Potiche are heavily Deneuvian, and you might be correct, with the exception that this classical beauty is more a creature of Freud than Marx. Someone must have articulated this law of aesthetics before Andy Warhol and ghostwriter Pat Hackett in The Philosophy of Andy Warhol, but no one has done it more economically: "Beauty in danger becomes more beautiful." And no one has demonstrated the principle more fully than Deneuve. On screen, in peril, she gives up a complete preciousness, especially when the source of the danger is the force of her own desire.
A highlight of the retrospective is La Cagna, directed by Manuel Ferreri and unavailable on DVD in the United States. The title translates as Bitch, which is why the U.S. edition goes by Liza, the character's proper name, Liza. Here—with her hair bleached beyond the pale of good taste, her skin luxuriantly broiled beneath her transparent shift, her irises the color of clover honey—she plays a brat who goes ashore on an island inhabited by Giorgio (Marcello Mastroianni, Deneuve's husband at the time) and enacts an allegory of sex and politics and sexual politics, which is all to say: power. The film offers three or four opportunities for Deneuve to play her best trick of lighting up from within to hint at an inward epiphany: Her remote soul surges to the front of her eyes in a pop of satisfaction, and she savors it as it dissolves again into insoluble mystery. "Beauty doesn't have anything to do with sex," goes another of Warhol's semi-aphorisms. "Beauty has to do with beauty and sex has to do with sex." There's great truth to the distinction—and great sublimity in Deneuve's genius at erasing it.
---