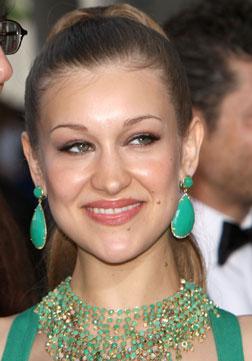 Funny that "Eenie Meenie" is Ann's Bieber joint-of-choice: I'm surprised that our leading feminist pop critic could get behind a record that counsels the nation's youth to "catch a bad chick by the toe." Maybe, like me, Ann, you're willing to forgive any and all sins of a song that contains the year's most priceless couplet? She's indecisive
She can't decide

As for the death rattle of poptimism that Ann detects beneath Sleigh Bells'sludgy racket: I dunno. It does feel like we're in a transitional moment. And a retrograde moment. My iTunes playlist this first month of 2011 is giving off a musty tang. I've been listening to Long Player Late Bloomer, the elegantly trad forthcoming album by Canadian stalwart Ron Sexsmith (speaking of unhip singer-songwriters). There's the Missy Elliott/Timbaland single "Take Ur Clothes Off," a shameless bid to recapture the brilliance of "Get Ur Freak On," "Work It," and "Pass That Dutch." This morning I've been playing the new R.E.M. leak, "Mine Smell Like Honey," in which Stipey and company revisit the raggedy glories of Life's Rich Pageant and Monster. Then there's my early frontrunner for album of the year, Cage the Elephant's Thank You, Happy Birthday, whose note-perfect Nirvana-via-Pixies loudQUIETloud stylings suggest the long-prophesied '90s revival may at last be upon us. Portlandia or bust!
In the realm of radio pop, the focus is not so much Back to the Future as Across the Pond. In 2011, as in 2010, the American Top 40 is thrumming to the big, emphatic sounds of European clubland. The results can be exciting: Everyone loves that dub-step breakdown in Britney Spears' "Hold It Against Me," Max and Luke's latest confection. But I can't help but feel anxious about the pop musical outsourcing. For years, the avant-garde innovations of American beat-makers have led the way for global pop. Is today's hit parade another sign of national decline—the braying 4/4 thump of a Düsseldorf discothèque soundtracking a headlong slide into the economic tar pits? Carl says that he picked up on an emerging Obama-era sound this year: "Music with palpable curiosity, reach and competence, but not always the daring to confront, to say what we don't want to hear." As an ardent Obama supporter, I heard other, more worrisome strains, and not just in the Europhilic top of the pops. "This Is Country Music," the latest hit by my hero Brad Paisley, is an eloquent declaration of genre pride. But isn't it also a sign of retrenchment—a retreat to red-state regionalism by the man who, just a year ago, scorned Nashville convention with the ecumenical-utopian Obama inauguration anthem "Welcome to the Future"?
These are unsettling times. Maybe that's why I did so much hunkering down with love songs, from Rihanna's sexy, sweet "What's My Name?" (I love the way Ri-Ri flashes her Barbadian patois in the chorus) to Standard Fare's wistful "Dancing." The year's best lover's rock, though, was Joanna Newsom's Have One on Me. "I am easy/ Easy to keep/ Honey, you please me/ Even in your sleep," cooed Newsom in the album opener—and a million doe-eyed indie boys flung darts at Andy Samberg's publicity photo. No one sang about passion like Newsom this year. (See Carl's terrific blog post about "Good Intentions Paving Company," one of her loveliest odes.) But the highlights of Have One On Me were the breakup anthems: "Does Not Suffice" and the gorgeously hymnlike "On a Good Day," at 1:49 the shortest song Newsom has ever recorded and, for me, the best. The woman does short-and-sweet even better than she does epic-and-unedited. Here's hoping she'll rein it in completely next time. (Thirty songs in sixty minutes—you can do it, JN!)
In my first entry, I promised that my best-ofs would change by the time we finished trading emails. I didn't lie. I've spent the last week playing Calle 13's Entren Los Que Quieran (No. 7 on my albums list), and it's sounding more formidable with each listen. What if I told you there was a rapper as musically daring as Kanye West; as funny as Lil Wayne; as politically engagé as M.I.A.; as sharp-witted as Das Racist, with a global audience a hundred times as big? That rapper is René Pérez, aka Residente, the pugnacious voice of Calle 13. On Entren Los Que Quieran, he skitters between genres—rock and reggaeton and banda and spaghetti Western and Afrobeat and Hawaiian folk—but keeps his focus on partying and protest. He raps about Latin American solidarity; he raps about poverty; he raps about the drug wars; he disses the pope. He's an inspiring populist—but only because his pop is so inspired. Just how far up on my list should bump this fun, expansive, sad, hopeful album? I'm indecisive. I can't decide.
I'm certain of one thing, though: It's such a pleasure talking music with you three. Same time, next year?
Jody
---