Ratings dropped precipitously after the premiere episode of Sarah Palin's Alaska , but I predict a modest upward spike Sunday, Dec. 12,* at 9
 when fellow TLC star Kate Gosselin and her eight unfortunate children guest star on Palin's show . Click here for the preview , in which Sarah brandishes a shotgun and boasts about how Kate will be relying on Palin's protection. Kate cries from the stress of it all. This has the potential to go down in the modest annals of reality TV history. Mark your calendars.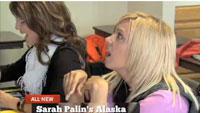 *Correction, Dec. 6, 2010: This post originally cited the wrong air date for the episode on which Kate Gosselin would appear.
---