From time to time, a Slate staffer or critic offers up a favorite cultural pick for Procrastinate Better readers. Today's endorsement is from Slate senior editor Dahlia Lithwick.
I read Colm Tóibín's haunting novel, Brooklyn , in two sittings this fall, and haven't managed to shake it loose ever since. It's a bare pen-and ink sketch; the so-called-life life of Eilis Lacey, who lives with her mother and sister in a tiny Irish town in the 1950's and manages to get herself shipped off to a more glamorous life in New York, against her wishes. Eilis is barely knowable, hardly loveable, which makes her a perfect window into the messy patchwork that is Brooklyn's Irish/Polish/Jewish/Italian/African American population. She brushes up against the brutality of the mid-twentieth century—the Holocaust and the American civil rights movement—without knowing what to make of them, how to speak of them, or whether they have affected her at all.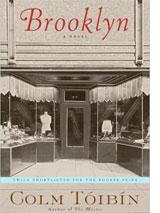 The trick of Brooklyn is that ultimately Eilis' journey doesn't end where you think it should, but where it began. As her quest winds down, she doesn't so much find something great as lose something small. If you find yourself with some reading time in the coming days, Toibin's Brooklyn is a beautiful place to get lost; a dream-world of roads not taken, selves unknown and promises not meant to be kept.
---