From time to time, a Slate staffer or critic offers up a favorite cultural pick for Procrastinate Better readers. Today's endorsement is from Slate assistant Julia Felsenthal .
A friend recently prescribed me some W.H. Auden poems to contend with a broken heart. Reading the poet's words in my own head helped some, but the feeling of catharsis really came once another friend alerted me to this recording of Dylan Thomas reading Auden's "As I Walked Out One Evening ."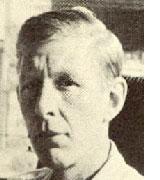 In Thomas's tremulous, hellfire brogue, Auden's allegorical verse sounds like both a sermon and a song. Thomas's driving voice, rising in intensity and in pitch, builds marvelously towards the moment of reckoning in Auden's climactic pair of stanzas:
O look in your distress:
Life remains a blessing
Although you cannot bless
O stand, stand at the window
As the tears scald and start;
You shall love your crooked neighbor
With your crooked heart
It's hard not to feel small against the scope of this poem, and it's also hard not to listen again and again.
---