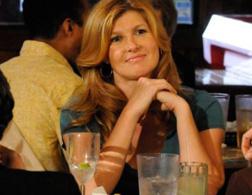 Neither of you mentioned what is to me the most striking aspect of the Maura episode: Maura is Tami. We know from Tami's strategic look-away when Eric talks about how we never did stuff like this when we were kids, that in fact Tami did stuff exactly like this when she was a kid. Maura, with her gorgeous red hair, plump cheeks, and great body, is Tami's physical doppelganger. When Tami chastises Maura that she's smart, she's beautiful, and now is the time to make her life choice, Tami is lecturing her own younger self. That's why she's so wound up about it.
I enjoyed Vince's two paternal encounters—one with his dad, the other with his coach—as much as I've enjoyed anything on FNL this season. Sure they were sappy, but so what? Dad's evocation of the pride he felt in Vince made me tear up (though don't you wish dads would feel pride in their kids' nonathletic achievements, too?). Eric's exhortation that Vince doesn't need to be better than everyone, just needs to "strive to be better," was perfect advice: I wish I could pass that same lesson to my own kids in such a subtle, eloquent way.
I don't think I agree with you, Emily, that FNL suffers when it leaves Dillon. I'm loving the Boston University episode—even if Julie's social isolation is not credible—and I've liked almost all the non-Dillon interludes we've had: Jason Street looking for work in New York; Julie and Matt sneaking off to Austin; Matt making his way in Chicago; Jason and Tim and Lyla finding trouble in Mexico; Eric coaching at TMU. 
Wasn't it a little cheap to make Mr. T.A. wear his sports jacket sleeves pushed up to his elbows? Has there ever been a more universal sign for "jerk" than pushing up sports jacket sleeves? Do you think he gave Julie a C- just to get her to sleep with him? Or did he really mean it? I got a C- on my first college paper, too, but no T.A. tried to get in my pants.
—David
---