Once a week, Procrastinate Better features a peek into the Netflix queue of a staffer or critic. No tampering with the results to make ourselves seem more or less erudite, we swear! Just the brief opportunity to explain (or defend, as the case may be) the choices. This installment comes from   Slate   social media editor Jeremy Stahl.   More   Candid Queues   here.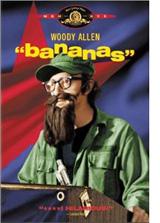 Like multiple Slate staffers , I share a queue with my spouse, which is why half of this list will be made up of juvenile comedies ( mine ) and the other half will be made up of gritty, foreign dramas ( hers ). We generally exercise veto power over each other's selections, and watch alone when we can't agree. One caveat is that we only really use the streaming service, which means this isn't technically a queue so much as a list of movies we've just watched or have just started watching.
1.) Bananas : Because of all of the dark, unfamiliar places we visit with my wife's selections, I tend to opt for comfort films—usually movies that I've already seen at least once, often ones by my favorite directors. After my wife spotted Woody Allen's Annie Hall —an all-time favorite—on a Netflix recommended list, she quickly pointed to it as something that she would not veto. But I've watched it about a dozen times and wanted to see what other Woody Allen options were available, because they are such a rare treat on streaming. Deciding against Manhattan , which we watched with my sister earlier this year, we settled on this 1971 slapstick about South American freedom fighters. The calculus here was that if it was funny when I was 17, and I haven't matured in the last 10 years, then it must still be funny today.
2.) Mad Detective : My wife gave me the option of choosing between the Chechnya war fable Alexandra , the Lebanon war drama Under the Bombs , and this zany Hong Kong detective thriller. All three picks came from this list of the Times of London's 100 favorite movies of 2008. I jumped at the off-kilter Chinese cop film. There was enough of the aforementioned zaniness to make this worth my time, plus a cool homage to The Lady from Shanghai and a couple of tributes to Reservoir Dogs .
3.) David Cross: Bigger and Blackerer : In addition to my love of his comedic acting , Cross is probably my favorite stand-up act (2004's It's Not Funny is the best political and social satire about the Bush years in a stand-up that I've heard). When I saw the title on the recommended list, I immediately started watching by myself. Only got five hilarious minutes in before my wife decided she wanted to exercise her rightful turn and watch something together (see above). Already have plans to catch the rest of this while she's out of town visiting her brother.
4.) Gomorrah : The mob drama about the banal evil of the notorious Neapolitan organized-crime syndicate the Camorra is one that we have both really wanted to watch for a long time, but that I kept putting off because I was daunted by my  Slate colleague Jonah Weiner's excellent but bleak review . When I finally worked up the courage to watch this "two-hour-plus stranglehold [that] sends us back into the world gasping," I was not let down.
5.) Jar City : If this Icelandic crime thriller had gone by the more descriptive title Preserved Human Brain in a Jar City , I might have been more enthusiastic about viewing it. As it was not, I had no expectations and thus no reason to be disappointed by the rambling procedural murder mystery.
---