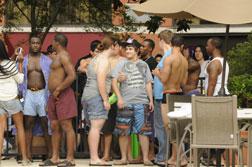 David, to your list of funny moments, I'd add a couple more: sweaty Mindy watching that crazy '80s aerobics video. Then the great Mindy/Becky supportive girlfriend exchange: "I had regulars!" says Mindy about her days at the Landing Strip. "They probably totally miss you!" answers Becky. I, too, loved this episode. As you said, David, it was FNL at its joke-for-every-tear best, with the painful moments ("You can't make anything in your life work," from Buddy Jr.) coming fast after the funny ones ("We eat seitan," from Buddy Jr. "Satan?"). Or maybe it was just good because of the excess of Buddy.
They finally gave Vince some lines and scenes worthy of his talents. "Pop, what's my birthday?" he asks his dad as a way of testing him. That's a great, clean line, petulant and cutting at the same time. The scene of Vince rifling through his father's apartment looking for drugs was also great—a clever reversal of the previous scene, in which Buddy was chasing down his son. It nicely captured how Vince was actually the parent in his relationship with his mom, and set us up for the heartbreaking showdown over the drugs. I still think the show doesn't push Vince far enough; there should be a scene in which he really behaves terribly and tests our affection for him. But this episode was less delicate with Vince than usual.
One question for football fans. During the visit to TMU, why was Vince smuggled into the head coach's office? Was this a sneaky way to get an extra shot at recruiting him? Was it an insult to Luke, or do they want them both?
I love Buddy Jr., but aren't the writers cramming in too many new characters? I thought Hastings Ruckle would occupy the role of stranger with a West Coast stoner vibe, but now that role seems to be Buddy Jr.'s. So what's the point of Ruckle? Is he just eye candy for the Riggins-starved girl fans? And I had high hopes for Epyck, but she seems to show up just to smoke another cigarette, scowl, and kick down plastic palms. It's like that Latino boy who showed up on the team a few seasons back and then just disappeared. I hate when the writers do that. It puts me on edge, because I can't tell if I'm supposed to care.
Mindy and Billy, meanwhile, have proved to be keepers. The show has always been good at stopping just short of making those two ridiculous. She may be a stripper good enough only for the breakfast-buffet crowd, and he may be a guy who sent his brother to prison, but in the FNL world, they count as role models, or at least a cut above the "redneck bitch." This modern family they've thrown together is FNL's way of proving that the family values the show so wholesomely promotes are not just for the Taylors.
As for the sleazy T.A., you guys have to let that one go. The age difference between them is not much bigger than the gap between Jake Gyllenhaal and Taylor Swift, and no one really complains about that.
---