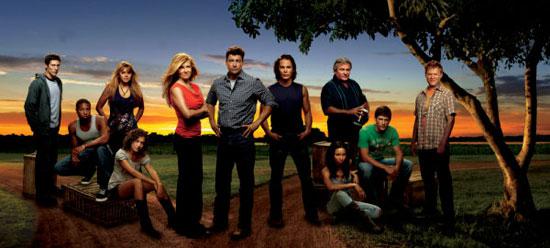 This episode soothed and murmured. A lot happened, but nothing much really happened. Everyone was gentle and saintly and decent, except Becky's wicked stepmom. Landry and Julie exited for college all too graciously, with Landry's detour to the Landing Strip played entirely for sweetness. Billy Riggins begged for help from that "molder of men" Eric Taylor, and Coach provided it in his "Gruff but Warm" (patent pending) way. Tami set about rescuing the lost sheep of East Dillon, giving Principal Levi a chance to show his softer side. Jess and Vince smooched more chastely than they should have, then Vince played substitute dad for Andre. And East Dillon cruised to an easy enough win over the reigning state champions. Even the ostensible big drama of the episode—will Huckleberry Hound (or whatever his name is) quit basketball for football?—didn't raise the pulse. He joined up way too easily. The impending Vince-Jess-Huckleberry love triangle threatens to be seriously irritating, given that Vince is more interesting, better-looking, smarter, and more worthy in every way. (I was also distracted by the fact that the supposed basketball star had one of the worst-looking jumpshots I've ever seen.)
Why do you think the FNL crew eased us into the season like this? The title of the episode is "Expectations," so I can only assume that one purpose it was to upend ours. I expected the final season to begin in distress: the team a mess; Tami in despair; Luke and Vince at each other's throats, etc. Instead, everything is A-OK in the fine little town of Dillon.
Tim Riggins clouded the episode momentarily, and good for him. Taylor Kitsch has never been one of my favorite FNL actors, but he brought a credibly bleak edge to prison-yard Tim. (I'm surprised they let him keep his long hair in the joint: He could hide a shank in there, or a six-pack of Shiner Bock.) And though I'm rooting for the manly redemption of both Riggins brothers, surely the arrival of Becky in the Riggins' ranch house will tempt poor Billy in all the wrong ways.
The episode beautifully captured the nostalgia, despair, and anticipation of that moment before college. Every bit was perfect: Julie's tense little argument about the cobbler—she was totally right, don't you think?—the sparsely attended Crucifictorius show; Landry's plaintive, "I always pictured my last night in Dillon to be epic in some way"; Landry's farewell to Grandma Saracen.  I'm going to miss him even more than she will.
Where do you guys think Julie is going to college? And didn't Tami suddenly look old?
---