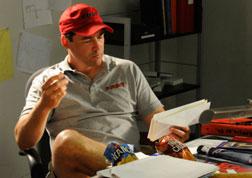 I experienced this episode very differently than the two of you did. I did not find it soothing or gentle. I found it totally unnerving. Since we kicked it off with Tim, I was experiencing the unfolding plots from his point of view: All the people I know and love in Dillon are leaving or already left and I am powerless to stop it. And by the way, that scene with Tim had a Jason Street echo for me. There was sweet Tim suddenly gone hard and sickly, and refusing any aid or comfort from friends—just like Jason Street used to do from his hospital bed in Season 1. Fast-forwarding to the end of this season, we'll have to come up with the prison equivalent of Murderball for Tim. The Shawshank Redemption?
This is how those interruptions played for me, David. We just could not relax, because things were not flowing the way they were supposed to. No heartfelt speeches in prison, no smooth entry for new guidance counselor Tami, no heartfelt goodbyes with Julie. This is something FNL has done well at the start of other seasons: throw things off balance so they can be set right over the course of the season. Remember early on in the previous season when Coach Taylor was trying to give his talk and the team kept interrupting with snickering? This episode similarly set up a few tensions to resolve: Tami and Levi, Billy and Tim, Jess and all of her boys, Becky and the deadbeats, the team and Huckleberry Hippie.
Don't you love how FNL drops in those random drifters? Julie's annoying Habitat for Humanity boyfriend from last season, that hot neighbor of Tim's who looked like she'd just flown in from Brooklyn, the convict turned counselor from Carroll Park, and now Hastings "I'm a free spirit" Ruckle. Useful to have so many great characters coming through Dillon. And while I'm complaining: Why do they always have to ABC Afterschool Special the black plots? Vince's speech to Andre was utterly generic, while all the creative imagination went to the Great White Hope on the basketball team. (The Vulture recap of the episode,by the way, heartily disagrees, calling Vince's speech "emotionally rich and compelling.")
Once again the Tami and Julie plot provided me with future life guidance, only this time in reverse. I'm with David here. Tami was pushing too hard while Eric handled it just right. It reminded me of the Deborah Tannen story from this week's New York Times on studies about how having a sister makes you happier. Tannen was countering that women's styles of friendship are not superior, just different, and sometimes the "troubles talk" women like to do can backfire. Men meanwhile can comfort each other by doing the routine things they like to do—going to ballgames or fishing—while not saying a word about the situation at hand. Hence, the ping-pong. And the envelope of cash. Much more useful than a cobbler.
Now what do we have to look forward to? Tami being a molder of women? Julie having a psycho roommate? Hastings introducing marijuana into the Dillon social scene? Becky being annoying? I'm ready for all the drama, so long as it comes with an occasional moment of Tinker comic relief.
Like Slate on Facebook. Follow us on Twitter.
---