Once a week, Procrastinate Better features a peek into the Netflix queue of a staffer or critic. No tampering with the results to make ourselves seem more or less erudite, we swear! Just the brief opportunity to explain (or defend, as the case may be) the choices. This installment comes from Slate assistant Julia Felsenthal . More Candid Queues here.
1) Beautiful Girls : I used to say that my Netflix queue was a list of all the high-brow things I wanted to want to watch, and my watch-instantly choices were a list of all the low-brow things I actually wanted to watch. These days the distinction has disappeared. Hence, Beautiful Girls , which is not only a guilty pleasure, but one I've already seen about 10 times. It's about a New York City piano player who makes a midwinter odyssey to his hometown of Buffalo, N.Y., for his 10-year high school reunion. While upstate, he falls in love simultaneously with two unattainable girls: 13-year-old Marty, played by Natalie Portman (somehow this didn't strike me as pervy when I first saw this movie, at Marty's age), and Andera, played by Uma Thurman. I can credit this movie with introducing me to Neil Diamond's "Sweet Caroline," and also to the profoundly misguided idea of wearing overalls in junior high. (See Natalie Portman's ice-skating scene.)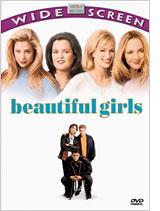 2) Freaks and Geeks , Disc 1: Someone recently told me that my sense of style reminded her of Freaks and Geeks' anti-heroine, Lindsay Weir. I took it as a compliment and as an excuse to revisit this excellent, Judd Apatow-produced series. Lindsay, played by Linda Cardellini, was one of the geeks in her small Michigan town, at least until she got a sweet army jacket and a liberal attitude toward pot and started hanging out with the town freaks. The show played a part in launching the careers of several notable actors, including James Franco, Jason Seigel, Seth Rogan, and that rubber-mouthed girl from Dawson's Creek : The College Years.
3) thirtysomething : Season 3 , Disc 1: Lately, when I feel bored hanging out with my well-educated, upwardly mobile, urban friends, I go home and watch an episode of this show about well-educated, upwardly mobile friends living in Philadelphia in the late 1980s and early '90s. All four seasons of thirtysomething are available to watch instantly, but starting with the third season, Netflix decided to reserve certain seminal episodes for actual renters. I don't know when my idle thirtysomething habit turned into a completist obsession, but I now have the entire third and fourth seasons in my queue so that I can fill in the blanks.
4) Babies : I want to see this documentary about the infancy of four babies across the world mostly because of Dana Stevens' review , in which she calls this a "79-minute YouTube video with high production values." Who doesn't love YouTube videos (and babies)?
5) Fried Green Tomatoes : When I first saw Fried Green Tomatoes as a little kid, I thought it was Oscar material. I identified with Mary Stuart Masterson's Idgie Threadgoode, an outcast tomboy who only ever wanted to hang out in the woods, foraging for food and wearing britches. The love that Idgie felt for her older brother Buddy, killed off in the first minutes of the film, was akin to the love I felt for my imaginary older brother. When I recently streamed most of the movie on my computer, I quickly realized that it's actually pretty terrible (how did I block out an entire subplot starring Kathy Bates as a romance-starved, overeating empty nester?). Unfortunately, the watch-instantly option expired right in the middle of a food fight scene, and I was forced to add it to my queue to see if Idgie won.
---