Director Arthur Penn died yesterday at the age of 88 . Though he is best known for helming the late '60s classic Bonnie and Clyde , my favorite of Penn's directorial efforts is The Miracle Worker . Starring the always-wonderful ( and also sadly deceased ) Anne Bancroft as Anne Sullivan, the woman who taught the deaf and blind Helen Keller to communicate, The Miracle Worker could have been a maudlin mess, given its dramatic real-life subject matter.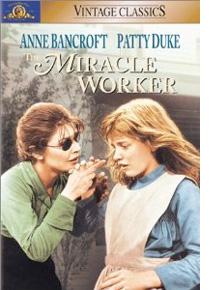 But under Penn—who also directed the stage version of Keller's story—Bancroft and Patty Duke, who plays Keller, give fantastic, affecting performances. Both actresses were also in the stage production, and their dynamic was unforgettable. The Times obit of Penn describes his "highly physical approach" to the material, and quotes a Nan Robertson review which mentioned Bancroft and Duke's chemistry in the show:
One of the most ferocious slugging matches in town has been waged nightly for the past eight weeks between an amateur fighter from the Bronx, standing 5 feet 6 inches tall and weighing 122 pounds, and a novice from Manhattan, standing 4 feet 4 3/4 inches tall and weighing 60 pounds.
It's definitely a slug-fest worth seeing on film.

---