From time to time, a Slate staffer or critic offers up a favorite cultural pick for Procrastinate Better readers. Today's endorsement is from Slate copy chief and deputy managing editor Rachael Larimore.
When I was growing up, my grandmother had a big pile of word-puzzle books: word searches, acrostics, crosswords.   I would curl up in an overstuffed chair and keep myself busy for hours. My parents noticed and got me my own subscription to Games magazine, which was—and still is—a delightfully eclectic and well-curated collection of game reviews, logic puzzles, and word puzzles. The glossy pages of the magazine, with reviews and reports from the latest Scrabble tournament or national memory championships, are wrapped around the "Pencilwise" section that features the bulk of the word puzzles and culminates in the "World's Most Ornery Crossword Puzzle," a sprawling crossword with two sets of clues.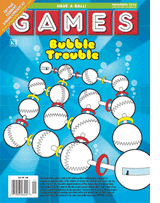 I let my subscription lapse at some point in high school or college, but always sought out a copy in airports to keep me busy on long flights and during layovers.   A few years ago, my husband got me a subscription for Christmas and I've been hooked ever since.
Games hasn't really made the jump to the online world—its Web site is rudimentary, and it's clearly not trying to compete with Farmville. But that's part of the charm. After reading words on a screen all day and communicating via IM and e-mail, it's nice to be able to pick up an actual magazine and scribble on it with a real pencil (no pens for me).   While Ron Rosenbaum has called puzzles a waste of time that would be better spent reading, there's a reason that I often reach for my latest copy of Games instead of, say, Jonathan Franzen or Jodi Picoult . Novels just get my mind racing and keep me awake. But word puzzles and mind-stretching logic puzzles are great for making the eyes droop.   Someday, though, I'm going to stay up long enough to finish the World's Most Ornery Crossword.
---