Once a week, Procrastinate Better features a peek into the Netflix queue of a staffer or critic. No tampering with the results to make ourselves seem more or less erudite, we swear! Just the brief opportunity to explain (or defend, as the case may be) the choices. This installment comes from Slate associate editor Juliet Lapidos . More Candid Queues here.
1) The Secret of the Grain : In this "César-winning drama" a Tunisian immigrant dreams of opening a couscous restaurant. If that plot summary doesn't grab you, consider that, by all accounts, it's very depressing. Also, it's very French. And 2.5 hours long. And I doubt there's really a "secret" since the original title reads simply le grain et le mulet —the grain and the mullet . Scintillating. I must have been craving couscous when I put this on the list.
2) Caché : My favorite movie of the last decade from one of the greatest living directors, Michael Haneke. Daniel Auteuil and Juliette Binoche play a wealthy French couple who start receiving mysterious, threatening videotapes. It's creepy and moving and terrifically acted and—pardon me, I can't help myself—an effective parable about French colonialism and what Freud called the return of the repressed . My boyfriend scooted Caché up to the top spot as soon as I gave him access to my account, presumably so that I'd shut up about it.
3) Days of Wine and Roses : I'll watch just about anything with young Jack Lemmon. In this flick, he plays an alcoholic PR guy who falls for a teetotaling secretary. I believe they switch roles, but probably not in a funny way since Netflix calls this a "searing drama."
4) Grand Illusion : Oh dear, another French movie. If I wasn't honor-bound to reveal my queue as is, I'd make it less froggy. In fact, after my write-up goes live I vow to stifle my inner Francophile. But only after watching this classic Jean Renoir about a plot to escape a German prison camp during WWI
5)   Contempt : What can I say, the French make good movies. This here is Jean-Luc Godard's take on the filmmaking world starring Jack Palance, Fritz Lang, and Brigitte Bardot, who looks hot in a drugged sort of way on the poster.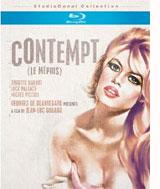 ---