From time to time, a Slate staffer or critic offers up a favorite cultural pick for Procrastinate Better readers. Today's endorsement is from Culture Editor John Swansburg.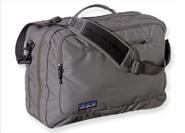 It's mid-August, so I should probably use this space to recommend to you the perfect beach read. But let's be honest—you and I might have completely different taste in what makes for good beach reading. It's possible you won't share my conviction that nothing says fun in the sun like the Personal Memoirs of Ulysses S. Grant . So instead I'm going to offer up something I know you'll love. And that you can use to carry whatever book you please to wherever you're going this August. I present to you the perfect piece of weekend-getaway luggage: the Patagonia Maximum Legal Carry-On . Stuff its 1,200-denier 100 percent recycled polyester guts to capacity—even an incorrigible overpacker like myself can easily get four or five days' worth of clothes in there—and the MLC will still slide smoothly into the overhead compartment. Checking bags is for suckers and people who travel with firearms . I should note that my dedication to the MLC is informed by the fact that, like my friend and colleague Seth Stevenson, I despise luggage with wheels . A man shouldn't pack more than he can carry—sorry, Ryan Bingham . The MLC offers three—three!—different ways of hefting it: a sturdy handle, an ergonomic shoulder strap, and, for when you've really loaded it down, a set of shoulder straps that allow you to tote it like a backpack. It's also sleek, intelligently pocketed, and durable. I have a black one but I'm thinking of getting a second—I'm loving this season's Narwhal Grey.
Got a suggestion? E-mail procrastinatebetter@gmail.com . Follow us on Twitter and sign up for the Procrastinate Better newsletter , too.


---