Once a week, Procrastinate Better features a peek into the Netflix queue of a staffer or critic. No tampering with the results to make ourselves seem more or less erudite, we swear! Just the brief opportunity to explain (or defend, as the case may be) the choices. This installment comes from Slate senior editor Emily Bazelon. More Candid Queues here.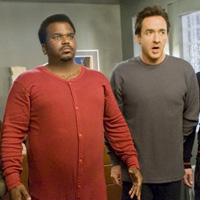 1) Daniel Deronda

:

I'm in Vermont right now, without cable TV or fast mail service, so I'm relying on the Netflix instant play feature for most of my entertainment. At the top of the list is the BBC's four-hour production of George Eliot's Daniel Deronda . I adored this book, and the BBC production looks like it has all the British 19 th -century trappings—galloping rides through the countryside for Gwendolyn Harlot, our anti-heroine, and identity- searching in the London Jewish ghetto for Daniel Deronda, our hero.

2) Get Smart: Season 2 : My kids, who are 7 and 10, love slapstick. Their latest fix comes from this spy spoof show, created in 1965 by Mel Brooks and Buck Henry. Maxwell Smart is a doltish agent who shoots water guns and kids' darts but always wins out with the help of adoring Agent 99 (the girl) and furry Agent K-13 (the dog). The kids and my husband chortled through the first season and await the second.

3) Hot Tub Time Machine : This is the adult comedy I actually wanted to see in the theaters last year and missed, as usual. I may well hate it in the end. But it holds out the promise of my favorite nostalgia trip: down 1980s memory lane. John Cusack stars in what sounds like a reprise of his roles in The Sure Thing and Say Anything . In his NYT review, Tony Scott gave a shout-out to viewers who know all the lyrics to "Jessie's Girl." That would be me.

4) Foyle's War: Set 1, Disc 2 : Back to Britain: In this ( John Dickerson-approved ) 2003 TV series, Christopher Foyle is a reserved and clever English police inspector stuck fighting rural crime during World War II. He has a mysterious backstory—a lovely grown son and, I think, a dead wife. I like his perky girl driver, who knocked out a bad guy with a trash can lid in the first episode. More intrigue, please.

5) A Prophet : This 2009 movie falls into a familiar Netflix category: Foreign Film My Mother Recommended. Often, these movies make it onto the queue and even into the house, but then sit in their red wrappers until I admit that I don't want to sit through two hours of subtitles. This one, though, looks like I'll actually watch it. It's about an 18-year-old Arab kid who confronts the Corsican mob when he's thrown into French prison. In 2005, director Jacques Audiard made The Beat My Heart Skipped , which I haven't seen but dimly remember having meant to. A Prophet was nominated for an Oscar for best foreign language film. This I will try not to hold against it.

Got a suggestion? E-mail procrastinatebetter@gmail.com . Follow us on Twitter and sign up for the Procrastinate Better newsletter , too.
---