Once a week, Procrastinate Better features a peek into the Netflix queue of a staffer or critic. No tampering with the results to make ourselves seem more or less erudite, we swear! Just the brief opportunity to explain (or defend, as the case may be) the choices. This installment comes from SlateV executive producer Bill Smee. More Candid Queues here.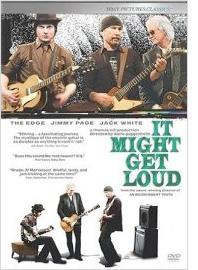 1) It Might Get Loud : Too often, my queue gets littered with earnest or challenging documentaries that are the last thing I want to watch when fading away on Friday night. This one on the history of the electric guitar told through three fret board maestros—Jimmy Page, The Edge, and Jack White—seems more escapist, hopefully without the shopworn Behind the Music drug-binge anecdotes.(Director Davis Guggenheim wouldn't dare put burning candles behind his rock god subjects.) On the other hand, I'm not sure I'm ready to put Jack White in the rock guitar pantheon. And there's zero chance that my wife joins me on the couch for this, so scheduling may be tricky.
2) White Men Can't Jump : I find myself re-watching sports movies these days with my two jock-in-training sons, who can't seem to get enough of this genre. They loved The Express , got swept up in Hoosiers , and my 9-year old has unequivocally declared More Than a Game his favorite all-time movie. I'm not sure what they'll make of hustlers Woody and Wesley, or Rosie Perez's F-bombs and Jeopardy! quest, but I'm pretty sure this still-hooping-in-his-mid-40s white guy will (pathetically) be charmed all over again.
3) Taking Woodstock : Not many directors do period pieces as well as Ang Lee, so how bad could this foray into 60s counterculture be? Pretty bad, if you believe the critics, including my Slate colleague Dana Stevens . The movie apparently avoids showing much of the music from Woodstock and instead focuses on family drama and characters at the periphery of the festival, which sounds pretty lackluster. But I remain intrigued for one simple reason: The Ice Storm , Lee's utterly riveting film about suburban ennui in the early 70s. Plus, I'm a fan of both Demetri Martin and Eugene Levy. Still, the chances I click this one off 23 minutes in are high.
4) Gone With The Wind : I have never seen this movie, or read the book it's based on for that matter. There I've said it. Years ago, I lived in Atlanta and GWTW screened every single day at the same downtown theater, and I still didn't bother. Having made it this far without watching, I'm no more inclined today to sit through this 224-minute "classic". It feels more like my first prostate exam—something I need to do. But I suppose there's a reason everyone (including my wife) raves, and I figure I can watch in installments if I find myself underwhelmed.
5) The Cove : Speaking of those earnest and challenging documentaries, here we go again. I have higher hopes for this film about dolphin slaughter at a national park in Japan, not because it won an Oscar, but because the previews make it look positively action-packed (for a documentary, that is). It seems as if the filmmakers put undercover surveillance footage to good use (a rare feat in the post- Dateline world), and they apparently took some real risks. One issue for me: I'm not exactly Mr. Animal Rights, so I tend to get annoyed when tales of animal victimhood are laid on too thick.
---