From time to time, one Slate staffer or critic offers up a favorite cultural pick for Procrastinate Better readers. Today's endorsement is from Jacob Weisberg, chairman of the Slate Group.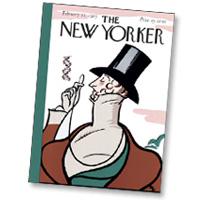 I seldom read the short stories in The New Yorker . But lately I've been beavering through the archives of the magazine's excellent fiction podcast . Once a month, a well-known writer picks a story from a back issue to read aloud and discuss with fiction editor Deborah Treisman. Listening to these well-curated, half-hour episodes while driving or jogging makes for some seriously enjoyable multitasking. At their best, they're like cover versions of songs—not just recitations, but interpretations that shed light on both the writer being read and the one doing the reading. Some favorites: Julian Barnes' rendition of Frank O'Connor, Nathan Englander's Isaac Bashevis Singer, and Rivka Galchen's Leonard Michaels. The podcast gives you a sense of which writers are in vogue with other writers (Vladimir Nabokov and Denis Johnson are the only repeat choices so far), and also what kind of stories The New Yorker 's fiction department favors (elegant depictions of social cruelty, I'd say). So kudos to Jonathan Franzen for sacrificing credibility to pick something really funny, Ian Frazier's classic "Coyote v. Acme."
Got a suggestion? E-mail procrastinatebetter@gmail.com . Follow us on Twitter and sign up for the Procrastinate Better newsletter , too.
---