From time to time, a Slate staffer or critic offers up a favorite cultural pick for Procrastinate Better readers. Today's endorsement is from assistant Julia Felsenthal.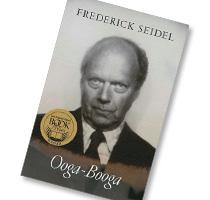 Back in 2007, when I worked at HarperCollins, a co-worker showed me this archive of recordings of Frederick Seidel reading aloud the 22 poems that make up Ooga-Booga . She had recently turned 26, and found the seminal lines from "Fresh Stick," read in Seidel's mocking mid-Atlantic accent, to be poignantly appropriate:
26 years old is not childhood.  
You are not trying to stop smoking.
Though the Ooga-Booga 's recordings have since migrated from their prominent, high-literary home on the Farrar, Strauss, & Giroux site to a humbler Macmillan paperbacks page, they remain intact. And I've kept returning to them over the years. There's something hypnotic about Seidel's world-weary, sardonic voice reciting these reflections on sex, on death, and on his favorite preoccupation: sex as one approaches death. Perhaps it's the poet's deadpan delivery or perhaps it's the discord between his patrician voice and his often-degenerate subject matter, but especially in this rendering, the   poems are as funny as they are unnerving.

Got a suggestion? E-mail procrastinatebetter@gmail.com . Follow us on Twitter and sign up for the Procrastinate Better newsletter , too.

---