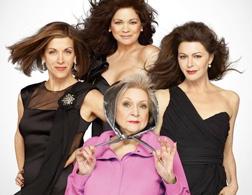 TV Land bills Hot in Cleveland (Wednesdays at 10 p.m. ET) as its first original scripted series, making the sort of claim for which scare quotes were invented. The only truly original thing about the show is that its humor feels pitched at an extremely strange audience: Its ideal viewer would seem to have developed all her expectations of what comedy is from watching traditional sitcoms and yet to have no memory of hearing these jokes the first 20 times around.
Perhaps this is a roundabout way of defining Cleveland's particular kitsch sensibility. It bears emphasis that we are talking about a show featuring Betty White, a delightful figure scooting a well-deserved victory lap around the tube this year while looking like a dangerous grandmatron. I am sincere in my appreciation for her slyness, and I am also aware that sincerity is not a prerequisite for getting on board with her current program. White has adapted herself into a cuddly camp item, which is no small part of the fun. Call her the show's mascot. Attribute Cleveland's hit ratings to the audience's reservoir of good will for its lead actresses and also to its audience's helpless affection for the stock characters those actresses phone-in-ingly portray.
The pilot episode of Hot in Cleveland introduced its protagonists, three unmarried L.A. women of a certain age, as they fussed and frolicked in the first-class cabin of a plane bound for Paris. (Girls' trip!) A mechanical malfunction necessitated an emergency landing along in northeastern Ohio, in the seat of Cuyahoga County, to be exact, a town by the name of Cheap Punchline. This quickly turned out to be a place where men are manly and gentlemanly and more easily impressed than the bimbo-hounding weenies of Southern California and less vapid than they themselves. Deciding to hang out in town for a while, the girls rent a house tended by a live-in housekeeper (White) whose demented wisecracks are not necessarily a function of her advanced age. Thus, the ladies' journey of self-discovery brings them to dwell in the land of low expectations, much the same place that the show's willing viewers have settled.
Valerie Bertinelli, the touching and tomboyish Barbara Cooper of One Day at a Time, is the relative intellectual of the bunch, a writer. She is cutesy-klutzy, reliably awkward, and the most likely of the three to wear sensible shoes. Wendie Malick, most famous for playing a boozy, snooty, sluttish, over-the-hill supermodel on Just Shoot Me!, here plays a boozy, snooty, moderately sluttish, over-the-hill soap-opera star. Last week, she went to a get-together at the Rock and Roll Hall of Fame with the intent of telling off a hard-partying musician (played by Huey Lewis) who once had mistreated her after a fling. But the bad boy had reformed himself, his main drug now Lipitor. She ended up spending the night with him very tenderly: "This morning he ate his egg whites and turkey bacon off the small of my back." Ah, yes, the years may have passed, but still I can't imagine that he feels as old as that joke does.
Jane Leeves, an appealing British woman who played appealing British women on both Murphy Brown and Frasier, here plays an appealing British woman. In the context of Hot in Cleveland, this effectively means occupying a relatively undisgraceful middle ground between the cute klutz and the loose snoot. Leeves has fewer actual jokes to read than her colleagues do. More often, the writers simply call on her to look confident in a skirt while bringing a non-class-specific accent to enunciating such words as knickers, trollops, and bloody. I fancy she'd be knackered after a shag.
Let the record reflect that the appealing British woman worked as a high-end Hollywood beautician in her pre-Cleveland existence. And please note that it is she who delivers what might be, in formal terms, a paradigmatic Hot in Cleveland quip: "Well, that was the most disgusting thing I've ever seen, and I used to wax Roseanne." An outdated joke about an old sitcom? Comfort food to its core, the show is a retro casserole tapping into a popular appetite for leftovers.
Like Slate on Facebook. Follow us on Twitter.
---