Once a week, Procrastinate Better will feature a peek into the Netflix queue of one of our staffers or critics. No tampering with the results to make ourselves seem more or less erudite, we swear! Just the brief opportunity to explain (or defend, as the case may be) the choices. This installment comes from Slate and DoubleX 's Jessica Grose. Click here for more Candid Queues .
1) Le Samourai : Like Slate 's TV critic Troy Patterson, I, too, share a queue with my better half . Which is why this French crime thriller starring Alain Delon has made it to the top spot on our list. Of course, this is the sort of foreign fare we often put in our queue and then never actually watch. However, since Delon is such a stone cold fox, this one might be different.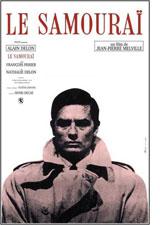 2) Easy Riders, Raging Bulls : My husband and I both enjoyed the Peter Biskind book upon which this documentary, about Hollywood in the '70s, was based. It's our Dennis Hopper tribute pick.
3) Memento : This was my pick, inspired by Dave Itzkoff's great Christopher Nolan profile in the New York Times this past weekend. I saw Memento when it came out in 2000, but want to whet my appetite for the Nolan-written-and-directed Inception , out later this month.
4) Manhattan : Summer in New York City, where I live, is always a humid, sweaty trial. Everything smells like a urine-drenched sock. My urban weariness inspired me to queue up Manhattan , which always makes me feel more affectionate toward our fair city.
5) Sisters : This one we watched through our Netflix instant queue earlier this year. It is a deeply creepy Brian DePalma film that involves murder, conjoined twins, a luminous Margot Kidder, and weird French Canadians. Definitely worth a second viewing.
Got a suggestion? E-mail procrastinatebetter@gmail.com . Follow us on Twitter and sign up for the Procrastinate Better newsletter , too.
---