Once a week, Procrastinate Better will feature a peek into the Netflix queue of one of our staffers or critics. No tampering with the results to make ourselves seem more or less erudite, we swear! Just the brief opportunity to explain (or defend, as the case may be) the choices. This installment comes from Slate Senior Editor Daniel Engber. Click here for more Candid Queues .

1) Funky Forest: The First Contact : What, you've never heard of Funky Forest: The First Contact ? Neither had I, until some guy at a party told me it was an AMAZING FILM. We'd had some wine. Now I'm faced with 2.5 hours of surrealist vignettes depicting (among other things) disco-dancing cat people, men with elongated nipples, a singles picnic, and an irate, blood-sucking homunculus. The disc has been in my DVD player for two weeks.

2) Following : A few days ago I got caught up in the excitement over the new Christopher Nolan movie, Inception , so I bumped this old Christopher Nolan movie—projected Netflix rating: 2.5 stars—to the top of my queue. Then I remembered that I find most Christopher Nolan movies to be overrated. My excitement waned. Let's be honest with each other: I will not watch this film.  

3) Syndromes and a Century : I am just in love with the star of this film, Sakda Kaewbuadee, and have been working my way through every one of his or her films. Just kidding. I'm sure this Thai-language drama with "no obvious narrative structure" is wonderful, and deserves all the critical acclaim  that suckered me into queuing it. Hey, Netflix tells me it's "romantic." Date night!

4) Rabid : Yes, Dan Engber, I know you just watched Syndromes and a Century , and I'm very proud of you. It wasn't easy to follow that nonobvious narrative structure, was it? Well, guess what, little buddy? As a reward, I'm adding this David Cronenberg-Marilyn Chambers horror film from 1977 to your Netflix queue. You've earned it.

5) The Taste of Tea : If you liked Funky Forest: The First Contact , you'll love The Taste of Tea . (Wait, what if you hated Funky Forest ?) This is the second AMAZING FILM recommendation from that drunk guy at the party. It's by one of the guy's favorite directors, Katsuhito Ishii, and tells the story of a wacky family that does something, and something else, and maybe a third thing. Actually, it's kind of hard to describe the movie, but trust him, it's AWESOME.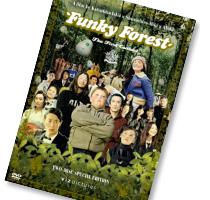 Got a suggestion? E-mail procrastinatebetter@gmail.com . Follow us on Twitter and sign up for the Procrastinate Better newsletter , too.
---