Each week, one Slate staffer or critic offers up a favorite cultural pick for Procrastinate Better readers. This week's endorsement is from June Thomas, Slate 's foreign editor.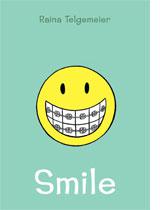 The Library of Congress cataloging tags for Raina Telgemeier's new book, Smile , include "girls—dental care," "self-esteem in adolescence," and "graphic novels," which pretty much makes it the volume of my dreams . It's the true story of Telgemeier's San Francisco girlhood, starting with the awful day when she tripped and knocked out two front teeth and ending with a joyous high-school dance. The whole thing, from Girl Scout meetings to a run-in with a sadistic periodontist, is told in a charming, candy-colored comic-book style.
There's an explanatory element to Smile , especially in the dental-office scenes, but for the most part, Telgemeier manages to channel adolescent selfishness convincingly: She never considers the miles her mom drove to all those specialists or the cost of the treatment. Instead, young Raina obsesses about crushes, mean friends, and exasperating younger siblings.
I found Smile in Books of Wonder , New York's children's book mecca, and it seems to be intended for middle-schoolers. It would make a great gift for a young friend who's blaming the awkward uncertainties of youth on something as banal as braces, but it's also a smile-inducing read for those of us who can look back on those tumultuous years from a grateful distance.
Got a suggestion? E-mail procrastinatebetter@gmail.com . Follow us on Twitter and sign up for the Procrastinate Better newsletter , too.

---