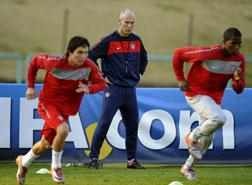 Bob Bradley, the manager of the United States soccer team, is as emotionally expressive as Sam the Eagle and as stylish as my grandpa, who wears basically that same track suit to the health club every morning. The Web site Asylum named Bradley one of six World Cup coaches who look like James Bond villains. "Bradley's shorn head, bony countenance and icy, impenetrable concentration-camp-guard stare may serve as one of Team USA's few built-in competitive advantages," wrote Zach Dundas, "as he will literally freeze the souls of our opponents." Bradley may look like soccer's version of the T-1000, but he's not a soulless robot. In fact, his instincts have been excellent in South Africa. Nearly all of his tactical adjustments during the group stage worked out. Even notoriously fickle U.S. soccer fans are backing off. The "Fire Bob Bradley" Facebook page, that at one point amassed almost 2,000 members, is shedding people. "The 52-year-old New Jersey native is all steak, no sizzle," wrote Dan Wetzel of Yahoo! Sports. "And if that is what caused others to underestimate him, well, just like his team, wait until the entire game is over before tallying up the score."
So why is Bradley such an intriguing figure? Perhaps it is because he is the beneficiary of the soccer elite's soft bigotry of low expectations when it comes to our players: Americans can't possibly be any good at soccer, so their manager must be a miracle worker. That mode of thinking allows the rest of the world to classify any U.S. fútbol success as solely a function of coaching, rather than admitting that the American soccer players are actually a talented bunch.
After Switzerland defeated highly touted Spain 1-0 last week, Swiss manager Ottmar Hitzfield told reporters that he derived his strategy from a game plan already perfected by the United States. "We saw how the Americans played against Spain with a lot of interest," Hitzfield said, referencing the Americans' 2-0 victory over Spain last June. "You know that if you are going to have a chance against [Spain] you need to do certain things very well. The USA did not try to do everything  … and it worked." Even Spain finds room to admire him. With my soccer-expert brother Brian translating, I found these gems in the comments section on a story about the U.S.-Slovenia match in El Mundo."Imagine if Spain played with the same concept as the USA???" one fan wrote. "The patience and physical condition of the Americans and the technique of the Spaniards combined?? And their coach … we would be champions." Another: "When, at last, they scored, I raised my arms as if Spain had scored. … Truthfully justice prevailed!" And finally, a slightly backhanded compliment: "Imagine if in the USA they liked football as much as us—fuck they would be champions of the world in a few years." Whether those say more about Spanish soccer's inferiority complex than about Bradley's prowess, I'm not sure. Either way, it was surprising.
This "coach-as-messiah" motif has a history. Recall that eight years ago, when Bruce Arena was at the helm, the United States marched all the way to the World Cup quarterfinals. Sports Illustrated's Grant Wahl, America's best soccer writer, was there: "Massimo Franchi, a veteran writer for the Turin-based daily Tuttosport, said a startling thing on an Italian talk show: 'The most interesting member of the U.S. team is Bruce Arena. We all thought the U.S.A. would play like some hastily thrown-together team, like Ecuador or what have you. Instead they are beautifully organized, like a European power, like Real Madrid.'" As the Americans prepared for the 2006 World Cup, Jere Longman profiled Arena in Play magazine. In it, the author describes a pre-exhibition match press conference in which a member of the German press asks Arena, "as a sort of guru," if other coaches seek out his advice. "I don't think there are too many coaches in Europe who are looking at me and are very impressed, believe me," said Arena, who had likely heard several variations of the same question before.
Bradley isn't a guru on the level of Arena. Not yet. "He's an anonymous character," Soccernomicsco-author Simon Kuper told me from South Africa this week. "I do think one thing this World Cup is making clear is that there is no surprise that [the U.S.] won the group. They could've beaten England." However, Kuper said that Bradley just "doesn't have a mythology about him like a Capello," the foppish British coach. (Bradley wouldn't be caught dead in Capello's tailored duds.) But on Saturday, Bradley's team will play Ghana for a spot in the World Cup quarterfinals. If the Americans win, they will have matched the 2002 team's performance, and Bradley, the guy in my grandpa's track suit, may deservingly achieve mythological status. But the guys actually on the field kicking the ball will have something to do with it too.
Like Slate on Facebook. Follow us on Twitter.
---