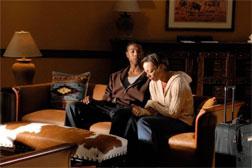 "Helluva job. Take that with you, carry it, and we're going to build on it," coach Taylor commands the Lions after they nearly beat McNulty , the hotshot opposing team, on TV, in the biggest game of the season yet. That statement underpins the twin themes of this episode. First, the maturation the Lions, who are beginning to find their pride and their running legs. Second, learning to let go of your loved one so that he or she can build on what he or she's done until now. "Goodbye, Lyla Garrity," Tim says, after three days of nostalgic drinking and shagging in Tim's Airstream. And this time the goodbye is for real. Earlier, he'd sketched out a fantasy future they might have together, in which she manages the Riggins auto company when the brothers are off fixing stuff. Looking at him steadily, she asks, "What do you want?" "You," he says, in a low voice. It'd be enough to melt any girl's heart, but Lyla asks, "What else do you want?" And Tim looks down and says, "You." The problem is they have different futures.
It's an old truism that each of us has to make our hardest decision twice. And that's what happens not only with Lyla and Tim but with Matt and Julie. After their trip to Austin, he realizes he has to go, and this time, he's not going to think twice: He's heading out of town for real. (I love the Dylan song that plays at the end of this episode, but isn't it a little jarring that the last shot of Matt driving away from Julie has Dylan singing over it, "You just wasted my precious time"?) Is this a grief-stricken move on Matt's part? Or has he rightly realized that during their fight, when Julie has confessed that she feels guilty that he's still in Dillon, she revealed of course that she won't be around long, and things are broken. You only feel guilty when you can't meet the other person halfway.
Finally, of course, there's Tami saying goodbye to Julie, who is growing up. Tami is so furious at Julie for running off to Austin for an "indie music festival" that she almost drives all the way there to pick her up. But she realizes, with Eric's quiet guidance, that this action is overkill. Julie is 17, nearly an adult. (One of my favorite moments in the show: When Tami is ranting about Julie's behavior as she and Eric get ready for bed, announces she's leaving in the morning, and Eric rolls on his back, purses his lips to say something, thinks better of it, and carefully pronounces, "I support your decision.")
Meanwhile, I could use a little more football: The scene in Sears was hilarious (and made up for earlier moments of forced goofiness with coach Traub). And the development of the team is fascinating. I wish we got to get in there and witness what that was like on a more granular level.
But the character set pieces here are diverting and enjoyable. Landry trying to explain to Jess that a "tiny" part of him is still "hung up" on Tyra (she slaps him). The charmingly needy Becky telling Lyla that she's lucky because she's so beautiful. And then, in the great capstone of the episode, Becky's own eulogy for lost love, offered as if she's been wised-up by the world when you suspect its just yet another fantasy version of herself she's spinning out, triangulating from her feelings about Tim to imagine what it might be like to be a little older, a little more jaded. After he gets back—sagging around the edges—from taking Lyla to the bus stop so she can head back to Vanderbilt, Becky brightly talks on and on about loss. "Is your heart broken?" she asks. But she almost doesn't want to hear the answer. She just wants to inoculate herself by speculating on romance: "Maybe there's more than one soul mate for everyone," she says, waxing on about first love. Her speech goes something like, "It's new, and you feel things you never thought you'd feel, and then they break their heart. And you cry about it, and you're sad about it, and then you meet someone else. They're a new soul mate, and they make you feel things the other one didn't. Then they break your heart." To which Riggins replies in the only way he can, with an affectionate, "Shut up, Becky." Because Becky doesn't really know yet, does she, what he's feeling?
A question: Do you think we're supposed to take Riggins at face value when he says his plan is for a "simple" life but a "kind of great" one? Is it great? Or is it sad? I saw this well-shaped portrait of loss as being not only an adult's elegy for the innocence and hopefulness that goes with being 18 (which disappear as you go off to college and leave home) but an elegy for a time when kids didn't leave small American towns, and maybe stayed on, and married, and worked there. Perhaps it's not an elegy, but it's a summoning of that world, I thought.
Meghan
Like Slate on Facebook. Follow us on Twitter.
---